Facebook Messenger update brings iPhone 6 support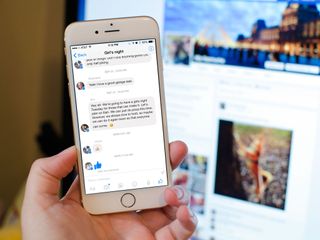 Facebook just rolled out another update to its Messenger chat application. The new version 13.0 update brings compatibility to the iPhone 6 so that text and images are natively sized for Apple's latest flagship smartphone rather than be scaled up for the larger display.
Have you downloaded the update yet? If not, you can grab it from iTunes. Hopefully, a Facebook app update isn't too far away.
Get the best of iMore in in your inbox, every day!
No interactive notification? Sent from the iMore App

When the writers say "iPhone 6", should we assume you are also talking about iPhone 6+? I'm asking specifically because we are talking about scaling up, and the Plus is obviously bigger than the 6.

Yes, optimizing for iPhone 6 always means also for 6+ ;)

Hmm...I haven't had any problems with the current version. I'll still update though.

I usually wait on FB until reviews. Seems like recent updates break the app. Post not appearing, or comments disappear. Strange. Always check your privacy settings after an update. Sent from the iMore App

Download Paper by Facebook Inc. Then delete messenger and just use Paper..

Love paper. No longer use the Facebook app. Sent from the iMore App

Love Paper! Sent from the iMore App

I don't understand why Facebook continues to develop and maintain the Facebook and Messenger apps as two separate apps, when I've been using Paper for months and continue to have the ability to chat, instantaneously, through Paper. Everyone should just download paper...

Same. I feel as though it will only be a matter of time before it's pulled from there as well. Paper doesn't get nearly the amount of love as it should (even from Facebook). Sent from the iMore App

While I agree it does not receive the same love, I truly believe that it will become the next Facebook app, because they have not pulled it--and have continued to update it. Many bugs I used to have are now gone. I really think they need to add instagram to one of the tabs/pages (sorry completely forgot the name of them and too lazy to go look), and they have a beautiful app. Friends of mine don't even listen to me when I tell them "you want 1 icon instead of 2, jus download paper.."

Same. If Instagram shows up as a page I think more people will make the switch. But then it may truly kill the Facebook app. I don't understand why Facebook likes making apps for the sake of making them. Sent from the iMore App

Have you deleted the facebook app? I Haven't tried because I am afraid it will prevent linked apps from logging in. In settings, some apps don't have the option to be linked with paper, only facebook. I wonder if Paper will be recognized one day.

Unfortunately no. Even though I think the apps that have asked for permission to access Facebook will still work, it seems like their functionality suffers (like getting error messages when trying to post Instagram photo to Facebook). I literally only have it installed for this (and it could very well be a placebo effect lol). Sent from the iMore App

Hopefully fixes notifications as well. Sometimes they freeze for me on my 6. Sent from the iMore App

Would be cool if more apps were updated for the bigger screens. I have one I believe and that's CNN. Sent from the iMore App

Facebook Messenger??? WTF over. What about that shitty Facebook app? When are you guys going to put the ability to at least change the font size for crying out loud?

I no longer use FB messenger and won't put it on my new iPhone. Paper is acceptable and given how I sense being driven down a cattle chute by FB, if another Messenger is created and I'm forced to choose I'll using the service much less than I presently do and still without Messenger.

FB Messenger does have the ability to change font size, but it's not independently done through the app itself. It's more of a system wide change through Accessibility in settings under Large Text, turn it on and then slide the side bar to the desired text. Then font size in the Messenger app will then change! Nice feature for me being legally blind! Thanks Apple! Sent from the iMore App

I don´t have Facebook or Facebook Messenger on my phone anymore. Social Network fatigue, I think.

Why Messenger first and not Facebook? Facebook has its priorities all wrong... Sent from the iMore App

Interactive notifications? Where. When? Sent from the iMore App

Why not just http://dumpfacebook.com ?

hi im staying in UAE but im just wondering why doesnt my interactive notification work with other apps like facebook.

I used to have an iphone 4 and bought an iphone 6 the first of the year. On my FB messenger app. I had song clips from a friend that I was able to listen to. Just recently I noticed instead of the little 'play' arrow to click on it shows a music note and says 'audioclip' with a bunch of numbers. I click on it and it just says loading but never does anything else. When I first purchased the phone I know the music clips could be played because I played them. Any help or info is appreciated. Thanks!
Thank you for signing up to iMore. You will receive a verification email shortly.
There was a problem. Please refresh the page and try again.