First iOS 8.1.1 beta released to devs with bug fixes and performance improvements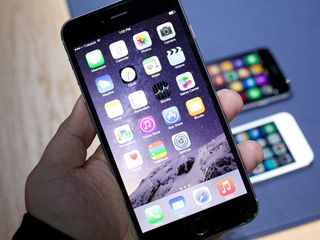 Following the release of the first Yosemite 10.10.1 beta, Apple is rolling out the iOS 8.1.1 beta to developers. The update features a host of bug fixes as well as stability and performance improvements for older devices like the iPad 2 and the iPhone 4s.
The update comes two weeks after the launch of iOS 8.1, which introduced Apple Pay support, SMS forwarding to Yosemite, iCloud Photo Library Beta and more.
The 8.1.1 beta, classified a build 12B432, is now available for download from the iOS developer center.
Source: Apple (opens in new tab)
Get the best of iMore in in your inbox, every day!
The clumsiest man in tech.
I may be very incorrect factually but based on my interaction with iOS 8, this seems to be the most buggiest iOS. So many simple over looked things. I noticed that the rounded edges on the folder's background (springboard) oddly changes in size when opened or closed.

That's hardly a bug. Has absolutely zero impact an anything.
Only bug I have found is airdrop randomly doesn't show anything. Sent from the iMore App

It doesn't affect usability. It is a bug, nonetheless. Apple's attention to detail appears to have faded a little. I still love my MacBook, and I have an iPhone 6 Plus. They are both fantastic devices. KAWZ complaint is something that Apple would have fixed quickly a few years ago. You have to fix bugs related to function at a higher priority. However, Steve Jobs made it understood that these little things matter too.

There's a bug with the keyboard autocorrect function...it adds the word "most" in front of words that already end with "est" Sent from the iMore App

Oh yeah, just noticed that. Also, if you share a pic to text the cursor to type the "to" address pops up before the actual "to:", or if you want to add any text, the first letter typed becomes the last, it's weird, wonder if they'll fix any of these little bugs... Sent from the iMore App

I just hope it fixes the bugs that has slow down my iPad 2.

That bug is called obsolete hardware. Probably not much they can do about that. A little maybe. Just gave my wife my iPad Air when I got the Air 2. Coming from an iPad 3 the speed increase blew her mind.

Really hope 8.1.1 fixes whatever it causing motion calibration to be on constantly

I also hope this fixes the issue with Motion Calibration (under Privacy>Location>System Settings) ALWAYS being on. No one seems to know the specifics as to what this does, exactly...other than the obvious calibration of motion. I've spent at least 6-8 hours researching this. I'm guessing and from what I've gathered...it's for iHealth and helps with stair flight counts, etc. But there no need for 100%-on location tracking. I have no apps that currently have permissions for Motion. This is a big battery drain but I don't want to turn it off because I don't know exactly what it will affect.

Worst ios with most buggies and few practical features! Now the camera is shown black when I'm gonna photograph and have to shut down the app! Crap testers! Sent from the iMore App

are you using 8.1.1? Sent from the iMore App

8.1! Sent from the iMore App

Try 8.1.1 And you will Find the deference , no lag , speedy camera, speedy app open also there is a great improvement over all the system ........

WiFi issues on 5s since 8.0. Unforgivable. Sent from the iMore App

Mine too. My 5S sometimes struggles to update the news feed on the BBC news app when opened, even though I'm less than 12 feet from the WiFi aerial. Other probs are with camera sometimes opening with a black screen and the home button not appearing to register the push when waking the phone from standby. Also, and this isn't a bug, but I find the battery saving programming somewhat too dominant. Quite often, when I wake the phone up, it suddenly 'dings' for new emails as it suddenly checks for new messages, rather than dinging when they come in. This is my first iProduct and not overly impressed at the moment.

Hopefully bluetooth issues will be resolved as well! I can't connect my iPhone 6 to my iPad Air. Neither device recognized one another. Also, my wife's 6 just randomly stopped working with the Bluetooth audio/phone feature in her 2011 Toyota Venza. Worked great for a week then just stopped. These are the first iPhones I've ever owned. Been on the Android banwaggon for years. I'm not very pleased with the results of iOS 8 at all.

Safari on my iPhone 6 is pretty buggy IMO.

I really hope this update does the job to fix the wifi issues on my 5s cause I've had them ever since iOS 8. Both Twitter and Instagram seem to be very noticeable but it happens sometimes not all the time I have loading issues on them. Also for me the App Store just isn't as snappy as it was on iOS 7. There is a lot of issues, like sometimes I hit the update tab and it pulls up the search tab. So I'm just hoping for iOS 8.1.1 soon Sent from the iMore App

Sometimes in the morning I wake up and have to update my cellular connection sometime Safari crushes on me sometimes I have to reboot the phone because the crashes in the music app in fact the music app crashes all the time possibly want to just put as a certain type of MP3 but I'm not too sure haven't done too much digging

Punctuation? Sent from the iMore App

On my iPad Air multi-touch gestures frequently don't work and orientation does not update since 8.0. 8.1 didn't fix those bugs. iOS 8 is also significantly slower than iOS 7. It even makes the iPad Air feel slow. Not a good update.

IOS 8.1.1 needs to fix Wi-Fi issues, brattery drain, Safari slow speed, third party keyboard issues, and speed. I'm on a iPhone 5C. Sent from the iMore App

Wi-Fi issues and mega slow Safari are my main gripes. Using iPhone 6 Plus

My iPad 3rd gen has been runny slower and having issues with video players, etc, under iOS 8.1. Hoping 8.1.1 gets it running smooth again.

I see lot of bugs in my iP 6 Plus ... the orientation from portrait to landscape is mostly jerky... while deleting an app it will keep its wobbly appearance after I tap the 'x' ... it takes a long time to actually delete itself and keeps me wondering if something is happening.. several apps takes a long pause before opening ( happens on-n-off )... I do understand that lot of apps still need to fully optimise themselves for iOS 8.1 and may be after few more upgrade cycle we will have a stable OS as well as app issues ironed out. Sent from the iMore App

iOS 8 seems to be the buggiest release ever. What is going on with Apple? I am all in with Apple, but it does concern me. Sent from the iMore App

What is going on? Well, Steve Jobs who was the QA/QC meister is no longer there. Definitely a very buggy iOS.

Makes me laugh when people always revert back to "If Steve was around"! The company was not the same, even in a few years its changed so much and shipping so much more product. Also remember Mobile Me, iPhone 4 reception issues? Steve was watching that and looked how that turned out!

I hope airdrop and specially airplay wil work again. If he find a speaker than he is dropping the connection the whole time. Sent from the iMore App

I really hope third party keyboard bugs are fixed. I've stopped using them because they don't show up half the time (and never show up for me in spotlight). Not reliable at all. Sent from the iMore App

It deletes my text messages if I look back and messages crashes. I really hope they fix this. I did a reset to my phone. Didn't work.
Thank you for signing up to iMore. You will receive a verification email shortly.
There was a problem. Please refresh the page and try again.