Foxconn finally agrees to acquire Sharp for $3.5 billion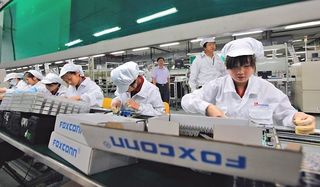 (Image credit: Bloomberg)
Taiwan-based manufacturer Foxconn has finally agreed to a deal to take over Sharp. The Japanese electronics company was originally set to be taken over for $4.3 billion but the deal was suddenly put on hold for Foxconn to analyze Sharp's financial situation. Now that Foxconn has taken a good look at the future financial stability of Sharp, the price of the acquisition has dropped to 389 billion yen ($3.5 billion).
This signing marks the first time a foreign party has taken over a Japanese company. Foxconn would not only be a major partner for Apple in the manufacturing of products but now the company also has its hands in a display supplier to better compete on the global stage with a strong research and development base to integrate into its production arm. The deal between the two parties is expected to be signed on April 2.
I'm wondering when Liam will start assemblimg iPhones. And eventually cut out the middleperson.
Thank you for signing up to iMore. You will receive a verification email shortly.
There was a problem. Please refresh the page and try again.