Google Play Music and YouTube Music: Everything you need to know!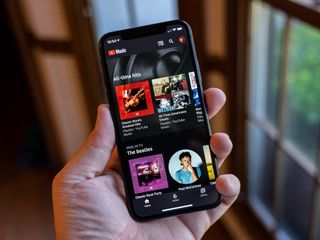 (Image credit: iMore)
If you're a Mac or iPhone user but often find yourself using Google's various services, you might consider looking at one of the company's two music streaming services, Google Play Music or YouTube Music. While the services started quite differently from one another, the recent relaunch of YouTube Music into a full on-demand streaming music service has blurred the lines considerably.
Here's what you need to know about Google Play Music and YouTube Music.
What's new with YouTube Music?
June 18, 2018: YouTube Premium and YouTube Music are rolling out to 17 countries
Starting today, YouTube is officially rolling out its subscription services to 17 total countries, allowing more users to experience them than ever before. The YouTube Red service was previously only available in the US, Mexico, Australia, New Zealand, and South Korea. However, with the birth of YouTube Premium and YouTube Music the company's subscription options are now expanding to the following countries as well:
Austria
Canada
Finland
France
Germany
Ireland
Italy
Norway
Russia
Spain
Sweden
United Kingdom
All this is making good on last month's announcement that YouTube Red was going to be replaced with YouTube Premium at some point in the near future. Though the mobile app still hasn't changed from YouTube Red for many individuals, the website is currently reflecting the change, with new YouTube Premium and YouTube music pages live. According to a report by TechCrunch, YouTube's CEO Susan Wojcicki said during February's at Recode Code Media conference in California that the company hopes to expand its services to as many as 100 countries when all is said and done.
If you'd like to try YouTube Premium for yourself (a subscription that does include YouTube Music), you can try it free for three months by signing up on the dedicated YouTube Premium page. After your trial has ended, the subscription will cost you $11.99 monthly. You can also choose to purchase only a YouTube Music subscription at $9.99 per month if you prefer.
What's new with Google Play Music?
May 24, 2018: Google Play Music will become YouTube Music with user uploads
Shortly after Google announced major changes to YouTube Red, splitting the subscription service into YouTube Music and YouTube Premium, the company confirmed with The Verge that Google Play Music will eventually be folded into YouTube Music. Sometime in 2019, Google Play Music will dissolve and users will instead use YouTube Music. Not to worry, though. Google has stated that playlists, collections, and preferences, as well as user uploads, will still be available.
What is YouTube Music?
YouTube Music is Google's latest stab at an on-demand music streaming service, one that leverages YouTube's popularity as a destination for music listening and music video watching in an effort to offer something different to potential subscribers. It also takes advantage of Google's work in machine learning to try and offer a much more personalized service that's good at learning about your musical tastes in order to craft a more bespoke experience for each listener.
You can get access to YouTube Music in three ways: free, ad-supported listening, as a standalone paid subscription without ads, or as a YouTube Premium subscriber, which also gives you access to the ad-free version of YouTube Music.
What is Google Play Music?
Google's first on-demand music streaming service. Like YouTube Music, as well as other services like Spotify and Apple Music, Google Play Music lets you listen to a vast library of tracks and albums on-demand for a monthly fee. Google Play Music also lets you upload up to 50,000 tracks from your existing music library to the cloud, letting you store and access them anywhere for free.
Google Play Music also has personalized radio stations based on mood and activity, built around your tastes in the music that will populate the stations. These are also available to both free and paid users.
Why are these separate services?
Google Play Music launched first launched in 2011 and didn't even include the on-demand streaming feature. That was added in 2013.
YouTube Music, meanwhile, initially launched in 2015 more as an audio-focused version of YouTube. While you could access various music playlists, there wasn't an official, music industry-backed way of finding albums adding them to your library, and other features that YouTube Music now provides.
With the launch of the new YouTube Music, the services are now more similar than they've ever previously been. While YouTube Music is currently missing the music upload feature that has endeared many to Google Play Music, but Google has stated that uploads, as well as the ability to purchase music directly and other Google Play Music features will be making their way to YouTube Music. After these features are added, Google Play Music will be folded into YouTube Music.
So Google Play Music is going away?
Eventually, yes. Once Google Play Music's major features are added, there will be no need for Google to maintain two separate services that do the exact same things.
Google Play Music, YouTube Music, YouTube Premium, YouTube TV — why not just have one unified subscription service?
A lot of it has to do with rights. The deals that Google needs to make in order to stream music and TV content to the subscribers of its various services are complicated. If Google insisted on a single, unified streaming service that combined ad-free music, ad-free videos, and streaming television, it would only able to roll out to a few countries at a time, with more countries being added very slowly (we're talking years, not months).
Okay, combining video and music rights might be more complicated, sure, you might be thinking. But why not, for instance, bundle YouTube Premium with YouTube TV to give those subscribers access to ad-free YouTube content? Because YouTube Premium includes access to the ad-free YouTube Music, and while Google could offer two versions of YouTube Premium, one with access to Music and one without, it's actually simpler for Google to have three distinct paid services at this point.
It's possible that, as Google works out rights issues across its various subscription services, that they'll be easier to package together. Maybe YouTube TV subscribers will one day have access to YouTube Premium and YouTube Music at no additional cost, but we're not their quite yet.
What do Google Play Music and YouTube Music cost?
While you can use both services for free, if you want to take advantage of their paid features, you'll need to pony up $9.99 per month for either.
Is there a family plan for Google Play Music or YouTube Music?
Google Play Music does indeed have a family plan. For $14.99 a month, you can add up to five family members to your Google Play Music account. You can stream music to up to 10 devices at once, and share music between yourselves using the Family Library.
According to Google's support document, to use Google Play Music's Family plan, you need to:
Be 18 or older (20 in Japan) to be the Family Manager (13 or older to join the Family plan) and have a Google Account
Have a valid credit card (Manager only)
Live in a participating country
Family participants must live in the same country as the Family Manager
Not be part of another family group
A YouTube Music family plan is also available for $14.99 per month.
What countries can I use Google Play Music and YouTube Music in?
Play Music is currently available in 62 countries as of early 2017; you can check Google's support site for a full list.
YouTube Music, in contrast, is still limited, though it's expanding regularly. You'll find the service in the U.S., Australia, New Zealand, Korea, Mexico, Austria, Canada, Finland, France, Germany, Ireland, Italy, Norway, Russia, Spain, Sweden, and the United Kingdom.
Can I still use Google Play Music or YouTube Music at all if I don't want to pay?
Yes! Google Play Music will still let you upload up to 50,000 songs from your existing music library, and you'll have access to its automated radio station playlists. Meanwhile, YouTube Music offers a free version, which is ad-supported.
What devices can I use to listen to Google Play Music and YouTube Music?
Both YouTube Music and Google Play Music can be played through browsers on your Mac or PC, as well as apps for iPhone, iPad, and Android.
You can grab the apps for either service for iPhone and iPad from the App Store.
What's the streaming bitrate?
While the bitrate for Google Play Music tops out at around 320kps, the consensus seems to be that YouTube Music currently has a maximum bitrate of 128kps. However, it's likely that this will improve as the service evolves.
How do I sign up for Google Play Music or YouTube Music?
If you already have a Google account, signing up is easy — just log in to your account on the web and look for the Subscribe button.
How to sign up for Google Play Music
Which Music Service Should You Get?
Master your iPhone in minutes
iMore offers spot-on advice and guidance from our team of experts, with decades of Apple device experience to lean on. Learn more with iMore!
Joseph Keller is the former Editor in Chief of iMore. An Apple user for almost 20 years, he spends his time learning the ins and outs of iOS and macOS, always finding ways of getting the most out of his iPhone, iPad, Apple Watch, and Mac.