Has the time finally come for an Apple TV stick?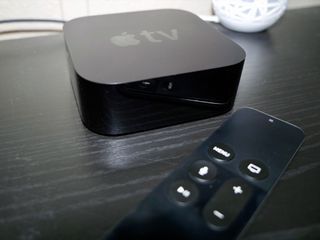 (Image credit: iMore)
On the last two Fridays, Apple has quietly retired both the iMac Pro and original HomePod. Soon after, Oliver Haslam rightfully wondered whether the Apple TV was next on the chopping block. I'm more confident than not that the iPhone maker won't be killing off the Apple TV set-top box anytime soon. And yet, if it does, there's one scenario where this might be easier to swallow — if the company would introduce an Apple TV stick in its place.
A bizarre history
The Apple TV home media receiver has been updated a total of four times since the first box arrived in 2007. Since then, the machine has gone from being a media storage device to a streaming, and even gaming box. The current model, the Apple TV 4K, arrived in September 2017, along with plenty of great Apple TV accessories to go along with it. With its fourth-anniversary approaching, this model should soon get replaced by an update or, worse, get retired altogether.
For now, I'm convinced the former is going to happen before the end of the year. I hope Apple finally comes into the second decade of the 21st century and releases an Apple TV stick like Amazon and Roku did long ago. Sticks are much easier to use than stand-alone boxes that collect dust near a television. And yet, this isn't the main reason an Apple TV stick should arrive. Instead, it's all about the price and making Apple TV again a larger audience.
The Apple TV 4K is $179 for the 32GB version and $199 for the 64GB model. Apple is rarely aggressive when it comes to pricing products as it embraced the premium market long ago. And yet, when it comes to Apple TV, the company has always seemed much more out-of-sync than normal when looking at competitors.
The most expensive stand-alone Roku box, the Roku Ultra, is $100, for example, while Amazon charges $120 for its top-of-the-line Amazon Fire Cube. Both are on sale often, bringing the prices down even further. By contrast, it's hard to score even a modest discount on the Apple TV.
Over the years, I've always been confused about what type of product Cupertino wanted Apple TV to be. With the introduction of apps and later the Apple TV app, I've become convinced that entertainment was its long-term focus. Then Apple Arcade arrived, and my opinion quickly changed. The arrival of Apple TV+ made me think once again that entertainment was still Apple's primary focus. But, since you can now find Apple TV apps on smart TVs and other boxes, including Fire TV and Roku, I'm not so sure.
Two new products?
Assuming once again that Apple has no plans of killing its entertainment box, I think the time has come to draw a line for the product lineup. For three years now, we had the opportunity to choose from two Apple TV boxes. The two main differences between the (even) older fourth-generation Apple TV and the Apple TV 4K is the latter offering 4K HDR with Dolby Atmos sound and a better chip, which is the A10X Fusion with 64-bit architecture.
Looking ahead, I still believe Cupertino should continue to offer two Apple TV products. On one side, I envision an Apple TV stick that focuses exclusively on entertainment. On the other, an all-new Apple TV set-top box featuring entertainment, gaming, and Apple Fitness+, with a better chip and more storage.
Under this scenario, Apple could keep the new stand-alone Apple TV price in the three digits yet bring it closer to its competitors. With the Apple TV stick, the company should charge well below $100. With these two products, Apple could continue to cater to the all-or-nothing crowd while also targeting those who are only interested in streaming entertainment.
Will the Apple TV get its pink slip?
The end of the iMac Pro didn't come as much of a surprise to anyone in the industry. And yet, Apple's decision to discontinue the HomePod and apparently not replace it was entirely unexpected. It's so strange, that if someone had said at the beginning of the year that Apple would remove either the HomePod or the Apple TV from the market, I would have picked the Apple TV as the one most likely to end production.
I have long suspected a fresh Apple TV set-top box would arrive before the end of 2021. However, the HomePod surprise shows that anything can and will happen in the coming months. If Apple does make a change here, here's hoping there are two new Apple TVs in our future — and not a retirement party.
What do you think?
What should the iPhone maker do with Apple TV, the box or otherwise? Let us know in the comments below.
Bryan M. Wolfe has written about technology for over a decade on various websites, including TechRadar, AppAdvice, and many more. Before this, he worked in the technology field across different industries, including healthcare and education. He's currently iMore's lead on all things Mac and macOS, although he also loves covering iPhone, iPad, and Apple Watch. Bryan enjoys watching his favorite sports teams, traveling, and driving around his teenage daughter to her latest stage show, audition, or school event in his spare time. He also keeps busy walking his black and white cocker spaniel, Izzy, and trying new coffees and liquid grapes.
They'd better not cancel the AppleTV! There is no other way to enjoy my iTunes library on a full screen in the living room other than with AppleTV. I have three of them in the house (and one at work), and they are indispensable. I also have two HomePods and a mini, so I'm disappointed in the decision to kill the HomePod too, but the AppleTV must not die!

I don't think they'll kill it, although I didn't think they'd end the HomePod either. Some of its decisions don't make much sense. Thanks for reading.

They definitely wont be killing it, but I would love to see them make a whole new Home category with a two or three homepods (mini, pro ect.), Apple TV and Apple TV Stick and maybe their own Apple branded HomeKit accessories.

They definitely wont be killing it off, especially with Apple TV+. It would not make sense to start a streaming service and then one year later discontinue the product that offers the best viewing experience for their product. Plus only a couple of months ago they started Apple Fitness+ and the only way to watch that on the big screen is through Apple TV (not even airplay).

I didn't even know Amazon made an Apple Fire Cube.

Nice catch and thanks for reading

And it was 4 years before that that the previous version of AppleTV received an update. That seems to be Apple's modus operandi, issue a product and then not update it for 4 years. This is the timeline for a lot of Apple products. I think a stick form of Apple TV would be great, but I just don't see Apple doing it, that just is not a segment of the market that they are interested in. I do not see Apple doing a streaming-only product.

'issue a product and then not update it for 4 years.' Like what else that makes this SOP? Most things get a yearly refresh. 2 at most. There are exceptions, iPad Mini. But iPads of some sort, iPhones, watches, laptops pretty much get a yearly something. I'd like an Apple TV stick (I think), but what are we really missing on the 'current/latest' Apple TV? It is a streaming box. As long as the processor can keep up with what is being delivered, we won't see the difference. Might benefit Apple in logistics to move it ahead. More Ram? More cost with it? Do they have telemetry (you know they do) that people are filling them up? The stick would just make it easier to take my Apple One Premier on the road with me (whenever that happens), because you know the hotel TV isn't going to have the Apple TV app on it. Two years ago I even hit one with a CRT.

The Mac Mini was allowed to languish for 4 years before one update, without so much as a single processor update over that time period. I know that because I had one in my office. When it was finally updated I bought one, and it was another 4 years before the M1 Mini came out. The current iMac model has been unchanged for 4 years now. The iMac Pro was launched 3 years ago and never received a single update, and now it is being discontinued. I don't know a single computer manufacturer that has ever left a product on the shelves completely unchanged for 3 years, and at the same price, let alone 4, without a single update. I could go on with other products but you get the drift. I have used Apple products for 30 years, so I have learned a lot over that time period about their production and update cycles.

I believe it's now time for Apple to seriously enter the TV set business. How? Of course they have to break in with something "special" and for me the time is now mature enough. For example, they could come up with an all-in-one product which includes: laser tv (it's a technology that is taking place pretty fast lately) and surround bar or some kind of surround speaker. I fell like Apple could give its touch in this field now; and it makes sense also because TV set available now are kind of all disappointing. Aren't they? Moreover, all of their Apple TV+ contents would be supported by a full hardware ecosystem.

A stick would be good, a sound bar way better.

They also need a new Apple TV to support spacial audio.
Thank you for signing up to iMore. You will receive a verification email shortly.
There was a problem. Please refresh the page and try again.