How to keep time with your Apple Watch: The ultimate guide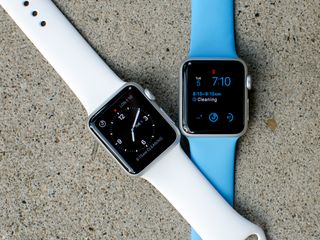 That's how Apple introduced the Apple Watch, but the company also stressed that it had to be more — that it had to be personal. To provide for both, Apple created a set of apps, including Clock, Alarm, Stopwatch, Timer, and World Clock. Each offers its own, unique functionality and customizations. Combined they make your Apple Watch far more efficient and convenient — once you've set them up just the way you want them. Here's how!
How to change the clock face on your Apple Watch
With Apple Watch, you're not limited to a single clock face like you are with a traditional timepiece. Force Touch and you can change your Apple Watch from chronograph to color, modular to utility, Mickey Mouse to simple, motion to solar, astronomy to... you get the idea. Each has a different density and character, a different capacity for complication and customization. Best of all, changing your clock face is easy to do once you know how!
How to customize and add complications to your Apple Watch
There are three ways to customize your Apple Watch face — by changing the level of detail, the look, and the number and type of complications. Changing the level of detail can include adding more hour and minute numbers. Changing the look can include switching red for blue or yellow in the color options. It can also include switching an animated butterfly out for an animated jellyfish. Complications, a term used in classic timepieces, offer far more options — alarm, moon phases, timer, calendar, stocks, weather, activity, stopwatch, and world clock. Not every Apple Watch face supports customization, and different faces can take a different number of complications. But once you get the hang of it, you can set up the perfect face to match your current mood and activity.
How to set the clock ahead on Apple Watch
How to access and add world clocks on Apple Watch
If you work across different time zones or have friends or family that live in them, it's useful to have quick access to the time in those areas. If adding complications isn't enough to manage the time zones you need to track, the World Clock app on the Apple Watch in conjunction with the Clock app on your iPhone can help you do just that.
How to create and manage alarms on Apple Watch
The Apple Watch has an alarm app just like your iPhone does. You manage the alarms independently of the ones you have in the Clock app of your iPhone. That means you can prioritize alarms depending on their importance. Perhaps you have pills you need to remember to take throughout the day. Those kinds of more important alarms are more suited for Apple Watch instead of iPhone.
How to use your Apple Watch as a stopwatch
The Apple Watch has its very own Stopwatch app that makes timing a multitude of activities more convenient. You can even choose between different stopwatch views that better suit the activity you're trying to time. If you want to time someone swimming laps, the digital view has you covered. Need to time a process? Maybe the hybrid view is better suited. No matter what your stopwatch needs are; we can walk you through all the basics.
How to set a timer on Apple Watch
Timers are only convenient if you hear them go off. How many times have you set a timer on your iPhone or the kitchen microwave and then walked away? The Timers app on the Apple Watch can keep timers where you can't walk away from them, on your wrist. Just set a timer, forget it, and wait for Apple Watch to notify you.
More help with Apple Watch
Need more help with the Apple Watch? Our iMore Forums are a great place to ask questions and get great answers. And if you're interested in more guides on using and setting up your Apple Watch, we've got those too!
Master your iPhone in minutes
iMore offers spot-on advice and guidance from our team of experts, with decades of Apple device experience to lean on. Learn more with iMore!
iMore senior editor from 2011 to 2015.