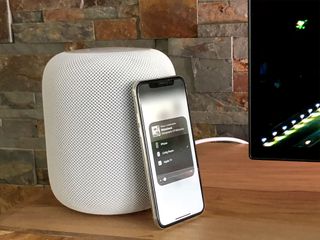 (Image credit: iMore)
If you're ready to sell your HomePod, there are a few great options for finding a buyer. Whether you trade it in for cash or sell it directly to a private buyer, these are the best options for getting the most money for your HomePod.
When is the best time to sell?
This early in the HomePod's existence, it's a little hard to tell when you'll get the highest dollar value for your used HomePod. Traditionally, the best time to sell an electronic gadget is right before a new version is announced.
Some things to consider are whether HomePod is easy to buy at traditional retail stores. If someone can order it from Apple's online store and have it shipped in a few days, the value of your used version goes down some.
Since we're on the first version of HomePod, we don't know what the refresh cycle looks like. Basically, right now, the answer is: when you want to sell it.
What should I do before I sell it?
HomePod is a fairly self-contained unit, so preparing it for sale is much easier than selling an old iPhone. There are no extra cables or wall plugs. You don't have to unlock anything. Erasing your personal data is as easy as disconnecting the HomePod from your device. There are three things you should do to prepare your HomePod for sale.
Reset it
Clean it
Find the original box
The first two are easy. Digging up the original box it came in might prove a bit more difficult if you don't remember where you stuffed it. It's worth the effort to find it, though. I've seen empty HomePod boxes sell on eBay for as much as $40. That box is worth something.
How to prepare your HomePod for sale
What's the best way to sell my HomePod
There is one important question to consider when deciding to sell your HomePod.
Are you willing to take less money if it means the selling process is easier?
There are a couple of different ways to sell your HomePod. You can either trade it in for cash from an ecommerce buyer (easiest) or sell it directly to a private party (most money). If you want the biggest dollar for your goods, selling directly to a private party will be the most beneficial to you, but you'll have to do all of the leg work, including packaging, shipping, and making sure you get paid.
If the stress of selling directly makes you feel a little lightheaded, you can trade your HomePod in to an ecommerce buyer, who will usually send a pre-paid shipping label so all you have to do is make sure the package it's shipped in is sturdy. The buyer evaluates the product and sends the money to you either with a check, PayPal deposit, or Amazon Gift Card.
These are the best ways to sell directly to private parties and through an ecommerce buyer.
Swappa is an auction house for buying and selling electronic devices. It's a little better than the wild west that is eBay. Swappa requires quite a bit more verification for both buyers and sellers. You'll be able to list your HomePod with confidence that it will be very difficult for the buyer to rip you off.
Sellers are also not charged a fee when they sell an item on Swappa. Buyers will be charged a small sale fee, but if you're the one selling, you don't lose any money from seller fees.
You can list your HomePod for any price, and buyers can offer you a lower price. This method of bartering is done openly and officially, so you won't sacrifice seller security for taking a lower bid on your item.
Right now, the HomePod is usually listed for about $325, but the average price sold is closer to about $290.
iGotOffer is similar to Gazelle, which you may have heard of if you've ever thought of selling your old iPhone (Gazelle does not currently buy used HomePods). It's an ecommerce buyer that will offer you money for your used HomePod by quoting you a sale price based on the information you've provided in the initial process. iGotOffer will then send you a shipping label. You'll send the HomePod to them. They'll evaluate it and determine if it's in the condition you said it was in. If it all looks good, they'll send you the money. Done.
If your HomePod isn't in the expected condition, they'll offer you a different quote that you can decide to take or decline. If you don't like their offer, they'll send it back to you for free.
Currently, you can get about $240 for a "flawless" condition HomePod, which means it looks new, doesn't have any scratches, dents, or marks, and functions perfectly.
eBay is a fickle seller's market, to say the least. Some people have a wealth of experience with the online auction house and can make a decent living doing nothing but selling on eBay. It is, however, a complex beast and people have been known to scam sellers by claiming they didn't receive a purchased item.
If you're comfortable selling on eBay, this is, hands-down the most profitable way to go. Many HomePods sell for $330 - $350 with a few of them hovering around the $300 range. Just make sure to:
Only ship to the buyer's confirmed Paypal address if using Paypal.
Price competitively, especially if you're using Buy It Now as an option.
Take great photos but show any defects so everyone knows what they're getting.
Take at least one photo showing the HomePod when ON, so everyone can see it works.
Use a fast shipping service and make sure you include that in your item description.
Use keywords in your title and in your item description to attract more potential buyers.
You may also want to consider insuring your item in case anything goes wrong during shipping.
Watch out for low-feedback buyers and also keep in mind that PayPal charges processing fees as well.
If you're not comfortable with eBay's process, you should consider checking out Swappa or iGotOffer instead.
Craigslist is a digital version of the classified ads we used to look at in the daily newspaper. It's localized and very often doesn't provide a means to ship an item. You don't have to pay any service fees, because you're buying and selling directly between to parties, but you do have to meet someone face-to-face in order to sell to them.
At this time, used HomePods (though there are very few of them on Craigslist) average around the $300 range. If you decide to sell on Craigslist, remember to:
Never put your personal or home address in an ad. NEVER.
Price your HomePod competitively. Find existing ads on Craigslist in your area for HomePods that are the same condition as yours and price accordingly.
If you're comfortable, include a number to call or text. It can increase the likelihood of a quick sale. (If you have a virtual number, use it.)
Meet in a public place, preferably in the daytime. A coffee shop like Starbucks is ideal. Bring a friend with you, just in case.
Watch out for email scams. If someone offers a lot more money to encourage you to ship them your HomePod, they're just trying to rip you off.
If you're not comfortable with the idea of selling to someone in-person, you should consider checking out Swappa or iGotOffer instead.
Still have questions about selling your HomePod?
If you've still got questions floating around in your head about the best way to sell your HomePod, put them in the comments and I'll help you out.
Master your iPhone in minutes
iMore offers spot-on advice and guidance from our team of experts, with decades of Apple device experience to lean on. Learn more with iMore!
Lory is a renaissance woman, writing news, reviews, and how-to guides for iMore. She also fancies herself a bit of a rock star in her town and spends too much time reading comic books. If she's not typing away at her keyboard, you can probably find her at Disneyland or watching Star Wars (or both).