How to set up and use Home Sharing on Apple TV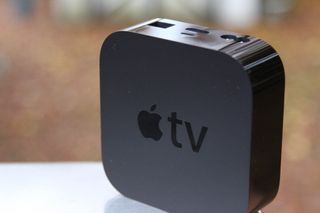 (Image credit: iMore)
Home Sharing is a simple way to connect content between Mac computers and Apple TV, You can access music, movies, audiobooks, and more from the iTunes library on your desktop or laptop without having to be connected to iCloud. Here's how.
How to set up Home Sharing on your Mac
Before you can share content to your Apple TV, you'll first have to turn on Home Sharing on your Mac computer.
Open iTunes on your Mac.
Select File from the menu bar in the upper left corner of your computer's screen.
Select Home Sharing.
Click on Turn on Home Sharing.
Enter the email address and password associated with your Apple ID.
Click on Turn on Home Sharing.
You can now share content from your Mac on any other Mac or Apple TV that has Home Sharing turned on and is signed in with the same Apple ID.
How to set up Home Sharing on macOS Catalina
With iTunes split into the new Music, TV, and Podcasts apps on macOS Catalina, turning on Home Sharing works differently.
Open System Preferences.
Click Sharing.
Click Media Sharing.
Click the checkbox next to Home Sharing.
Enter your Apple ID password if prompted to do so.
Click Turn On Home Sharing.
Your Apple TV will now be able to see the libraries of both the Music and Apple TV apps. Keep in mind, the Apple TV will only see those things that you have downloaded directly to your Mac.
How to set up Home Sharing on Apple TV
Make sure the Apple ID you use to log into Home Sharing on Apple TV is the same one you use on your Mac.
Open the Settings app on your Apple TV.
Select Accounts.
Select Home Sharing.
Select Turn on Home Sharing.
Either enter the Apple ID that you use to turn on Home Sharing on your Mac or confirm that the Apple ID associated with your Apple TV is the one you'd like to use.
Enter the password associated with the Apple ID.
Select OK.
How to find content from your Mac on Apple TV with Home Sharing
Once your computer is connected to your Apple TV, you can access content directly via the Computers app.
Open the Computers app on your Apple TV.
Select a content category, like Movies, Music, or Photos.
Select a file to play or view.
Anything Else?
Is there anything about Home Sharing on Apple TV that you'd like to know more about? Let us know in the comments.
Updated March 2020: Added information about activating Home Sharing on macOS Catalina.
○ Apple TV 4K Review
○ Apple TV buyers guide
○ Apple TV users guide
○ Apple TV news
○ Apple TV discussion
○ Buy at Apple (opens in new tab)
○ Buy at Amazon (opens in new tab)

Get the best of iMore in your inbox, every day!
Lory is a renaissance woman, writing news, reviews, and how-to guides for iMore. She also fancies herself a bit of a rock star in her town and spends too much time reading comic books. If she's not typing away at her keyboard, you can probably find her at Disneyland or watching Star Wars (or both).
We use home sharing so as to not go over our bandwidth cap. But home sharing is really flakey. Sometimes I have to restart iTunes or my 2015 Mac mini. Apple really needs to fix home sharing! Sent from the iMore App

Who is your ISP? I don't have a data cap on my home internet, just on my smartphone.

Who in this day and age has a data-cap on their BROADBAND? That's just plain wrong

Mediacom. 250gb/month. For a family of four its easy to go over. Sent from the iMore App

Holy crap! I just looked it up, for the 250gb plan you only get 1 Mbps up???? It must take you like an hour to upload a video to YouTube. https://mediacomcable.com/site/internet.html I just ran a speed test (speedtest.net) and I have 65.98 Mbps up.

On Mediacom under 50 meg is 250gb/month and above 50 is 350/month. You can use more but u have to pay $10 then you get another 50gb. Some months we have hit 700gb/month so the overage charges are high.
We don't have cable tv so the net is all we use.
Anyway, we can't stream everything in HD all the time so we try to download most everything once so everyone can watch it on their Apple devices. But home sharing isn't really always working and sometimes it's a real struggle. Apple doesn't seem to really be interested in fixing it. Sent from the iMore App

Do you think that Apple will EVER get the search feature working with Home Sharing Library content? I have over 2100 TV shows, 600 plus movies, 160 plus podcasts (mostly video), and over 4,000 songs (I do have Match but refuse to even think about messing with Apple Music) that I keep stored on two separate 9TB RAID array units. Scrolling through loads of movies to get to the one I want that starts with the letter "Y" is a royal pain with either the old AppleTV silver remote or the new AppleTV Siri remote. It's a bit better with TV shows as I keep them separated by season so at least I only have 20 or so most times to scroll through - except for shows like The Nightly Show w/ Larry Wilmore that have 100 episodes or more per season. Music isn't too bad (voice search seems to work by adding "My Music" to the command), especially if you keep playlists and Genius lists updated and inclusive when you add new tracks to your library. The only alternatives I've found so far for solving the issue of searching quickly for content in my own library is to install and use Plex or Kodi, but I really like and want to keep the AppleTV interface/GUI. Any thoughts if search function for Library content will come to the new AppleTV?
Peach

Nope..... Most of the talk is the content, Siri, and what an Apple TV is used ..... searching didn't even exist in Apple TV 3. There been no mention of this ever with through searching of Computers section ... I wish there would be a way, but Apple wants u to use iTunes for that.. What better way than by force huh ? I wouldn't even mind it you could use siri to tell it to play title in Computers, but i think that's where Apple lacks.. Maybe not enough users use Home Sharing to even make it noticeable feature ?

I've seen lots of comments with frustrated Home Sharing users (even if they are the only ones using the Library such as people like the one in the first comment that have usage caps on their internet service) that don't have libraries even close to the volume of items that I have. The iPhone and iPad support search of your content (music, videos, and even Photos with the right vocal request command) - and from what I understand, tvOS is a variation of iOS, so this shouldn't be too difficult to institute. Granted, you must have items meta-tagged correctly (or at least consistently) so that the search would be effective. But if they can make this an option in both iTunes on my iMac and on my iPhone & iPad, there's no logical reason that it couldn't be added to tvOS and giving me search results for services that I don't have (like Netflix or Hulu - it seems to do this occasionally even though it's not supposed to show options you don't have subscriptions or access to) or showing me the iTunes Store result for a TV show or movie I already own isn't going to make me purchase the content a second time (much of my content was ALREADY purchased from iTunes to start with) and just push me (as reluctant as I am) to use a secondary interface on my AppleTV (such as Plex or Kodi) to access content I own and also make me less likely to bother using Apple's resources to purchase new content as well - why bother buying new stuff from Apple if I can't search for and play it after I download it and add it to my private library of content?
Peach

Like others, I have had issues with home sharing. Apple TV tells me it's not on, when it is.
Quitting iTunes, and restarting seems to work.
Still, it shouldn't happen. Siri also needs to be able to search local content.
If Apple are bothered by privacy issues, it can be opt-in.
The user could also opt-in to having meta data stored on Apple servers, for fast searching.
Or no storing, for slower searches.

I finally broke down and purchased Apple TV. I actually never really thought it was necessary. Previously (before using Netflix) I didn't do a lot of streaming. I traveled a lot and was never really at home. Now that I am home more, I realize just how much money I'm wasting on DirecTV. So now I'm trying to understand all of the benefits of Apple TV (i've always been a Mac/Apple baby) so it made sense to buy this instead of Amazon Fire, etc. So having said all of that, I have a few questions. Do I HAVE to have my laptop ON in order for home sharing to work? I really don't want to have to log on to my computer just to be able to access my music playlist. Am I missing something? Thanks!

u need a computer, iOS device on in order to use Home Sharing.... Any Mac or Apple TV u wanna share with/to needs to be logged in with the same Apple ID... Nothing is sent to Apple,,, Home sharing is local only, but signing in to Apple is required. I have a dedicated Mac Mini that streams movies/TV shows from a connected external hard drive though out the house. across two Apple TV's

I see that this was an older article updated to stay current, but I am really having a hard time finding an answer. I own a 3rd Gen Apple TV and recently bought the 4th Gen HD unit and moved the 3rd gen to a secondary room. I have a large local video library on my network that has worked fine for the life of the 3rd Gen, but now with both it seems when I try to use home share I can only get it to work on one at a time. Finally in frustration I called Apple for help and was told that it is a copyright protection issue and that only 1 device may access home share at a time, regardless if they are trying to play different media files. If I have it using "Computers" in the living room and want to go to the bedroom to watch something else, or even pause and resume the same video I have to first close out of the "Computers" to the main menu in the living room, go to my computer room turn off home sharing, turn it back on, put in my password then go to the bedroom and open the "Computers" from there. If I don't do those steps I get (on 3rd Gen) Turn on Home Sharing warning even though it is on. From the 4th Gen I get Could not connect to Beez's Library warning. In my pre-purchase research I found lots of (Non-Official) answers that said you could stream different media to multiple devices from the same home share library. Looking back at those answers now I see they are old (2010). I remember 1-2ish years ago streaming to the Apple TV and my iPad at the same time, but now I cannot even see my home share library on my phone, nor iPad if an Apple TV has it open. Am I that much in the minority of people that want to stream home share to multiple devices? I assumed this was a recent change and wondered why more people weren't upset and complaining about it online. Google searches using different search strings and limiting results to the last 2 years turns up next to nothing related to the restriction of 1 home share device at a time. Can any of the experts at iMore, or their readers, shed some light on this for me?