How to download macOS Sierra 10.12.6 public beta 6 to your Mac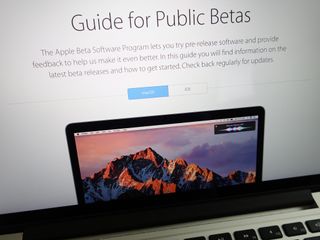 Apple has been offering public betas for macOS for a couple of years now as a way for those interested in testing out the upcoming software on their Macs, and providing feedback. If that's you, you'll need to sign up, enroll your Mac, download macOS Sierra, and install it. It's not an overly complicated process, but we're here to walk you through it and, if you need it, a place to get extra help.
Apple occasionally offers updates to iOS, iPadOS, watchOS, tvOS, and macOS as closed developer previews or public betas (opens in new tab). While the betas contain new features, they also contain pre-release bugs that can prevent the normal use of your iPhone, iPad, Apple Watch, Apple TV, or Mac, and are not intended for everyday use on a primary device. That's why we strongly recommend staying away from developer previews unless you need them for software development, and using the public betas with caution. If you depend on your devices, wait for the final release.
Note: This guide is being updated in real time. If you are seeing old content, refresh the page or come back later.
How to make a back up of your Mac
Before joining the public beta, you need to make a backup of your Mac. That way, if something goes wrong, of if you're simply not happy and want to revert to OS X El Capitan, you can go right back to where you started.
Even if you back up every night, you'll want to make double, triple sure you're covered. So make a manual backup now. Here's how to do it with Time Machine. Even if you use something different or additional, like SuperDuper!, make sure you manually start a backup now.
Click on the Time Machine icon in your Mac Menubar.
Click on Backup now.



Let the backup finish before proceeding.
Note: If you're not adverse to the Terminal, you can also make a bootable El Capitan installer as way to jumpstart reversion, if needed.
How to register your account for the macOS Sierra public beta
If you've already joined a public beta for OS X in the past, you don't need to register again for macOS Sierra. Simply sign in with the same Apple ID. If you've never joined a public beta before, you'll need to start by signing up with your Apple ID.
Go to beta.apple.com

(opens in new tab)

in Safari on your Mac.
Click on Sign up to get started. (If you've already signed up for a previous public beta, Click on Sign in and skip to "How to enroll your Mac", below.)
Enter you Apple ID email address and password.
Click Sign in.



Once you're signed up and signed in, it's time to start downloading.
How to enroll your Mac in the macOS Sierra public beta
Downloading the macOS Sierra public beta is done through the Mac App Store but requires a special code (like a promo or gift code). The code is provided for you on the website, but is also automatically entered for you when you click to begin the process.
Go to beta.apple.com

(opens in new tab)

, if you're not there already.
Click on the macOS tab, if it's not highlighted already.
Click the Download macOS Sierra public beta access utility button.
Open the file from your Downloads window.
Double-click the package to run the installer.
When the installer is finished downloading, the Mac App Store will automatically open to the Updates section. Click Update to download and install the public beta software. After the software has been downloaded, your Mac will automatically restart.
If the latest public beta does not appear on the Updates list, restart your Mac. Then, open the Mac App Store and click the Updates tab.
The public beta update can take a long time to finish downloading, depending on the size. You can check the status in the Updates tab of the Mac App Store.
How to install the macOS Sierra public beta
The macOS Sierra installer will automatically open when it's downloaded. If it doesn't, or if you prefer to do it later, you open Install macOS Sierra Public Beta at any time via Spotlight or Launchpad, or from the Application folder in the Finder.
Launch Install macOS Sierra Public Beta app, if it's not launched already.
Click Continue at the bottom.


If prompted to make a backup, and you didn't before, click Continue in the dropdown. If you just made a backup, click Cancel.
Click Continue at the bottom once your backup completes, or if you skipped it.
Click Agree to accept the licensing terms.
Click Agree again to confirm.


Click on the drive you want to install onto (if you have multiple options; most people won't.)
Click Install.
Enter you administrator password and click OK.
Click Restart (if your Mac doesn't restart automatically, or you don't want to wait).



Once your Mac reboots, it'll be running macOS Sierra. There's a brief bit of setup you'll need to go through, however, as the system will have changed enough that it'll need your login to complete the update.
Once that's done, you'll be ready to rock macOS Sierra.
What's new, and what if you don't like it?
To help ease your way into everything, make sure you check out our macOS Sierra preview and our comprehensive macOS FAQ for all the details!
And, if you ultimately decide macOS Sierra 10.12.6 isn't for you, you can still revert back to macOS 10.12.5.
Update July 5, 2017: Apple has released macOS Sierra 10.12.6 public beta 6 for members of the Beta Software Program. If you already have the macOS Sierra public beta installed, head to Mac App Store > Updates and download away. If you've been waiting for beta 6 to get started with macOS testing, keep reading and we'll walk you through the set up!
○ FAQ: Apple's beta software
○ Should you run beta software?
○ iOS 14 public beta: The ultimate guide
○ iPadOS 14 public beta: The ultimate guide
○ macOS Big Sur public beta: The ultimate guide
○ iOS 14: Everything you need to know
○ iPadOS 14: Everything you need to know
○ macOS Big Sur: Everything you need to know
○ watchOS 7: Everything you need to know
○ tvOS 14: Everything you need to know

Get the best of iMore in in your inbox, every day!
Rene Ritchie is one of the most respected Apple analysts in the business, reaching a combined audience of over 40 million readers a month. His YouTube channel, Vector, has over 90 thousand subscribers and 14 million views and his podcasts, including Debug, have been downloaded over 20 million times. He also regularly co-hosts MacBreak Weekly for the TWiT network and co-hosted CES Live! and Talk Mobile. Based in Montreal, Rene is a former director of product marketing, web developer, and graphic designer. He's authored several books and appeared on numerous television and radio segments to discuss Apple and the technology industry. When not working, he likes to cook, grapple, and spend time with his friends and family.
Rene - I'd give users instructions on creating a bootable installer drive of OS X 10.10.4 Yosemite. That's the quickest and easiest way to get back to a clean version of Yosemite if El Cap isn't ready for your use cases. With the createinstallmedia function of Terminal it's super easy.

Right here: http://www.imore.com/how-make-yosemite-boot-drive

Off subject Rene, but the iMore app stop loading articles. It started before 10.1.1 on the iPhone.

The app is a mess. Still doesn't work for me

Once I've downloaded El Capitan, if I want to then install it on a copy of Virtual Box that I have on my Mac that shouldn't be a problem should it?

Serenity wrote a how-to article about partitioning, I think she mentioned VM's will work, but you'll likely lose some power or functionality since they can't fully support El Cap yet, especially Metal. Sent from the iMore App

For what it's worth, I strongly advise against relying on a Time Machine backup for this situation. I've had it screw up for me way to many times. Although, I do have it running on my NAS, I've had issues with a "server grade" hard drive mounted internally in my Mac Pro. I haven't had a drive failure (knock on wood), but simply time machine decides to stop working one way or another. If you do use time machine, create a brand new full back up on a clean HDD, secondary to your standard time machine drive. Once it's done, put it on a shelf. Don't touch it unless you have to restore to Yosemite. This way El Cap can't destroy it. Sent from the iMore App

Thanks durfmobile. What you say about El Cap probably working better on a partition of the Mac than on a VM makes lots of sense.

durfmobile, I know this is an old thread, but you sound pretty knowledgeable about backup drives. I had a question that I haven't been able to find an answer to & maybe you could shed some insight (if you ever see this). I use an external HDD with two partitions (one for time machine backups & one for Carbon Copy Cloner backups) on the same drive. Could there potentially be any issues from this setup?

I followed the instructions, but it did not start the download of macOS after redeemed my beta code. I was previously in the EL Capitan Beta program, left it, and then signed up for the macOS public beta. The last update I have in the app store is EL Capitan public beta 5. Help!

In case no one has mentioned it, the latest Beta now has Siri opening apps like fcpx or Keynote.
Previously, it wouldn't work for me.
Hugh

Dirt simple for me. I left my MacBook Pro up overnight to do its SuperDuper! backup once I went to bed.
When I woke up this morning, it asked for my login password, which is odd because I have it set to autologin. I gave it my password and it immediately began 'optimizing' my mail.
That's when I knew I had a new operating system!
I'm still having to walk my iDevices through their upgrade procedures, but my Mac took care of itself!
It Just Works!!
Secondary drive? Separate partition? Seriously, what are you worried about?
I have a USB installer drive for El Cap (and Yosemite and Mavericks) if it ever comes to that, but it has NEVER come to that. Only Windows has ever trashed my system with an OS upgrade. Apple has always been very, very good to me.
I ALWAYS jump into these Public Betas with both feet without looking back. The only way to honestly test these is to use them for absolutely everything!!

Hopefully someone can help me here. I have been doing public beta on my mac for awhile now and yet never ran into or heard of this issue I am having. When I went to app store to upgrade to macos beta3 it started downloading and got hung at 151mg. For hours it just sat there, so I did some research and found where I could stop it and clear cache/temps and that should resolve. However it has not resolved and I cannot get it to download past the 151mg. I am at wits end and the intranet isn't giving much information. Have any of you heard or experienced this?

Ok as of right now it is showing in terminal that macos beta4 is downloading. I attempted to follow the guide I found here (inserted a link here to the guide I used but system said it was marked as spam and had to remove it.) however some of the switches wouldnt work. So I looked at softwareupdate -h and then I did sudo softwareupdate -ir --force. I will keep you all updated till completion.

sudo softwareupdate -ir --force
Software Update Tool
Copyright 2002-2015 Apple Inc. Finding available software Downloading macOS Sierra Public Beta
Downloaded macOS Sierra Public Beta
Installing macOS Sierra Public Beta Looking good so far.

After a reboot everything seems to be updated and I have used the app store to update other apps since.

Thank you for the detailed followup!!!

Is this ready for my daily driver?

I'm using it as my daily driver, both for working and for gaming/casual stuff at home. Not had any problems, everything's smooth, if not more so than El Capitan

Anyone knows what this update brings? I've seen some performance issues on my MacBook (2015), like graphic glitches, more time to recover from sleep and present the login screen and other small things. Hope they corrected this.

Essentially bug/performance fixes, I don't think there's a specific changelog anywhere. Hopefully it will fix your issues :)

Good job parroting Lory's article Sent from the iMore App

Is it true you cannot revert back ? This update is crashing a really important app I need for work. I going to try to revert back to el captain then download regular macOS IM DONE PUbliC betas, not worth it.

You shouldn't be using a Beta OS for work, it should be done on a machine where it's not that important if an application doesn't work, which can easily happen on a Beta

10.12.2 Might be where I give up on Betas too. Still a bit peeved when one of the early 10.12.1 betas broke non-apple mechanical keyboards, but I got over it when I found a fix on line (apple themselves never bothered fixing it) but this one has finally broken Photoshop CS6 for me and that's a bridge too far.

Sold my mac and bought a Chromebook...Then bought a SpectreX360...for less than my MacBook Air. 4K screen, i7 Kaby Lake, 16GB RAM, 512k SSD...$11.99.00. Boots up in about 10 seconds. Buh Bye Mac... Still keeping iPhone, iPad, Nike Watch, and Apple TV.

That's good if you don't mind using Windows, for me personally I couldn't go back to Windows.

I reported your post for the obvious spam it is.

Updated to Public Beta 7 and all seems well. Same with my iPhone... with the iPhone however I noticed I gained 22 megs of memory which I lost in Public Beta 6.

Yet another Public Beta release. I've been doing these Public Betas ever since they first offered them. On all my devices. Can't find bugs unless you use it seriously.
My only problem so far is the regular interruptions to upgrade to another Public Beta release, sometimes as often as once a week, especially just before a major 'point upgrade' release.

The interruptions work the same as any OS update, if you have a problem with it you have a problem with the way OS updates work in general, rather than anything specific to the Public Beta
Thank you for signing up to iMore. You will receive a verification email shortly.
There was a problem. Please refresh the page and try again.