iCloud storage tiers now bigger, more affordable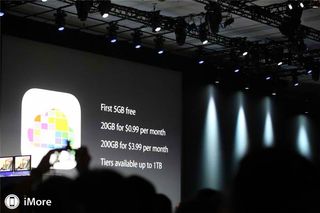 Apple is now making iCloud more affordable given that the cloud storage will now be more heavily relied upon with the new Photos app for iOS and soon for the Mac. At WWDC, Apple is saying that the first 5 GB will be free for all users. Those who need more cloud storage can buy 20 GB for $0.99 per month or 200 GB for $3.99 per month. Tiers will be available for up to 1 TB of storage.
Apple has not yet announced tier pricing beyond 200 GB, but the added storage should be welcomed for those who use iCloud Drive and for photographers to back up and synchronize their photos.
For comparison, Apple competitor rival Google is also offering cloud storage through Google Drive. Users have 15 GB to start with and those who need more can buy 100 GB for $1.99 per month and 1 TB costs $9.99 monthly. Going up to 30 TB on Google Drive will cost you $299.99 per month.
When will this be available? Do we have to wait for iOS 8? That wouldn't make a lot of sense to wait just for the price change for cloud storage.

I wonder how they will compensate those of us who already pay for iCloud storage.

by waiting until iOS 8 in the fall. I bet that is when most of their legacy .Mac folks are on as a cycle.

This is still a weak point for Apple - they should definitely increase the base storage included based on the size of iDevice you buy - that could help justify the $100 pricing tiers.

This is bull why couldn't they give u 10GB free they want u to do all this shit with 5GB .99 a month

Lol. It seems like Google still leads the way with affordable options. Regardless, this is a cool feature. iMore App via Nexus 5.

What's the big advantage over Google's Drive cheaper option? I did not fully understand why pay more for less... What am I missing here? MBP 13" Retina 8GB 256GB SSD, iPhone 5, iPad 2
Get the best of iMore in in your inbox, every day!
Thank you for signing up to iMore. You will receive a verification email shortly.
There was a problem. Please refresh the page and try again.