iMore show 577: Treehouse of Pre-Orders X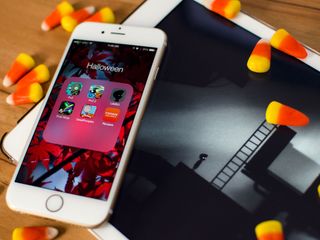 In this year's Halloween special, Gandalf (aka Mikah), Gilligan (aka Lory), and a Pokémon Trainer (aka Rene) embark on a 54 minute tour aboard the S.S. iMore to talk about their experiences pre-ordering iPhone X.
They also discuss privacy, FUD, 'gates, and the most terrifying aspect of iPhone ownership: accidental damage!
Listen now
Show notes
Hosts
Be part of the show!
Send in your comments, questions, feedback, or follow-up to:
Get the best of iMore in your inbox, every day!
Jim Metzendorf has been using Macs since 1994. He is a podcaster, freelance audio/video editor, and author of 'The Professional's Guide to Audio Podcast Production'. Jim also teaches audio production at a college in Cleveland, Ohio. Follow him on Twitter: @jmetzendorf
The folio case was not available on Apple's website. That's OK because I've been purchasing one from this company every time I buy an iPhone and I think it's the best quality and really good leather.
It's sena cases. They make great cases
I got this one which I can also use as wallet too but this one is better than apple's because you can also prop it up so you can watch video on the table hands-free
It's also cheaper than Apple's case
Bence Wallet Book Leather Case for iPhone X, 8 Plus, 8, 7 Plus, 71
Bence Wallet Book Leather Case for iPhone X, 8

Entertaining podcast. I'm still on the fence about the price, but it isn't something i won't get over. Keep these podcasts coming !

just wait for it to come in the house

I had an issue 12:00 a.m with the Apple Store app on my phone and made the decision to to go to my provider Verizon. I had my upgrade completed by 12:03 and immediately got my email confirmation for Nov. 3rd. I went the way of my provider because when I got my iPhone 7 Plus I got it from my Apple Store and just swapped my sim and I was off to the the races. It was never recognized with Verizon but worked fine. So, my order was processed as an upgrade ($30 ding.) The best part is I'm sending my sister my iPhone 7 Plus. I'm upgrading her iPhone 5.!