iOS 8 now installed on 52 percent of devices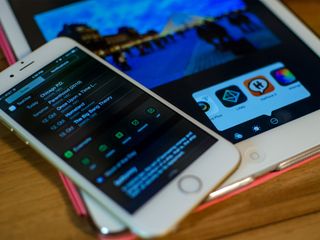 iOS 8 is now installed on over 50 percent of iOS devices and claims a 52 percent market share. With the new stats reported by Apple, iOS 7 is now installed on 43 percent of devices and prior operating systems to iOS 7 claim 5 percent of the install base.
With iOS 8, Apple most recently released iOS 8.1 that fixes a few bugs and adds Apple Pay to the iPhone 6 and iPhone 6 Plus.
What do you think of iOS 8 so far? Let us know in the comments.
Source: Apple (opens in new tab)
Get the best of iMore in in your inbox, every day!
Didn't even like apple until IOS 8 Sent from the iMore App

Haha I take it you like iOS 8 then?

As soon as IOS 8 jailbreak is stable and one click, you gonna see the boost of IOS 8 adoption

Everybody (including me) is still waiting for their iPhone 6+ orders to ship. I haven't updated my 5S because, why? Just wait for new device! Sent from the iMore App

I would like to go back to iOS 7 instead

Me too. Sent from the iMore App

At the airline I fly for we are still only allowed to run 7.1.2 on our iPads. We have been told that the app we use for our charts called Jeppesn flight dec Pro is having problems with IOS 8. Once they have updated the app to work with IOS 8 it will then need to be approved by the FAA before we can download the new app and iOS 8. From what we have been told this is affecting every airline that uses iPads. I don't know how many iPads that means, but I imagine it being a big number.

So far I'm liking it ... But I will say it drops my wifi connection a lot and I have to reconnect manually ... Other than that it's running fine on my IPhone 5s 16 gb .... I'm liking iCloud photos a real lot ... I do wish there was an app to access iCloud Drive I'd i wanted to store a file or photo on the drive my my laptop ... Maybe in time ... But I haven't had any issues other than the wifi ..., Sent from the iMore App

iCloud Photo Library was a big disappointment to me. I was expecting a Google Drive style app to interact with the files. Sent from the iMore App

It sucks a fat dick, I should have stayed with 7. Sent from the iMore App

Can't say the update has brought some MAJOR features like everyone implies. Seriously! I expected quick reply to be available to all developers but it's not, that was the number 1 feature I look forward to. Besides that, nothing is really major major and makes it worth updating. Share sheets? Weather app? Saved drafts? Another ios 6 resemblance. Hopefully ios 9 will give us dark mode option! Sent from the iMore App

I don't know I am still using iOS 6!!!!! Sent from the iMore App

So, more than half of iDevice users now have trouble accessing wifi networks?

Is it me, or did iOS7 get adopted much quicker? iOS8's irratic network connections are a major problem on my ipad2 3G, and iphone 5S. I'm eating up mobile data at home and in the office. On iOS7 this did not happen. When on wifi pages in safari often stalls during load. Getting tired of the reload button. My ipad2 often can't find any cellular connection (the signal is strong here). A reboot cures all.. Until the next reboot is required. It's also slow as hell... Unacceptable. My partners ipad air often won't connect to wifi since iOS8. There is nothing wrong with my wifi networks and hardware. My ipad mini (non retina) on iOS7 has none of these problems and is fast.. No. For the moment I'm not updating! I like iOS8's new features but I'm Not really impressed by the stability at all. Sent from the iMore App
Thank you for signing up to iMore. You will receive a verification email shortly.
There was a problem. Please refresh the page and try again.