iOS 8 now installed on 63 percent of devices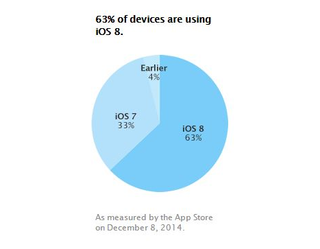 According to Apple's App Store distribution numbers, various versions of the company's iOS 8 software is now installed on 63 percent of devices, including the iPhone, iPod Touch, and iPad. Now, iOS 7 is installed on 33 percent of devices while prior versions of iOS is found on just 4 percent of devices. The numbers were published on Monday, December 8.
This is a bump up from Apple's data from a few weeks ago. On November 24th, iOS 8 was reported to be on 60 percent of devices while iOS 7 was installed on 35 percent of devices.
Source: Apple (opens in new tab)
Get the best of iMore in in your inbox, every day!
Great! Sent from the iMore App

Is this adoption rate still slower than last year with iOS 7? Sent from the iMore App

Agreed especially with all the bugs in the firat few updates of iOS 8. Sent from the iMore App

iOS and Apple can go suck my weenie
They fucked up my Apple TV something that I watch all the time. They did not to change the youtube it was working fine before this Activation bullshit it makes no cense in my opinion Fuck you apple!!!!!!!!!!! Sent from the iMore App

Mind explaining this and elaborating? Sent from the iMore App

I was very frustrated with my Apple TV and the activation not working for youtube app I watch that all the time and have it not work for me made me go on a rant You have the right to remove my comment from
Board. Because it totally inappropriate I am sorry for my rant Thanks Sent from the iMore App

Now that the jailbreaks are out people have no problem updating the iOS and use the paid apps for free. Obviously the Share will increase.

If they'd get busy and fix the wretched performance on older devices, it would go up a lot more. What's worse, is that Apple is actually still selling hardware on which iOS 8 is a very non-Apple-like usability experience. I wonder how many of that 63 percent wish they could easily go back to iOS 7. I'd do it in a heart-beat and the rest of our family devices are staying at 7 for now.

Most buggy iOS ever! Not many useful features for that matter, not to me. Just quick reply and two-in-one Notification Center. I wonder how buggy iOS 9 will become. Hm hm and hm.... Sent from the iMore App

I wonder how many of the ios7 users are elderly folks who have no idea about the update let alone how to navigate to the update? Sent from the iMore App
Thank you for signing up to iMore. You will receive a verification email shortly.
There was a problem. Please refresh the page and try again.