iPhone 6S vs iPhone SE: What's different and which should you choose?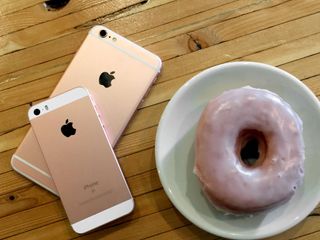 In addition to the brand new iPhone 7, Apple still offers the previous-generation iPhone 6s, iPhone 6s Plus, and iPhone SE. That way, if you don't want the latest and the greatest, you have less-expensive alternatives. In terms of specs, many of them are similar — Touch ID, Apple Pay, Hey Siri, Live Photos. There are some major differences though, including 3D Touch, FaceTime camera, and size. Understanding those differences and figuring out which ones matter to you the most will help you decide between them. Here's what you need to know!
See iPhone at Apple (opens in new tab)
Size
iPhone SE has a 4-inch screen with 1136x640 pixels at 326 ppi. That's the same size as the old iPhone 5 and iPhone 5s. It means everything from apps to games to the web will look smaller, including text and pictures.
iPhone 6s has a 4.7-inch screen with 1336x750 pixels at 326 ppi, and the iPhone 6s Plus has a 5.5-inch screen with a 1920x1080-pixel screen at 401 ppi. That means, with iPhone 6s, you get more of everything, and with iPhone 6s Plus you get much more, including the ability to run iPad-style (two column) apps in landscape mode.
Here's how they compare:
Conversely, iPhone SE will more easily fit in your hand, your pocket, and your bag. It's 4.87 inches (123.8 mm) high, 2.31 inches (58.6 mm) wide, 0.30 inch (7.6 mm) deep, and weighs 3.95 ounces (112 grams).
iPhone 6s, by contrast, is 5.44 inches (138.3 mm) high, 2.64 inches (67.1 mm) wide, 0.28 inch (7.1 mm) deep, and weighs 4.87 ounces (138 grams). And iPhone 6s Plus is 6.23 inches (158.2 mm) high, 3.07 inches (77.9 mm) wide, 0.29 inch (7.3 mm) deep, and weighs 6.77 ounces (192 grams)
If you want a bigger screen so you can see and do more, go for iPhone 6s or iPhone 6s Plus.
If you want a smaller phone you can more easily hold and carry, go for iPhone SE.
Reachability
The 4-inch iPhone SE is small enough the most people can reach every corner of the display, even with a single hand and thumb. The 4.7-inch iPhone 6s and 5.5-inch iPhone 6s Plus, not so much.
To make up for the more expansive displays, Apple introduced Reachability mode. Simply tap — not press! — the Home button twice and the entire interface shifts halfway down so you can more easily access the controls at the top.
If you want constant one-handed ease of use, get an iPhone SE.
If you can manage the big or bigger sizes, Reachability mode can help with iPhone 6s and iPhone 6s Plus.
Visual accessibility
If you don't want more pixels but just want bigger pixels, iPhone 6s and iPhone 6s Plus can do that too. Thanks to Display Zoom, you can tell an iPhone 6s to use the iPhone SE interface and magnify it up, or tell an iPhone 6s Plus to use the iPhone 6s interface and magnify it up.
If a bigger interface is necessary for you to see and interact with your iPhone, get an iPhone 6s or iPhone 6s Plus and use Display Zoom.
If physical accessibility is more important to — being able to comfortably hold the phone — get the iPhone SE if that fits you better.
Productivity
The iPhone 6s Plus has so many pixels that, in landscape mode, it acts like an iPad. Mail goes from one column to two columns. So does Messages, Notes, and a host of other apps. Safari gets tabs and the rest of the tablet treatment. It may not sound like much but it's a huge boon for productivity.
If you like the idea of having a big iPhone in portrait and a tiny iPad in landscape, get the iPhone 6s Plus.
Camera
iPhone SE and iPhone 6s have the same rear-facing iSight camera. It's 12 megapixels and can shoot 4K video. They also share Apple's A9 image signal processor (ISP), focus pixels for faster image acquisition, and Live Photos, which lets you capture movement and sound along with the moment. iPhone 6s Plus adds optical image stabilization (OIS) to reduce motion blur, especially in low-light.
The front-mounted FaceTime camera, though, is a different story. iPhone 6s has 5 megapixels. iPhone SE, only 1.2.
If you want the best camera of the bunch, that's iPhone 6s Plus.
If selfies are important to you, you'll want iPhone 6s or iPhone 6s Plus,
If you just want a tiny pocket phone, iPhone SE will do you fine.
3D Touch + Taptic Engine
iPhone 6s and iPhone 6s Plus have 3D Touch, which is the name Apple uses for pressure sensitivity on the iPhone. It's a shortcut system or "warp tunnel" through iOS that lets you do everything faster. You can press an app to go right to an action. You can press a message or link and peek at a preview. If it interests you, you can press deeper and pop into it. It uses the Taptic Engine, a form of haptics, to provide tactile feedback for the presses.
iPhone SE, despite all its other upgrades, didn't get 3D Touch.
If you like the idea of 3D Touch, you'll need to go for iPhone 6s or iPhone 6s Plus.
If you don't care about 3D Touch, get any of them, including iPhone SE.
Battery life
iPhone SE gets tremendously great battery life. Up to 14 hours of talk, 10 days standby, 13 hours of web browsing and video playback, and 50 hours of audio.
iPhone 6s gets just as tremendous battery life. Up to 14 hours of talk, 10 days standby, 11 hours of web browsing and wireless video playback, and 40 hours of wireless audio.
iPhone 6s Plus gets crazy good battery life. Up to 24 hours of talk, 16 days of standby, 12 hours of web browsing, 14 hours of wireless video, and 80 hours of wireless audio.
If battery life matter most to you, and you don't want to use an external battery case or power bank, get the iPhone 6s Plus.
Who should get iPhone SE?
If you want the smallest iPhone available, one that'll fit into the smallest pocket or pouch, but still has a fairly recent processor and camera, you want iPhone SE.
See at Apple (opens in new tab)
Who should get iPhone 6s?
If you want an iPhone that's still a phone, with all the power but not all of the bulk, then you want iPhone 6s.
See at Apple (opens in new tab)
Who should get the iPhone 6s Plus?
If you want the biggest screen possible, the longest battery life available, and a camera with optical image stabilization, get iPhone 6s Plus.
See at Apple (opens in new tab)
Still undecided?
If you're still not sure about which iPhone to get, jump into our iPhone discussion forums and the best community in mobile will happily help you out.
Rene Ritchie is one of the most respected Apple analysts in the business, reaching a combined audience of over 40 million readers a month. His YouTube channel, Vector, has over 90 thousand subscribers and 14 million views and his podcasts, including Debug, have been downloaded over 20 million times. He also regularly co-hosts MacBreak Weekly for the TWiT network and co-hosted CES Live! and Talk Mobile. Based in Montreal, Rene is a former director of product marketing, web developer, and graphic designer. He's authored several books and appeared on numerous television and radio segments to discuss Apple and the technology industry. When not working, he likes to cook, grapple, and spend time with his friends and family.
Having been an owner of both of these phones (my current is a 7 Plus), I can offer some advice here. Spend a little more and get the 6s. Why? The SE is a nice size and I love the design, but the screen comes with some trade-offs. First, its color gamut and brightness are a good bit less than the 6s, so you'll notice a difference in screen quality. Second, the resolution is less, so there is a possibility it will look slightly grainy under certain circumstances (despite the ppi being the same). Third, and finally, many apps don't scale down very well to a 4 inch screen. They should, but they just...don't.

Great points, though the SE can technically get a little brighter than the 6S: http://www.anandtech.com/show/10285/the-iphone-se-review/4

I second that you have great points but about the app thing, that must be in iOS 10 or so. Haven't noticed it in iOS 9 at all really.

I have both and the SE trumps the 6S in battery life pretty significantly in our day to day usage - it's on par with my wife's 6S Plus most days. Obviously YMMV, but it's been a noticeable improvement in endurance.

Yeah, I have been enjoying the battery life of my SE.

This is off topic but that donut look tasty Sent from the iMore App

I had no idea the SE's FFC was only 1.2 megapixels. I thought it was exactly the same as the one on the 6s. Hmm... I've been thinking of getting an SE as a backup in case something were to happen to my 6s, but now I'm not so sure. I do use the selfie camera on occasion and like the quality of the pics.

There is probably a difference, but I also take occasional selfies without any issues or having it look really bad. It's up to you of course.

I prefer the industrial design of the SE. I like the slab sides. I don't give a rat's patootie about that 3D Touch nonsense. Wish Apple would build a 5" SE with a 1080p screen.

I own an iPhone 6s Plus and an iPhone SE. I like different things about both devices. I really hope that Apple releases a second/follow up version of the SE this year. It's great to have the choice.
Thank you for signing up to iMore. You will receive a verification email shortly.
There was a problem. Please refresh the page and try again.