Apple's proprietary charging cables...RANKED: Lightning and 30-pin fisticuffs as USB-C arrives on iPhone
Goodbye Lightning. Hello USB-C.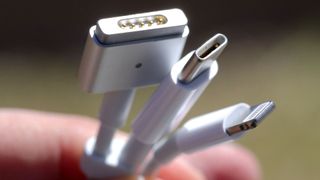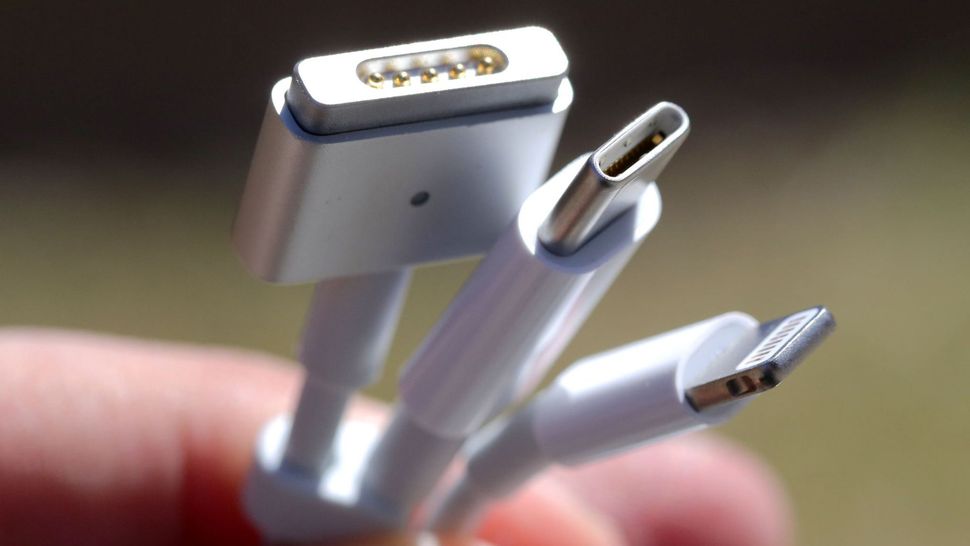 (Image credit: iMore)
iPHONE 15: What you need to know
- Apple Event - LIVE updates
- iPhone 15
- iPhone 15 Pro /iPhone 15 Pro Max
- Apple Watch Series 9 / Ultra 2
- iOS 17
- watchOS 10

Apple is well known for its proprietary charging cables and making your life difficult with the need for extra cables around your home. With the iPhone 15, Apple is conforming to EU regulations and bringing the most universal charging port on the planet to the iPhone - USB-C.
As we get ready to transition to USB-C and lock those Lighting cables in a drawer never to see the light of day again, we thought it would be fun to take a look back in time at Apple's proprietary charging offerings from the over the years.
Whether you loved the 30-pin connector or cried when Apple removed MagSafe from the MacBook, here's every Apple proprietary charging cable ranked.
6. Apple Watch Charger
The Apple Watch was first introduced in 2015 and the smartwatch launched with its own proprietary charging puck. At that time, Qi wireless charging was already available, and rather than use the standard, Apple opted to create its own smaller wireless charging option, that uses the same technology as Qi.
Initially, the Apple Watch charger included with the Series 0 was USB-A but nowadays Apple Watches ship with USB-C connections to enable fast charging. To this day, I try to use my Apple Watch charger as little as possible, opting to use the wireless charging capabilities found in newer devices, like the Apple Watch Ultra.
5. FireWire
The only way to charge your original iPod, FireWire, was one of Apple's favorite proprietary options until the company decided to invest in Thunderbolt support in 2012. FireWire was a staple on Macs in the '00s and will be nostalgic for many Apple fans who owned the original iPod.
FireWire is a forgotten soul but one that is synonymous with Apple's impact on the music industry and the redefining of a personal music player.
4. 30-pin Dock Connector
The 30-pin Dock Connector launched alongside the third-generation iPod in 2003 and took the iPod to the next level. The pins on the port allowed for multimedia controls as well as FireWire and USB signals; this led to the release of many accessories, including docks you most likely owned at one point or another.
The 30-pin Dock Connector was how you charged the original iPhone until Apple made its first change to the charging port on an iPhone in 2012 when the company released the iPhone 5.
3. MagSafe for iPhone
MagSafe for iPhone is essentially a magnetic alternative to Qi wireless charging, but it captures the magic of Apple better than any other charging cable on this list. I remember the first time I attached my brand new iPhone 12 to a MagSafe charger and the satisfying clack as the strong magnets attached from the aluminum charger to the matte glass back of the new iPhone.
Fast forward three years and MagSafe charging accessories like the Anker 3-in-1 Cube help make charging easier than ever before. For many, the change from Lightning to USB-C won't be that big of a deal because they rarely plug a cable in to charge their iPhones anyway.
2. MagSafe for Mac
The original MagSafe for Mac launched in 2006 before evolving to a thinner version with MagSafe 2 in 2012. Most people in their late 20s will remember MagSafe as the first charging option on their very first MacBook, it was truly a delight to use. Magnetically attaching so you never had to worry about accidentally pulling your computer to the ground made MagSafe feel so much better than the generic charging options on other laptops at the time.
Apple would go on to remove MagSafe from Macs in 2015 when the company decided to use USB-C as the sole charging option for its laptops. I remember the first Mac I owned without MagSafe and it was terrifying to think about my thousand-dollar laptop getting destroyed because it no longer had the security feature that MagSafe allowed.
Fast forward to 2021 and MagSafe returned to Macs in the form of MagSafe 3. The world rejoiced, and Mac owners went home happy knowing their new MacBook 16-inch would be safer for it.
1. Lightning
The Lightning port was the first and, to this day, the only charging port change on the iPhone. It brought reversible charging and a smaller footprint to the iPhone, far more convenient than any 30-pin Dock Connector.
At the time, people were mad at the need to purchase converters and new cables to use their accessories, but over time, we all adapted and fell in love with the tiny white cable.
When Tim Cook takes to the stage later today and reveals the iPhone 15 with USB-C, someone out there will cry at the loss of Lightning. To that, I say: Don't be sad it's over, be happy it happened.
Apple's e-waste problem
In order to adhere to EU regulations, Apple has been forced to add USB-C into the upcoming iPhone 15 lineup. With that, the company faces a huge problem with the prospect of mass amounts of e-waste.
When unveiling the USB-C mandate, the EU Commission said, "Today, the Commission takes an important step against e-waste and consumer inconvenience caused by the prevalence of different, incompatible chargers for electronic devices. Years of working with industry on a voluntary approach already brought down the number of mobile phone chargers from 30 to 3 within the last decade, but could not deliver a complete solution. The Commission is now putting forward legislation to establish a common charging solution for all relevant devices."
While it's understandable, considering the majority of consumer technology products today use USB-C, there's huge worry about the prospect of hundreds of millions of Lightning cables left to rot, adding to the e-waste problem we currently face in the world. Hopefully, Apple announced a recycling service at today's Wonderlust event so those who choose to dispose of their unneeded Lightning cables can do so safely for the environment.
---
We're covering all the Apple iPhone 15 event announcements live as they happen. Don't miss all our iPhone 15, iPhone 15 Pro, iPhone 15 Pro Max, Apple Watch Series 9, Apple Watch Ultra 2, iOS 17and watchOS 10 coverage so far.
Master your iPhone in minutes
iMore offers spot-on advice and guidance from our team of experts, with decades of Apple device experience to lean on. Learn more with iMore!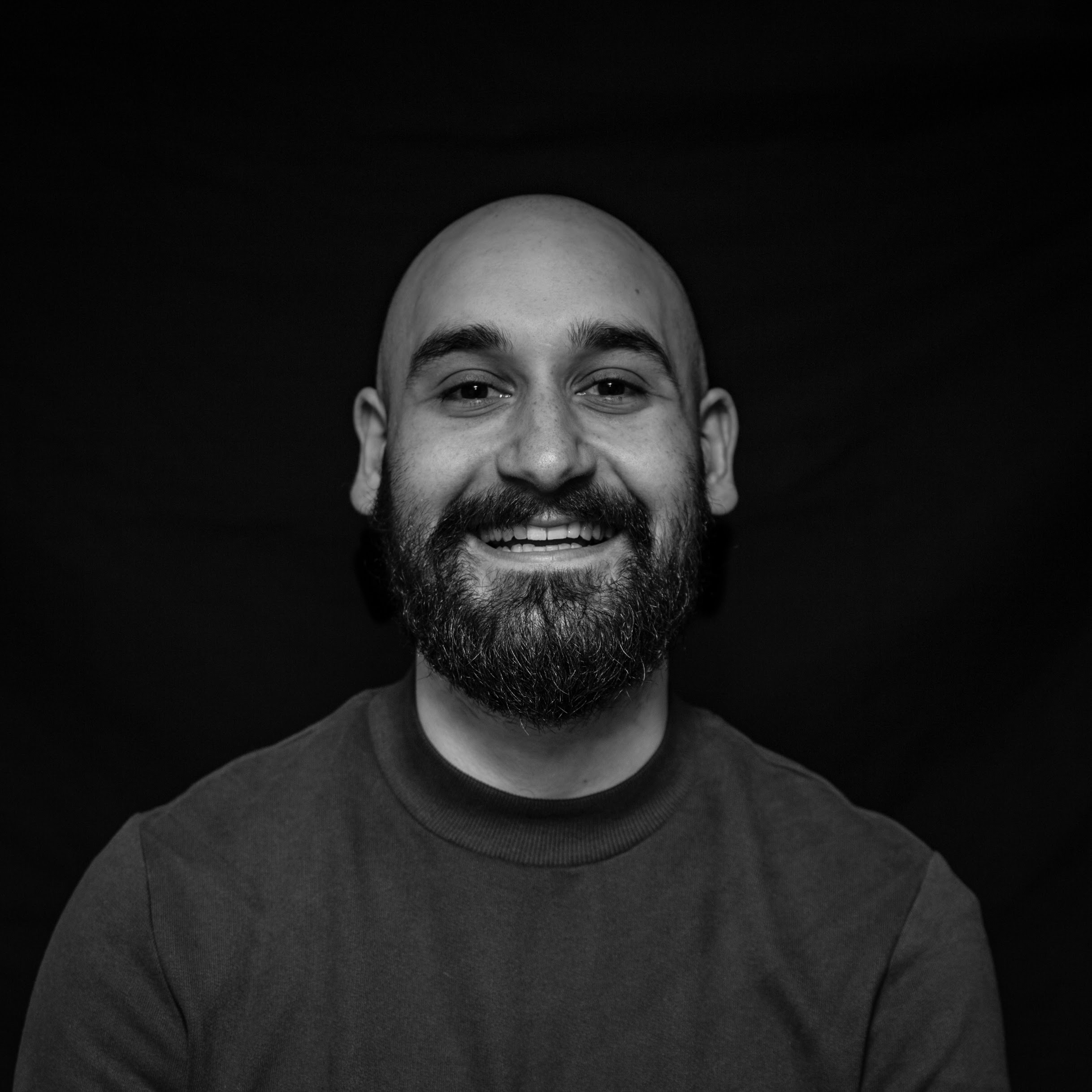 John-Anthony Disotto is the How To Editor of iMore, ensuring you can get the most from your Apple products and helping fix things when your technology isn't behaving itself.

Living in Scotland, where he worked for Apple as a technician focused on iOS and iPhone repairs at the Genius Bar, John-Anthony has used the Apple ecosystem for over a decade and prides himself in his ability to complete his Apple Watch activity rings.

John-Anthony has previously worked in editorial for collectable TCG websites and graduated from The University of Strathclyde where he won the Scottish Student Journalism Award for Website of the Year as Editor-in-Chief of his university paper. He is also an avid film geek, having previously written film reviews and received the Edinburgh International Film Festival Student Critics award in 2019.

John-Anthony also loves to tinker with other non-Apple technology and enjoys playing around with game emulation and Linux on his Steam Deck.
In his spare time, John-Anthony can be found watching any sport under the sun from football to darts, taking the term "Lego house" far too literally as he runs out of space to display any more plastic bricks, or chilling on the couch with his French Bulldog, Kermit.