iPhone 15 Pro gaming is doing what Mac couldn't — actually making me excited
Mac walked so the iPhone 15 Pro could run.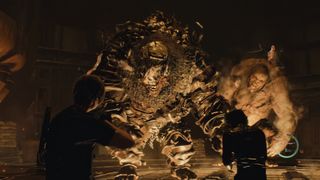 (Image credit: Apple)
Resident Evil 4 Remake, Assassin's Creed Mirage, and The Division Resurgence - these are just three games that will be made available on iPhone 15 Pro instead of your beefy Apple silicon Mac.
Apple has lagged behind in the gaming space for a long time, but the iPhone 15 Pro has made me excited to start gaming with an Apple device again. However, with recent updates to Apple Arcade and the upcoming macOS Sonoma and its Game Porting Kit, these efforts give me hope that Apple isn't just committing to gaming on the iPhone.
A new commitment
At its 'Wonderlust' iPhone event, it was revealed that the iPhone 15 Pro line would include an A17 Pro chip that's capable of running ray-tracing natively on the hardware. This is an important distinction as Apple pointed out the huge difference between software and hardware-led ray tracing. This will essentially allow new iPhone 15 Pro models to run reflections and lighting in much higher fidelity with much more impressive textures.
Assassin's Creed Mirage, a game set in ancient Baghdad, will take advantage of this feature by really making that sun glare feel harsh. Riding on horseback across sand will feel extra tough as the rays of light hit the display. Being Ubisoft's next big Assassin's Creed game, putting it out on iPhone is a big sign of further commitment. This isn't a mobile spin-off — it's the real thing. A huge game with tens of hours of gameplay. As of right now, this game doesn't even appear to be launching on the Nintendo Switch.
Perhaps the most striking thing about the gaming capabilities of the iPhone 15 Pro line is the inclusion of Resident Evil 4 Remake, a game that does not have Mac support. Though it wasn't in the showcase, it was announced after the fact that the iPhone 15 Pro and Pro Max will also be receiving a version of Death Stranding later this year. Given that this game was released in 2020, it is a sign that iPhones will be getting older titles too - something I can't wait to experience on a commute. Hopefully, indie developers will also take advantage of this space to create something unique for Apple devices.
There's hope for Mac yet
Despite the fact that both the iPhone 15 Pro and Pro Max have some excellent games lined up, macOS Sonoma is finally launching on September 26th with its own surprises.
This new update comes with a dedicated game mode, better utilizing the impressive silicon chip in the current MacBook lineup. It does this by slowing down unneeded processes and giving more of its resources to the CPU. In return, it can run better games at a higher quality. We haven't had the chance to experience the full release yet but it also promises a short latency time for wireless controllers which is a great sign for future gaming commitment.
There's also the 'Game Porting Kit', Apple's method of helping developers easily port games that have been made available on Windows, to the Mac. While you can download a tool to attempt this yourself, it remains to be seen if this is something that catches on.
On the Sonoma Preview site, it even shows a PlayStation 5 DualSense controller playing Stray, another sign of its relationship with game manufacturers. I haven't really done much gaming on my MacBook Air but this new macOS update may just convince me to try it out.
This is before mentioning how impressive Apple Arcade has been recently too. This month, Apple Arcade will be getting the first James Bond game in almost a decade. It is updated constantly and the quality of the iPhone 15 Pro Max could convince other publishers to put big games on the service.
Though it is only the start of Apple's new approach to gaming, I can't wait to get my hands on the iPhone 15 Pro Max in just one week's time.
Master your iPhone in minutes
iMore offers spot-on advice and guidance from our team of experts, with decades of Apple device experience to lean on. Learn more with iMore!
James is a staff writer and general Jack of all trades at iMore. With news, features, reviews, and guides under his belt, he has always liked Apple for its unique branding and distinctive style. Originally buying a Macbook for music and video production, he has since gone on to join the Apple ecosystem with as many devices as he can fit on his person.
With a degree in Law and Media and being a little too young to move onto the next step of his law career, James started writing from his bedroom about games, movies, tech, and anything else he could think of. Within months, this turned into a fully-fledged career as a freelance journalist. Before joining iMore, he was a staff writer at Gfinity and saw himself published at sites like TechRadar, NME, and Eurogamer.
As his extensive portfolio implies, James was predominantly a games journalist before joining iMore and brings with him a unique perspective on Apple itself. When not working, he is trying to catch up with the movies and albums of the year, as well as finally finishing the Yakuza series. If you like Midwest emo music or pretentious indie games that will make you cry, he'll talk your ear off.