What's new in iPhone 15: Five new features that make it a must-have
The new iPhone 15 is a massive upgrade this year.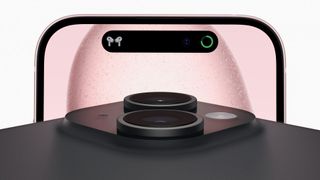 (Image credit: Apple)
iPHONE 15: What you need to know
- Apple Event - LIVE updates
- iPhone 15
- iPhone 15 Pro /iPhone 15 Pro Max
- Apple Watch Series 9 / Ultra 2
- iOS 17
- watchOS 10

Apple's 'Wonderlust' event was a typically superlative affair, with words like "magic" and "incredible" thrown around like parmesan on pasta for all the new products that were announced.
But the new iPhone 15 and iPhone 15 Plus deserve the descriptions, because this year's iPhone is a big improvement on the iPhone 14.
It's much better for photography, it has better stamina and it works slightly differently from your last iPhone too. With this in mind, here's what you need to know.
1. The cameras are amazing
The iPhone 15 effectively gets the camera kit from the iPhone 14 Pro, bringing the megapixel count up from 12MP to a whopping 48MP. We've been using the Pro for a year now and its camera setup is spectacular, but we don't tend to use the full 48MP unless we're shooting something we're going to print on a huge scale. Instead, we let the camera use its default quad-pixel mode.
Quad-pixel mode uses a technique called Pixel Binning to deliver much sharper, more vivid, and less noisy photos, especially in poorer lighting conditions. It essentially turns blocks of four pixels into single super-pixels that capture much more light. The result: photos that only need storage for 12MP photos but that deliver much clearer, crisper images. The difference between an iPhone 14 photo and an iPhone 15 one will be dramatic.
The new camera and improved processor deliver one of the most impressive improvements to iPhone photography: a vastly improved Portrait mode that's particularly impressive in low light. You also get a continuous zoom of video for cinematic framing, and Smart HDR 4 to make your selfies really stunning.
Of all the improvements in the iPhone 15, photography is the biggie here. If you've been holding on to an older iPhone for a few years, we think you'll be blown away by how good the new iPhone is.
2. It's got the A16 Bionic processor
We saw this processor in the iPhone 14 Pro and iPhone 14 Pro Max, but it's still one to take notice of. It's a six-core CPU with 2 high-performance cores and 4 high-efficiency ones, and it delivers 50% more memory bandwidth than the A15 – which should mean smoother performance in graphically intensive games and apps – and an improved image signal processor to deliver the benefits of the new, more powerful camera sensor.
Its neural engine is faster too, which is important for machine learning tasks such as photo processing, live voicemail transcription, and voice recognition. The high-performance cores are 20% more efficient than before.
3. It's got USB-C
The much-rumored move to USB-C is here, and in the long term it's going to make your life a little easier and a little less expensive. Compared to Apple's Lightning cables and chargers, USB-C kit and cabling tend to cost a lot less. There's also much more choice of chargers, stands, in-car chargers, and more. And you can even charge your AirPods from your iPhone.
Apple didn't talk about it in any detail but the iPhone 15 also has support for the new, faster Qi2 wireless charging standard. That's an open standard, not an Apple one, so you can expect to see a lot of new wireless chargers to choose from in the next few months.
As before, the iPhone 15 also has MagSafe wireless charging. MagSafe is Apple's own take on the tech, and you'll need a MagSafe-compatible charger or stand to charge your iPhone 15 at its fastest wireless charging speeds; Qi chargers work but not as quickly as they do on Android phones.
4. You'll love the Dynamic Island
The Dynamic Island proved to be quite a divisive feature in the iPhone 14 Pro and Pro Max, but we're definitely in the pro-Island camp. The Dynamic Island replaces the notch of previous iPhones with a long pill-shaped section and a smaller oval next to it; that's where your selfie camera and Face ID sensors live.
But the genius here is in the software, which treats the Dynamic Island as its own single display and which makes it appear to grow and shrink as needed. Sometimes it's a rectangle showing that Face ID has been accepted; other times it's a big lozenge telling you who's calling you on FaceTime; sometimes it just shows you what's running in the background, such as Maps or Apple Music.
What's significant about the Dynamic Island is that it's now in every iPhone 15 model. That's only going to encourage app makers to use it more – and that means more interesting and more fun ways to interact with your iPhone.
5. It has a bigger battery
The iPhone 15 battery is 3,877mAh (4,912 in the Plus), which is up from 3,279 (4,325 in the Plus).
But Apple hasn't promised us better battery life because the screen here is much brighter: up to 1,600 nits in HDR and with peak brightness in direct sunlight of up to 2,000 nits.
That's incredibly bright but it also drains more power, so Apple appears to have gone for more brightness rather than longer life.
We're covering all the Apple iPhone 15 event announcements live as they happen. Don't miss all our iPhone 15, iPhone 15 Pro, iPhone 15 Pro Max, Apple Watch Series 9, Apple Watch Ultra 2, iOS 17and watchOS 10 coverage so far.
Master your iPhone in minutes
iMore offers spot-on advice and guidance from our team of experts, with decades of Apple device experience to lean on. Learn more with iMore!
Writer, broadcaster, musician and kitchen gadget obsessive Carrie Marshall (Twitter) has been writing about tech since 1998, contributing sage advice and odd opinions to all kinds of magazines and websites as well as writing more than a dozen books. Her memoir, Carrie Kills A Man, is on sale now. She is the singer of the Glaswegian rock band HAVR.