iPod touch Sales Soar this Holiday Season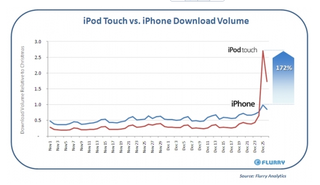 According to the mobile App analytics firm, Flurry, not only has the App Store seen a record-breaking month, December nearly doubling sales from November, this holiday season has seen iPod touch sales skyrocket as well.
Since November iPhone users have downloaded the most apps from the App Store, that is until Christmas day as iPod touch app downloads eclipsed those of the iPhone by 172%. And if you think that sounds impressive, downloads from Apple's third-generation iPod touch jumped up nearly 900% on Christmas Day alone.
All of this data would indicate that the iPod touch was quite a hot seller this holiday season. How many of our readers gifted or received their own iPod touch this Christmas?
Get the best of iMore in your inbox, every day!
Your source for all things Apple
Santa brought me an iPod touch this year. I had the iPhone, but the lack of service at home for me from AT&T was unacceptable, so I had to switch carriers and get rip of my iPhone. Now I have the best of both worlds and can finally use all of those apps I paid for again.

Funny I checked the site. I work at Walmart and just walked by electronics and noticed that all of our iPod Touch were gone and we had quite a few, I thought too many, before the holiday. Pretty crazy!

I wonder how many of the people who had iPod Touches would have got iPhones if Verizon had the iPhone? I can only think of all the lost iPhone sales that would have went through if only exclusivity bit the dust...

I gave two for Xmas. Have bought 4 over last six months.

Usually the nano is out biggest seller, but the touch has been flying out the last 4/5 weeks.

I got the 64gb iPod touch for Christmas. I wanted a touch quite a bit after seeing my friends', but I definitely didn't expect the newest and biggest one! I love it! I would have gone for the iPhone, but the monthly data plan is just too expensive for me. The touch is great though!