Jonathan Ives visits his local Apple store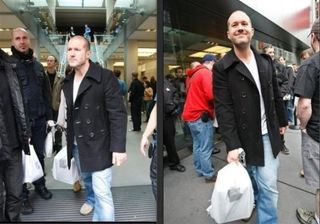 First we saw Steve Jobs visit his local Palo Alto store and now Apple SVP of Design, Jonathan Ives was spotted Saturday at the Stockton Street Apple Flagship Store in San Francisco. Ives went one step further than Jobs though as he didn't just stop by to say hello -- he walked out of the store with not just one but two new iPads. Humble man purchasing his own design.
We only wonder what kind of old-fashioned British beat-down would have followed if he'd come across these linkbaiters on his way out...
Get the best of iMore in your inbox, every day!
Your source for all things Apple
Now that's pretty cool because he probably can get it for free. Reinvesting into the company you work for products says alot.

I'm not sure where this is coming from, but his name is Jonathan IVE, not Ives.

+1 IVE. The Man the Myth the legend.

I heard rumor of Scott Forstall making a trip to his local store. Not sure if he bought an iPad for himself though.