Kid Finds Porn in Apple Store & Angry Mom Complains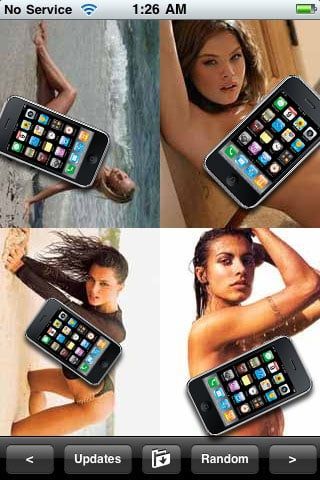 Porn and iPhone, it is out there and every once in a while you may even find porn in there. In an Apple Retail Store on one of the iPhone and iPod Touch demos, that is. Well that's exactly what happened just the other day as a mother found her 10 year old girl mesmerized by some X-rated content on one of the Apple stores demo devices.
<
blockquote>"I called to complain and was told matter of factly by staff this happens a lot as people come in and download it for a laugh, I don't find it funny and all my friends think it's disgusting, but Apple say there is nothing they can do to stop it."
Apple does a fantastic job of keeping smut out of iTunes and their App Store, surely they can figure something out for their real-world stores. ;)
Oh geez. It's just boobs and fake ones at that. People need to lighten up about sex and porn. The Puritans ruined everything for US.

They need to enable flash so I can watch the real XTube on my phone! Those soccer moms need to get over it! If your teen wants to be a freak they will be a freak and it's nothing you can do about it! If you put parental control on their phones, they'll just go to the nearest adult bookstore lol or find some other eat to release their sexual tentions lol

Sometimes moms are so unreasonable. There really is nothing they can do about it! They can't control the content on the websites on the Internet... Moms expect too much.

Wow! I'm giggling over " that's exactly what happened just the other day as a mother found her 10 year old girl mesmerized by some X-rated content on one of the Apple Store demo devices:"
LOL!

@dlnmorrow - glad you liked that. :)
Yes, mothers can be over-protective at times I suppose. It happens and can you really blame Apple... nope.

At least it was nudity and nothing hardcore

@sommerface: the reason why were here is cause the puritans.

Hypocrites usually. Wether it's substance abuse,wife cheating or tappdancing in airport toilets.

Why would the mom let her 10yo brat roam the store unsupervised? Bad mom. Keep your brat at your side or leave them at home! I get so tired of hearing crap like thus.

Can't the Apple Store just enable the restrictions on Installing Apps on the in-store demo units?

I think Apple needs to work this into thier marketing strategy. "The interface is so easy to use that even a 10 year old can find porn!"

I know that a lot of people aren't gonna agree with me, but I'm a 17 guy and I have the hardest time blocking myself from all the crap that is out there. Thanks goodness Apple has the restrictions options, but even that isn't 100% perfect.

How long do you think it will be before everyone in society who is reasonably sane will understand the internet? When will people like this start understanding that anything, ANYTHING, connected to the internet is a better porn viewing device than all the magazines and VHS's from their time combined? At least we don't get people saying "what are these 'e-mails'? Do I go to the post office to get them?" and other, similar cliches much anymore, but come on people, it's been almost 20 years now, figure it out.

Awsome! Porn in a apple retail store and 10 year old kid sees it!!! I WANT TO CONGRADULATE THAT KID FOR TAKING HIS FIRST STEPS ON BECOMING A MAN!!!!!!

I can't believe this website filters out the word krap and yet people say we shouldn't filter out porn.

@J-Red it was actually a girl... Hahaha

The whole reason behind me buying a 32gb 3gs was, porn.

I'm guessing the kid wants and iphone now... Am I right? :)

I just received a text message from at&t: Picture &video message(MMS) will be available for iphone on 9/25. While we prepare your account for MMS capability, the current " view my message" experience will be turned off but your ability to send and receive text messages will not be affected.

Maybe she should have been watching her own kid and what they were doing on her computer and Internet! Take some responsibility!!!

nice macboy.. I did the update to their 5.1 a while back, and somehow kept visual voicemail.. but this is something nice for the folks that have been waiting.

That woman needs to get a life!

Maybe 'mom' needs to grow up and stop being a prude.

Ah! Little OT, that girl on the bottom right in the picture above is George Clooney's italian date, Elisabetta Canalis

File this under:
1)Why the F($) does a 10YR old have an iphone?
2)Who gives a F($)

It should be the parents responsibility to make sure their kids don't watch things they shouldnt. This should have been the rule from the beginning.

There is a lack of compassion for the mom and daughter in this situation. Interesting. I wonder if there would be a different response if it were your own kid...Just because some people have no issue with porn does not mean we should shrug off child exposure to it. Be reasonable.
Still, Mom should have understood that she was in a public environment and taken responsibility to protect her child from content like that. Letting her child play on the devices was a very irresponsible move. Apple can not be expected to prevent that situation from happening. Mom should have known better here.

@spicerak2
I have a child, and I can say first hand, that I wouldn't have allowed my son to be off and about, looking on the internet on the phone.. thats why there isn't any compassion.. She is responsible for her child.. not apple. This isn't an app that the child was on, presumably..(even thought the photo above makes it out that way).. it was the internet.. and that is the mothers fault.. she's the same type that would allow her child to have a laptop.. and myspace, and then be pissed that her kid was friends with 18 year old perverts.. Parent the child.. don't critisize the store.. end rant.

Hmmm.... All comments above made by men?
That being said parents should take there heads out of the sand

what i wanna know is what app is this lol.

@ d.allen
if you updated to 5.0 or 5.1 you should just need to change from wap.cingular to acds.voicemail

It wasn't an APP. itunes restricts this in the app store. Even apps with holes, tunnels or "easter eggs" that can be updated or hacked to get this kind of content. It was accessed by someone who opened "safari" went to a sexual explicit site, hit the sleep button, put the phone down, and walked away. The next person up was the 10 year old, walked over to the table, hit the big round shing button, swiped the screed to unlock, and BAMM!!! Moaning Monica in her birthday suit. I would like to know what the child reation was. Was she in shock, like ewww, gross. Or did her face light up as she holds the phone up to mommy, like, look what I found!!! Another thing, as a parent if you over dramatize something it only makes it worse. Instead redirect. That way the mind is instantly focused on something else. Just like when a infant take a step and then falls down, you don't run over in panic-mess, "oh, my gosh my baby!!! are you ok, (while tears are streaming down your face)" your going to get a infant screaming blooding murder. However, if you redirect you'll get a higher percentage of children that don't start screaming and crying. Parenting 101 is now over!! LOL

@ Miami Mike. Its all about Tube8 brother :P (not the mobile site, the desktop site on the phone) Click what you want, next screen says, play on iPhone/iPod. Works like a charm.

Well it is quite obvious that the girl is going to become a future lesbian. BUWHAHAHAHA

HEY!! That is a lie! The Apple team prohibits any naked or suggestive pictures in the app store!! This is a scam to make you not buy iphons for your kids!!!!!!!!!

i think? the hottest porn stars are Charmane Star and Jenna Haze. but they are NOT amateurs.Watch porn video visit hotadultvideo123.com.
Thank you for signing up to iMore. You will receive a verification email shortly.
There was a problem. Please refresh the page and try again.