KO Gadget issued cease and desist order from Apple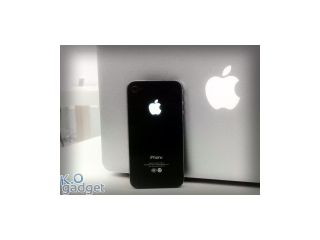 KO Gadget posted up on their Facebook page this morning that they have received a cease and desist order from Apple over their glowing light mods. The order states what you would assume about trademark infringement -
There are tons of third party manufacturers out there that distribute colored and custom backs for the iPhone (I order many of them for color swaps). I don't think that Apple issued this order on the basis of infringing on the Apple logo alone. I believe it's due to safety concerns as well. I personally don't feel these modifications are safe from a technical standpoint.
KO Gadgets is claiming all orders have shipped but that they won't be selling any additional units. If you've ordered one of these light mods recently, has your shipping status changed or has your order been cancelled?
Source: KO Gadget Facebook
iMore senior editor from 2011 to 2015.
Well I for one agree with apple, and from a device safety standpoint as well...

What will happen to their resellers? Will they be able to get the supplies from KO Gadget?

I wouldn't "think" they would be reselling anywhere if they can't supply to resellers. Not sure but I'd bet resellers will still have them for sale until stock is depleted.

it would be interesting if the service they offered was merely an alteration of the existing case rather then the sale of a product with apple logo. I'm note exactly up on how they do these mods but my guess is a trademark claim may be more difficult if all they do is add a light and cut a whole in existing case.

They supply a replacement back to the phone and an LED unit and instructions. The difference being that instead of a mirror finish to the logo it is clear. The LED glows behind the logo.
I would be worried about it just because of where the LED is located, how it is held there and the consequence of repeated heating and cooling of an small area of the battery surface that the engineers did not anticipate this happening to. Especially when it involves Lithium Ion Technology.

Aww that sucks! Cause I really liked that glowing light idea.
It's verrrry good.

Or apple is doing this now cause it will be on iPad 3 or iPhone 5?

I was thinking the exact same thing. Someone did once say that if apple makes a glowing logo on the back of the iPhone or iPad that alone will generate record braking sales, they don't even need to upgrade the specs :))

I'm glad apple is taking action. That's what makes their brand strong. You can't just use an established companies trademake for your own benefit. That's what patent laws are for. This is what's helped make apple the company that it is. Otherwise the brand would diluted

Are you serious? Have you ever been to a flea market or swap meet? You can by as many fake iPods and iPhones as you want. I can't give you apples reason for this bc i wasn't part of the dission

It is not a defense to trademark infringement to claim some other unrelated person is also selling unlawful merchandise at a random swap meet.

I wonder if they will do the same thing to iPatch. It looks like they have a light mod in development.

I thought they already released one a while back? I would be wrong.

Looks like iPatch's is still in development according to their website?

I'm only happy to see this because the quality of the mod isn't what it was advertised to be. I installed and then promptly uninstalled mine today. The back "glass" doesn't fit well (too much spacing at the top) and the light panel didn't spread the light evenly across the logo. All in all a waste of money. I've asked KOGadget for a refund. We'll see if they respond.

Let us know what happens... I e-mailed them a few times with simple questions and never got a response. Their Facebook page states if the kit is in good condition and all the pieces are there they will issue refunds.

If they deny the refund request I'll escalate it to a claim with PayPal. These guys aren't getting away with my $

I think this is petty truculence in the part of Apple, which most likely plans to do the same thing on upcoming products and don't want its thunder stolen.
Would anybody please explain why this is unsafe from a technical standpoint? It is not the only accessory that requires the removal of the original back cover of the iPhone, I´ve seen similar products here in TiPB and I doubt those got letters. This uses the same tech as childrens nightlights, and those are safe enough. Why read between the lines and call this unsafe if Apple did not mention this?

probably all the exposed wires. i just looked at the procedure on the website and there's like grounds on screws and stuff and exposed wires. I've no idea if it's safe but i could understand giving it a second look.

Exposed wires ok, but how much juice is going though those wires, 3 to 4 volts? If the iPhone had real flash instead of a LED lamp then I guess there could be dangerous stuff there, but as it is, the procedure is no more dangerous than replacing a SIM card on any other phone, where you also have access to exposed wiring.

Your right having exposed batteries that are potentially generating heat and during amps from a battery specifically designed to the device I not at all dangerous. Lithium ion batteries are not flammable at all. Congratulations for being Part or the ignorant folk that have no clue what there talking about.

I couldn't even understand if this guy agrees or disagrees. Count myself as part of the ignorant folk, I guess.
Anyway, I get the point Allyson was trying to make, I just think the procedure is not "dangerous" in the sense of the personal safety of the user. It could risk the hardware, but that is also true for replacing the battery and many other things Allyson has talked about in the How-To section.

I hate people who thinks everything must be idiot=proof

Sigh. Seriously, Stanley?

I received my email last week saying that my order has shipped, honestly, I'm not sure if I'll install it or sell it, or hang on to it for a little while and see where all of this goes....

That's not right. It doesn't add anything to the discussion here. I think you should go away

Actually, I did. Yesterday. And the C&D was issued today. I don't think they are safe at all. I warned readers against installing them here....
http://www.imore.com/2012/01/13/rethink-installing-glowing-apple-logo-mo...
I actually wrote KO Gadget a few times voicing my concerns and never got any answers or real feedback. I don't think I'm the only one that never gets answers out of them. Some suppliers even pulled their support for them claiming they're "unethical" - not sure what that means. But then again, can't believe everything you read on the interwebz either.

The reason they got the C&D was the amount of unsatisfied customers. I'm sure many of them contacted Apple and brought their attention to the mod.

I got really burned by these crooks.

I got the mod. It was very hard to install, but I got it and it is awesome. Works great, looks great, no heating or battery wear problems. I would not recommend it to very many per though as it is a difficult install. But...my phone is 2 years old, our of warranty and I'll get a new one soon, so u wanted to try it. I have have it on the phone for weeks and love it.

niceee.........
wht can i say....
nice blog...
this link can help u.....
Latest gadgets news & lots more...

Great post. I used to be checking constantly this weblog and I'm inspired! Very helpful info specially the remaining phase :) I deal with such info much. I used to be looking for this certain information for a long time. Thank you and good luck.

Hi again!!i just wanted to know can there be any problems or issues if i restore it with a custom firmware!!and i wanna update it to IOS 5.0 and not to IOS 5.0 to get a untethered Jailbreak asapif you can tell me the link to update it with a custom firmware with a* video tutorial *would be great!!

Wonderful beat ! I would like to apprentice even as you amend your web site, how can i subscribe for a blog web site? The account aided me a applicable deal. I were a little bit acquainted of this your broadcast provided bright clear concept
Get the best of iMore in in your inbox, every day!
Thank you for signing up to iMore. You will receive a verification email shortly.
There was a problem. Please refresh the page and try again.