Legendary attorney Ted Olson stands with Apple against FBI demands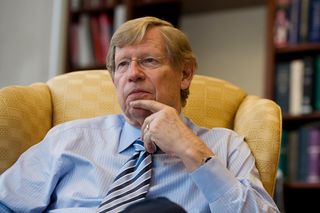 Apple has secured the services of legendary attorney Ted Olson in its ongoing encryption feud with the FBI. Olson is largely known for his place on the winning side of 2000's historic Bush vs. Gore case at the Supreme Court, as well as arguing against California's Proposition 8 ban on same-sex marriage in 2013.
As reported by the LA Times, a court document confirmed Olson's place alongside Theodore J. Boutrous Jr. as the attorneys of record for Apple. Olson also worked with Boutrous on the Proposition 8 case.
The current dispute between Apple and the U.S. government began when a judge issued a court order asking Apple to assist the FBI in accessing an iPhone 5c used by one of the San Bernardino shooters. However, Apple and CEO Tim Cook were quick to state their opposition, arguing that creating a backdoor in this case could endanger the security of Apple devices for millions.
The dispute has only continued heating up in recent days as more information comes out from both sides of the debate. Olson's involvement in the case only underscores the importance of the outcome on the future of device encryption and security as a whole.
He would stand with anyone who pays him. Is this a surprise? Posted via S6 Active with Samsung Pay!

#StandWithApple U.S. representative Ted Lieu has asks FBI director James Comey to withdraw the agency's requests for Apple to unlock iPhone. Tell the Administration you stand with Rep Lieu, Mr. Olson, Google, WhatsApp, Facebook, and others in Apple's stance on privacy. Ad your name to the petition https://petitions.whitehouse.gov/petition/apple-privacy-petition
Get the best of iMore in in your inbox, every day!
Thank you for signing up to iMore. You will receive a verification email shortly.
There was a problem. Please refresh the page and try again.