How tvOS 16 can move the Apple TV forward in 2022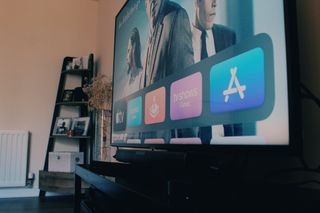 (Image credit: Stephen Warwick / iMore)
For the fifteenth anniversary of the Apple TV, I took a look back at how the device has changed from the original 2007 model all the way to the latest Apple TV 4K and laid out what I want to see from Apple TV in 2022. Though that piece focused mainly on the hardware, it's just as important to look at tvOS, the software that powers Apple TV, a decade and a half on.
With tvOS 15, Apple has seemingly refined itself into a bit of a corner with relatively little in the way of new features being added year-over-year at this point. The Apple TV software was spun out of iOS and, in the early years, served mainly to make popular iPhone and Mac experiences available on the big screen. That focus seemed to change in 2015 when, alongside the unveiling of the 4th-gen Apple TV, Apple CEO Tim Cook declared that "the future of TV is apps." While getting an App Store for the first time, tvOS also got its own name, suggesting that it would get more attention as a standalone OS.
Yet, little has really changed since then and, in 2021, tvOS got a pretty minor update. Its tentpole feature, SharePlay, even arrived months late making for a pretty poor slate of new stuff for its fall launch. In 2022, I'm hoping Apple refocuses some attention on the home with a huge tvOS 16 overhaul.
Rethinking the Home screen
Being a spinoff of iOS, it made total sense for tvOS to look like its mobile counterpart when it launched. Not only is that easier than reinventing the wheel for Apple, but it offered familiarity to iPhone and iPad users who could immediately take to the Apple TV's app-driven OS. The problem is, it's been stuck that way, mostly unchanged, since 2015. So, let's do away with the iOS-inspired and dated-looking grid of icons on the Apple TV Home screen.
There are a couple of ways Apple could take it, depending on how the company wishes to position the Apple TV in the home. If Apple wants to utilize the Apple TV's prime placement in your living room as a central hub, it could open that Home screen up for customization, allowing you to see your day at a glance, control your HomeKit devices, and get to your favorite content quickly.
You can already customize your iPhone with widgets, so the larger living room display would make a perfect canvas for glanceable information when you're not using it to watch content. Your Apple TV could learn when you're most likely to sit down to watch something, too, and offer that up on a dynamic Home screen. Remember the DayView app from a few years ago? It was a superb, customizable personal dashboard app for Apple TV which I wouldn't be mad if Apple cribbed. (Incidentally, DayView's development was halted when its owner took a job at Apple.)
If instead Apple wants the best Apple TV to focus purely on the content, the TV app itself could become the de facto Home screen with just a few additions. Just commit to the TV app being the one true Home screen, surface the best content at the right time, allow for easy access to purchased media, and add tabs for apps and games.
It certainly seems like the future of TV has turned out not to be apps, so there's little need to have them available at the top level, especially when searching via the TV app (or Siri) can find the content you're looking for anyway. Ever since Apple changed the Siri Remote's Home button default behavior to open the TV app, it's been a bit of a mess in terms of user experience with folks feeling like they have two Home screens to contend with. So unifying them makes sense.
TV app
Whether Apple decides to go all-in on the TV app or not in tvOS 16, it needs to give that app an overhaul. For me, the TV app is primarily the place I go to resume what I was last playing or hit play on the next episode of a show I'm watching. It's not a place of discovery or a particularly engaging app at all.
That's primarily because the TV app needs better recommendations. For the most part, all I see recommended here in the UK are popular soaps and daily news channels when what I really want to know is what my friends and family are watching. Apple handles this nicely in the Apple Music app and could offer similar opt-in functionality in the TV app. Alternatively, it could use its Differential Privacy smarts to figure out what's popular at any given time without revealing what individual users are streaming.
The Shared with You and For All of You features launched with tvOS 15 go some way towards customizing what is surfaced on the TV app's Watch Now page, but the former only shows recommendations shared in the Messages app and the latter requires diligent user account switching to actually learn about your preferences. Apple's editorial TV selections can also be hit and miss, unlike its generally great App Store editorial content.
To make me feel more engaged with the TV app, I also want it to stop booting me out to the app of the streaming provider, or at least obfuscate that process better. When I hit play on a show in the TV app, just play it — and return me to the TV app when I'm done. I don't need to watch the screen bounce to another app nor do I want to end up in a different app than where I started if I hit the back button.
The Netflix problem
It's clear that Apple needs to get Netflix on board with the TV app. As the most notable TV app integration holdout, and largest streaming video provider on the planet, Netflix is standing in the way of the TV app being a central content hub for a lot of people. It could even be stifling Apple TV innovation on the whole. Unfortunately, Netflix also wants to own the content discovery experience and has been reluctant to become just one more content source for Apple's app.
We know Apple cut a deal with Amazon to get Prime Video to play nice with the TV app. Amazon had the leverage then, and Netflix certainly has the leverage now, so Apple will need to concede in order to make it happen. Apple forgoing a slice of revenue on Netflix subscriptions may be a small price to pay in order to realize its TV ambitions. It's not getting that revenue as it stands, and a huge proportion of people are already signed up for Netflix anyway.
The future of TV is…
When writing about the Apple TV hardware, I suggested that now is the time to re-evaluate the Apple TV at a fundamental level. While the physical product itself isn't likely to change in 2022, Apple's has the opportunity to rethink the software significantly.
Though I have a few small gripes with tvOS in general, I want this year's update to plot out the big-picture vision for the product. It's clear that Apple's app-driven TV future didn't quite pan out but I believe that the company contains enough smart people to revamp the Apple TV experience. I mean, if it wants to.
Get the best of iMore in your inbox, every day!
Adam Oram is a Senior Writer at iMore. He studied Media at Newcastle University and has been writing about technology since 2013. He previously worked as an Apple Genius and as a Deals Editor at Thrifter. His spare time is spent watching football (both kinds), playing Pokémon games, and eating vegan food. Follow him on Twitter at @adamoram.
The TV needs to integrate with the wider apple iOS. Take screen time. Why does the time my kids spend playing Apple Arcade on the TV not count towards the screen time I set them on their other apple devices!!?

And please for the love of God, put in a simple toggle to turn OFF Auto Play! I've been asking for this for years, and it is the primary thing keeping me from using the TV app to watch content. You fall asleep, or you don't grab the remote in time when an episode ends, and BAM, you're into the next **** episode. Please just let us turn this stupid "feature" off. It's even in the TV app on the iPhone, you know, the device you're actually holding in your hand, when an episode ends?!?