Comic: Apple's money isn't everything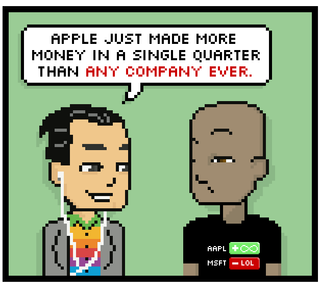 Ed: Welcome to this week's edition of The Pixel Project: a weekly comic from Diesel Sweeties' Rich Stevens on Apple, technology, and everything in-between. Today: Money Isn't Everything.
Read more comics from the Pixel Project on iMore.com.
Get the best of iMore in your inbox, every day!
Pixel lover and cartoonist. Still have my original Apple IIgs. See more at clango.org or follow him on Twitter @rstevens.
Once again funny and highly accurate. Thanks for making these Mr Stevens. Sent from the iMore App

I will be linking, mentally and socially, to that panel so very always.

I realize the "Apple is Doomed" mantra can be funny, and feeds the persecution complex that has been hard to sustain since we went from also-ran to largest company in the world, but it is also simply not based in reality, and has not been for quite some time. This link changes day to day, but take a look at the analysts on the NASDA today, Feb 3, 2015: http://www.nasdaq.com/symbol/aapl/recommendations 21 of 31 firms rate Apple a "Strong Buy," and the worst recommendation is "hold." Not a single firm recommends getting rid of AAPL. Yes, a few times a year an analyst tries to make a name by predicting doom, but even in the financial world, those predictions are the outliers, not the norm.

Where's Katy Perry? I thought for sure the last drawing was an animated gif and was waiting for her to pop out onto the screen! Sent from the iMore App

I couldn't afford all the special shark pixels and electric glitter to draw her properly.

So sad. I would laugh for days at pixel Left Shark.

HA?!?!?! Sent from the iMore App

Great cartoon. It is funny that Apple had such a fantastic quarter after releasing products that Steve Jobs said no one wanted. I wonder how they'd have done last quarter if Steve were still around. Sent from the iMore App

So true, so tiring, so predictable.