New Apple TV Plus Movies coming in 2023: 7 films to look forward to in the new year
We round up all the best Apple TV Plus Movies coming in 2023.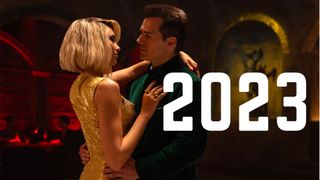 (Image credit: Apple)
A quick look at the release schedule and you'll soon discover that there are lots of fantastic Apple TV Plus movies coming in 2023.
2022 has been a year where Apple TV Plus, still very much the new kid in town in the streaming game, has proved that it can handle both the smaller, edgier award-winning movies and the giant starry blockbusters. The year began with the receipt of a Best Picture Oscar for tender drama Coda, and has also seen the release of the heartrending character study Causeway and the quirky dramedy Cha Cha Real Smooth. The year ended with two giant movies, with Ryan Reynolds and Will Ferrell teaming up for Christmas musical Spirited and Will Smith leading powerful action-drama Emancipation.
And, judging by the slate, 2023 promises to be even better.
Remember, if you purchase a new iPhone, iPad, Apple TV 4K, or Mac, you'll get a free Apple TV Plus trial offer for three months and it is most definitely worth giving the free trial a go.
To check out all the streaming service has to offer, you can watch on your Apple TV 4K or any smart TV or streaming stick. In addition, you can watch on your best iPhone, best iPad, or best Mac.
If you enjoy the free trial and decide to invest, or if you're just on the lookout for some new shows, movies, and documentaries to try out, then Apple TV Plus will set you back about $7 per month.
The Best Apple TV Plus movies coming in 2023
From supremely expensive spy capers to historical epics to spiky thrillers, when it comes to new movies on Apple TV Plus there's an awful lot to look forward to in 2023. We've rounded up seven of them to guide you through the year. Is it worth subscribing to? Judge for yourself with the best Apple TV Plus movies coming in 2023.
Argylle
The most anticipated movie from Apple's 2023 is undoubtedly spy caper, Argylle.
Adapted from author Ellie Conway's as-yet unpublished novel and boasts a very starry cast with Henry Cavill, Sam Rockwell, Bryce Dallas Howard, Bryan Cranston, Catherine O'Hara, John Cena, Samuel L. Jackson, Ariana DeBose, Rob Delaney all starring, as well as singer Dua Lipa in her acting debut.
Matthew Vaughn, who has already racked up billions at the box office with Stardust, X-Men: First Class, and his tongue-in-cheek spy saga Kingsman, directs this movie, which has a budget in excess of $200 million.
There aren't many plot details available for Argylle, especially as the book is still yet to be published, but we do know that it follows the titular character, a world-class spy suffering from amnesia who is tricked into believing he is a best-selling spy novelist. After his memories and lethal skills return, we watch on as he vows revenge against the shadowy organization he used to work for, the Division.
Argylle is due in March and you can read our deep-dive on the movie here.
Sharper
Marvel star Sebastian Stan, Oscar-winner Julianne Moore, John Lithgow, and Detective Pikachu's Justice Smith team up for this new thriller, with Benjamin Caron, last seen directing Star Wars' spin-off Andor, in charge.
Set for a small run in theaters in February, Sharper stars Moore as Madeline, a con woman working her way through Manhattan's billionaire echelon. And thus far, that's all we know.
This being a story about con artists, expect plenty of sleight of hands and twists and turns, all set in the most expensive part of New York City. What's not to love?
Napoleon
In 2023, Apple has bagged Hollywood maestro Ridley Scott and handed him a rather large budget to tell the story of Napoleon Bonaparte, military leader and eventual ruler of France in the early 1800s.
Joaquin Phoenix, who Scott directed as the slimy Emperor Commodus in his Oscar-sweeping epic Gladiator, leads the way as Bonaparte, in a role, he'll no doubt hope will see him return to the awards' top table.
The movie will chronicle the rise to power of the man who would become emperor of France through the lens of his volatile relationship with his wife Joséphine, who will be played by Vanessa Kirby.
Production has been huge with six battle sequences shot and a shoot that redressed one of the UK's largest cathedrals to recreate Notre Dame de Paris. Watch it on the biggest screen you can.
Tetris
Taron Egerton made Black Bird, one of Apple TV Plus' finest dramas, in 2022, and he's back on the platform in 2023 with Tetris, which will bring to life the legal battles that took place during the Cold War over ownership of the game, just as it was become of the world's most popular to play and gaming devices were expanding at a rapid rate.
Jon S. Baird, who directed the acclaimed biopic Stan & Ollie, is at the helm, with Egerton supported by Toby Jones and Nikita Yefremov in the cast.
Expect this to arrive in March.
Killers of the Flower Moon
We've waited a long time to see Killers of the Flower Moon, with work starting in 2016 on adapting David Grann's book, a year before the thing actually came out. Why is everyone so excited? Because it reunites Leonardo DiCaprio and Martin Scorsese, and that is always where sparks fly.
Set in Oklahoma in the 1920s, the movie will retell the tragic episode in the history of the Native American Osage tribe, members of whom keep being murdered under mysterious circumstances, sparking a major FBI investigation. It's an investigation made all the more complex after vast amounts of oil is discovered on Osage land...
As well as DiCaprio, Scorses has cast Robert De Niro, Jesse Plemons, Lily Gladstone, and Brendan Fraser, with Eric Roth, writer of the new take on Dune, scripting the movie.
With a budget north of $200 million, expectations are rather high, but with this cast and creative team, you'd back them to succeed.
Spellbound
After enjoying success with the animated family adventure, Luck, in the summer of 2022, Apple has reteamed with producer Skydance for another animated adventure.
West Side Story star Rachel Zegler voices Ellian, a young girl who must use her magical powers after she is given the unenviable task of breaking the spell that has spilt her kingdom in two, all the while protecting her family from rather nasty dark forces.
As well as Zegler, the voice cast includes Nicole Kidman, Javier Bardem, John Lithgow, Jenifer Lewis, and Nathan Lane.
Ghosted
We don't know much about Ghosted's plot, but we do know that an awful lot of on and off-screen talent has gone into making it. Chris Evans, Ana de Armas, Adrien Brody, and Amy Sedaris will star in it, Rocketman's Dexter Fletcher is directing it and Deadpool scribe Rhett Rheese and Paul Wernick have written it.
Beyond that, all we know is it's a high-concept romantic action-adventure and it's arriving at the end of 2023. Still, with that creative team, we're backing it to be a hit all the same.
Master your iPhone in minutes
iMore offers spot-on advice and guidance from our team of experts, with decades of Apple device experience to lean on. Learn more with iMore!