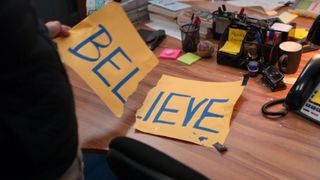 (Image credit: Apple)
I first started watching Ted Lasso in the summer of 2020, and like most of us, I was struggling with my mental health and the new pandemic world we were living in. It was the perfect bit of escapism to feel okay when the world around me felt like it was crumbling. Many have compared that first season of Ted Lasso to a friendly, warm hug, and while I was never a super fan, I appreciated the light-heartedness and warmth that the characters gave me.
Now, every episode I watch has me sighing and checking the time as I power on through till the end. The show has lost its appeal to me, and as a football fan, it's actually starting to boil my blood.
So, a bit of context. I'm not just a fan, I'm a massive football fan. I live and breathe everything to do with the sport, almost to my own relationship's detriment, as I spend more time playing fantasy football than talking to my partner (ok, maybe that's an exaggeration), but still, you get the point. I also love cinema and good television shows, which I would presume is the perfect mix for someone who should love an award-winning television series with the official licensing to the English Premier League. What's not to love?
Ted Lasso's identity crisis
Originally an advert for NBC Sports, created by Jason Sudeikis, Ted Lasso was a refreshing character that brought the stereotypes of North American soccer fans to the world of football. It was funny and easy to watch repeatedly on YouTube, so it's no surprise that the concept was turned into Apple's most successful Apple TV Plus show.
But what went wrong? How did Ted Lasso go from the warm hug everybody needed to an almost unfunny drama that feels like the show's writers want to fit in as much tragedy as possible? I wish I knew.
The first season of Ted Lasso, which was a breath of fresh air, was short and punchy. The longest episode had a 34-minute runtime, and even then, the writers knew what they were going for. Ted Lasso, at the heart of its concept, was a sitcom. Now, I don't think even the writers know what they want the show to be. Every single episode of season 3, the latest and potentially final season, runs close to or over the one-hour mark and, most often than not, tries to jam in as much as possible to make it feel like it warrants that length of episode. Instead, I just get this overwhelming regret, knowing that the show could've been a great sitcom with six or seven seasons rather than this socio-political mess. And I'm not the only one who thinks Ted Lasso has lost its way.
Every character in Ted Lasso has an issue, from the dark depths of suicide in season 2 to the traumatic deportation of immigrants in one of the recent episodes (which is touched upon for five minutes and forgotten, like everything else in the show). Don't get me wrong, these topics could and should be addressed if that's what the show's aim is, but it's a checklist of traumatic events written into an episode or two and then ticked off to move on to the next one. There are so many deep dramatic television shows and films that touch on subjects like the ones we see weekly, at the moment on Ted Lasso, with tact and real depth. So why has Apple turned this show into an attempt at being socially aware when actually, by doing so, it comes across as patronizing and hollow?
Sitcoms can be about trauma; look at Bojack Horseman, one of the greatest television shows in history, with deep storylines about drug addiction, suicide, and abuse amongst anthropomorphic animals and silly puns. But, unfortunately, Ted Lasso just doesn't feel genuine, and the more I watch, the more I feel so annoyed that this show has been pushed into the midst of mediocrity by lazy writing and producing.
As a football fan, it genuinely annoys me that there was an opportunity for a fantastic sitcom that went so far into escapism that I could enjoy it and feel the warmth.
Instead, Apple's need to be socially aware and have its fingers in every single pie has led to a mess of a show that doesn't know if it wants to be funny or take a cheap tug on the heartstrings by throwing in character trauma every half an episode.
I keep watching because the football side of things keeps the show's charm for me, until I start to get the feeling of a pure lack of research or interest in the source material. I get it when people say, "Ted Lasso isn't about football," and fair enough, it isn't. But it has the official rights to the biggest football league in the world, yet doesn't seem to have any interest in tapping into some form of realism.
I would've much preferred if Ted Lasso was set entirely outside the world of realism and real football. Still, it's such an opportunity for commercial success and marketing advertisements that sponsors and real football teams are everywhere. That's fine, but when you start trying to show a knowledge of the sport by randomly throwing in tactics like Johan Cruyff's Total Football into an episode, it feels forced.
Ted Lasso's redemption?
At the end of the day, Ted Lasso does work for a lot of people. It has helped Apple break the record amount of PrimeTime Emmy nominations and is consistently Apple's biggest success on its streaming subscription so far. I just think the show has lost its identity, and that's a shame considering it could've done everything it currently does and more, but better.
Ted Lasso had such promise: I love sitcoms with profound themes that are fundamental to the way the show progresses. Instead, the show today leaves me frustrated and confused – I keep watching but only in the hope that one day it becomes the football sitcom I was hoping for. With four episodes left, time is running out.
Get more iMore in your inbox!
Our news, reviews, opinions, and easy to follow guides can turn any iPhone owner into an Apple aficionado
John-Anthony Disotto is the How To Editor of iMore, ensuring you can get the most from your Apple products and helping fix things when your technology isn't behaving itself.

Living in Scotland, where he worked for Apple as a technician focused on iOS and iPhone repairs at the Genius Bar, John-Anthony has used the Apple ecosystem for over a decade and prides himself in his ability to complete his Apple Watch activity rings.

John-Anthony has previously worked in editorial for collectable TCG websites and graduated from The University of Strathclyde where he won the Scottish Student Journalism Award for Website of the Year as Editor-in-Chief of his university paper. He is also an avid film geek, having previously written film reviews and received the Edinburgh International Film Festival Student Critics award in 2019.

John-Anthony also loves to tinker with other non-Apple technology and enjoys playing around with game emulation and Linux on his Steam Deck.
In his spare time, John-Anthony can be found watching any sport under the sun from football to darts, taking the term "Lego house" far too literally as he runs out of space to display any more plastic bricks, or chilling on the couch with his French Bulldog, Kermit.