Neil Young claims Steve Jobs preferred listening to music on vinyl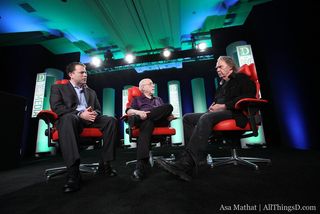 Canadian musician Neil Young has claimed in an interview that Steve Jobs preferred listening to music played back on vinyl rather than digitally via an iPod. Speaking to Peter Kafka and Walt Mossberg at the D: Dive Into Media conference, he told them that he discussed the prospect of offering higher quality digital music downloads with Steve Jobs.
Young claims that modern digital music is so highly compressed that 95 percent of the audio content is lost. He believes that Steve Jobs was working on a solution to the problem but since his death, there has been no further discussions with Apple.
Source: Macworld, Image: All Things D
UK editor at iMore, mobile technology lover and air conditioning design engineer.
I was stoned when Ij said that

There is a big difference. If you still have vinyl, and a decent system, and have not played it in awile, try it. You will be amazed the warm tones that are produced. If he were alive, Steve Jobs would have made a marriage between analog, and digital to a level that would have been fantastic. Too bad Apple is not thinking in that direction.

I agree with you. But, I'm not sure Steve would have made it a priority to marry digital and analog, if he was alive today as you mentioned. The iPod has been around for a while and has gone through many iterations while Steve was much healthier; he easily could have started such an analog/digital project to combine the two, if he chose to do so.
Rather, I think Steve simply preferred vinyl, but as it is hardly portable, he saw the iPod as a great music alternative that gave the best digital portable experience possible.

It is however, possible. After awhile, Apple is going to run out of things to "innovate". They, more so Steve Jobs, changed the face of music in a positive way. Why not do the same with a bridge between analog and digital? It would once again place them as "pioneers" and I think that the people would be appreciative.
However to contend with that, I don't think that average listener would be able to make much of it. Avid music heads would definitely notice, but those who purchase generic pop could care less. IMO

I like the crackling sounds, makes you feel like your by a fire.

You can't play an analog track from a digital storage source. it will always have to be sampled in order to store it in a hard drive. What you can do is increase the quality (like many people do storing thei music in .flac and other similar formats)

If this is true, then it makes Steve Jobs that much more a classier man! RIP

I think it would be false to say Steve never listened to iPods. After all, the volume on an iPod is louder than anything else on the market because Steve had hearing loss due to his loud music.
Of course he listened to vinyl. Anyone who cares about music probably still does. I do... but I also love having my music in digital format when I leave the house because I can't very well take a turntable with me.
And that figure about how much music is being lost in digital translation? No... sorry, I call shenanigans. I've heard music live. You're not missing 90% of anything, other than maybe 90% of the vomit smell.

I didn't give up my turn table based stereo system until it was destroyed in a fire in 1992. That being said, There may be studios who still specialize in analog recording but they are few and far between. Try to find a commercial studio that absolutely does not use Pro Tools in this day and age for both audio recordings and film scores. Old timers like me remember the analog audio days. Analog audio is museum tech to the young crowd. Perhaps Apple will endeavor to create some marriage between analog and digital audio in future releases of Logic Pro. That would be interesting. I can't see Pro Tools, Cubase, or any of the other DAWS going that route because they are already a marriage of computer software (digita) with analog and digital audio interfaces.

Actually, there can indeed be a mix of analog and digital audio in live performances. Some guitar amplifiers have amp modeling software and circuitry built in (digital). Also, Line 6 POD, Boss GT100, and Zoom G92TT are multi-effects pedalboards that all include amp models and speaker models with updates that can be downloaded to the unit via USB port attached to a computer. The Zoom G92TT can be direct connected to studio and live mixing boards. The use of such equipment in live performances does in fact mix digital with analog in pretty effective ways.

Digital effects and digital processing don't change the output sound quality. It may change the TONE quality, which is a totally different matter. As a matter of fact, digital recording nowadays provides much more sound quality than old tapes and vynil. The problem isn't the output. It's the conversion. Converting from WAV (original recording format, 48khz, 32bit) to MP3, you do lose a lot of the frequency spectrum, specially at the high and low ends. So, the issue being discussed here is the audio conversion, not digital recording and processing itself, which is proved to be higher quality.

Hi there very nice blog!! Man .. Beautiful .. Superb .. I will bookmark your website and take the feeds also?I am glad to seek out numerous helpful information right here in the publish, we want work out extra strategies in this regard, thank you for sharing. . . . . .

When I XCODE 4. 2 versions installed above 0 99. 3 version, and then create a new cocos2d project when found, and give excuse it? Thank you

Woah this weblog is wonderful i love studying your articles. Keep up the good paintings! You already know, lots of persons are looking round for this information, you could help them greatly.

Magnificent goods from you, man. I have take into accout your stuff prior to and you're just extremely great. I really like what you have bought here, really like what you are stating and the best way through which you say it. You make it enjoyable and you still take care of to keep it smart. I can't wait to learn far more from you. This is really a tremendous website.
Thank you for signing up to iMore. You will receive a verification email shortly.
There was a problem. Please refresh the page and try again.