NYPD counter-terrorism head says Apple's encryption aids criminals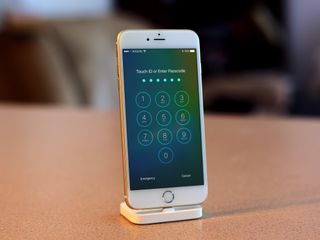 The head of counter-terrorism for the NYPD has said that Apple's encryption efforts provide aid to kidnappers, murderers, and other criminals. Speaking during a radio interview, Deputy Police Commissioner John Miller joined a chorus of law enforcement officials that have slammed Apple's encryption practices in light of the company's issues with the FBI, saying that criminals are praising the encryption because law enforcement can't crack it.
From The New York Daily News:
Miller, along with a large portion of the law enforcement community, have previously praised Apple for security features like Activation Lock, which was introduced in 2013 with iOS 7. As noted by AppleInsider, Activation Lock, which allows users to remotely lock their phone using their iCloud credentials, was widely praised by law enforcement as increasing customer security. The NYPD even went so far was to encourage owners of Apple devices to upgrade to iOS 7 to get the feature.
Get the best of iMore in your inbox, every day!
Joseph Keller is the former Editor in Chief of iMore. An Apple user for almost 20 years, he spends his time learning the ins and outs of iOS and macOS, always finding ways of getting the most out of his iPhone, iPad, Apple Watch, and Mac.
Apple knows this. It's planned into their sales growth for this year. #killedwithaniphone

And so do the airlines, the gun industry, food service companies and ineffective government it's time we add them to the conversation.

Time for the DOJ to sock Apple in the nards!

Greetings to clue-impaired folks in China and other authoritarian regimes. It must be hard for you to see us in the US protected by the Constitution. Oh, wait. China agrees with Apple. My mistake.

What this coward is leaving out is that it protects everyone else from those scumbags.

Property trumps life!! Go Apple!!! Lmao, idiots...

And they're ignoring the iCloud backups that law enforcement can get or that anything going over a cell network can be pulled by the carriers. They're not exactly without tools.

"You are actually providing aid to the kidnappers, robbers and murderers who have actually been recorded on the telephones in Riker's Island telling their compatriots on the outside, 'You gotta get iOS 8. It's a gift from God,' — and that's a quote — 'because the cops can't crack it.'" I call BS on this "quote."

I call BS on a lot of quotes coming directly from the mouths of our "public servants".

Encourage all companies to improve the security on all our devices. Protect us from hackers and governments. Join me in signing the petition >>> http://1.usa.gov/1R9A4cM

Can someone explain why the Iphone password is such a tough nut to crack? Isn't it just a question of a few numerals? I use six 0-9, difficult but certainly not impossible Confused

I'm no expert in the matter but I'm assuming when trying to brute force the password, if it's entered incorrectly six times in a row it will disable the device. Once that happens you have to erase the data on the device and start from scratch, thus eliminating all the data that's being attempted to view. https://support.apple.com/en-ca/HT204306 So unless it can be brute forced in under six entries than I'm assuming that's why it's not a viable way of accessing the device. ~TheRealFixxxer

The same statement could be made to a greater or lesser extent about encryption in general. It's a non-argument.