PayPal Here card reader debuts in the US with support for Apple Pay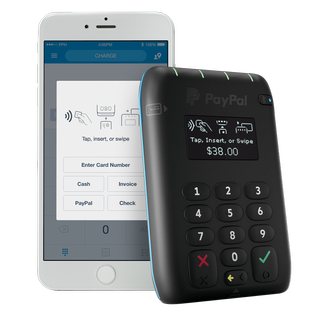 PayPal is rolling out its Here mobile card reader in the US, which will be available to businesses from September 30. The reader accepts magnetic stripe cards as well as the newer chip-based cards, and supports Apple Pay contactless payments, in addition to Android Pay and Samsung Pay.
PayPal is looking to capitalize on the upcoming changes coming to point-of-sale terminals. Credit issuers Visa and MasterCard have announced that starting October 1, merchants who have not upgraded their terminals to securely process chip-embedded cards will have to cover the costs of any point-of-sale fraud themselves. With the liability shift catalyzing the move to EMV (Europay, MasterCard, and Visa) readers, companies like PayPal and Square are eager to market their offerings to merchants.
The Here EMV reader will be available for $149, although merchants who process less than $3,000 in three months are eligible for a $100 rebate. Square has also launched an EMV reader (opens in new tab) earlier this year, which costs $49. Payment processing fee also varies between the two vendors, with PayPal charging 2.7 percent per swipe, and Square taking a 2.75 percent cut. That may not seem like a huge difference, but over the long run PayPal's solution may turn out to be more cost-effective.
if you're a merchant and are looking to make the switch to an EMV reader, head to the link below to know more about PayPal's offering. As mentioned previously, it'll be available in the US starting September 30.
PayPal Here EMV reader ($149) (opens in new tab)
Source: PayPal
Get the best of iMore in your inbox, every day!
The clumsiest man in tech.
I find it strange that Apple hasn't made their own reader or simply built one into the current iPads. I see these POS systems with one or two iPads, and I still have to swipe my card. No Apple Pay. Sent from the iMore App