Philips teases Apple HomeKit support for Hue lighting, set to arrive later this year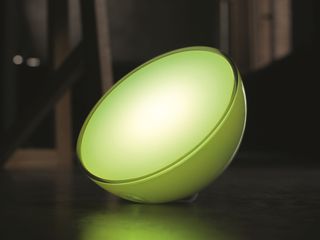 ](/wwdc-2015)
The timing is interesting, especially with WWDC kicking off today. For the time being, an iPhone app is required to manipulate Philips Hue lighting. Adding HomeKit into the mix will bring new features to users and expand support to cover the likes of Siri.
Unfortunately, Philips failed to go into detail about what this will mean for those with Hue kits installed at home, but more information is promised for September. Remain tuned to our feeds for more news from WWDC. Check out the video on Facebook (linked below - we had to remove it from this article).
Source: Facebook (Philips)
○ WWDC 2015 hub
○ iOS 9 hub
○ OS X 10.11 hub
○ Apple Watch hub
○ Swift hub
○ Discussion forums

Get more iMore in your inbox!
Our news, reviews, opinions, and easy to follow guides can turn any iPhone owner into an Apple aficionado
This is all well and good provided you're not using any flavor of Apple's AirPort, which does not support UPnP. It is totally nonsensical that Apple sells Hue in its stores when the two products don't play well together, or at all for that matter. Currently then in order to get a Hue product to work in your home, you need to be using something other than an Apple router. I made the mistake of buying the Philips Hue Lux in an Apple retail store before I went away for a few weeks. I was unable to get it to work, and could not return it to the store until after the 14-day return window, so I'm left holding the bag. Thanks Apple.

I have the combination you mention an AirPort Extreme and a Phillips Hue bridge and they work perfectly together, very easy to set up, wonder what went wrong with your attempted install

I am currently using an Airport Extreme, an Airport Express, two Phillips Hue Bridges, and 9 Phillips Hue bulbs, light strings etc with no problems.

I've been using the Hue Hub with Apple Airport routers since the Hue Hub shipped in 2012. I'd check that NAT-PMP is enabled on your router, and that you aren't double-NATing anywhere on your network.

"Currently then in order to get a Hue product to work in your home, you need to be using something other than an Apple router." What? No. I've been using an old Airport Extreme with my Hue since spring 2013 and it's been flawless. I can control my Hue with my iPhone, iPad or my Mac - easily.

It's great news.... and what i loved about their post on FB, they are working to make new features for our existing lights.... For sure I'm expecting to have to buy some new hub etc... but the lights it self, should be fine.... "Starting this fall we will take your lighting experience to the next level and unlock new features for your existing Hue lights. Stay tuned to learn how we will support you with any necessary upgrade to your system"

I have Hue Lux Starter Kit for my bedroom, and will now wait and see before buying the Hue bulbs/Kit for my Great Room. Sent from the iMore App