Photos in iOS 8 adds smart suggestions, location matching and new editing tools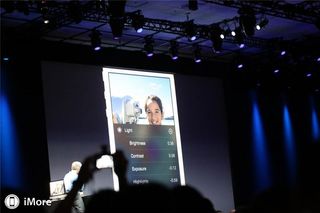 As Apple is blazing through the iOS 8 announcements at WWDC 2014, and the latest is a big set of changes to Photos. With the latest version of Photos, all of your pictures and videos are instantly synced across your devices via your iCloud storage. The cross-device syncing extends into editing, including all of the new tools that are coming to the Photos app on iOS. You can use new "smart" controls to edit light, color and the straightness of photos to get them just right. With just a few swipes the Photos app will change brightness, contrast, exposure and shadows intelligently together.
The new content view in Photos helps you keep track of all of your photos and videos as well. You can get smart suggestions to create albums based on locations, times and similar scenes. And in the end no matter how you move them around, all of the original photos are saved back in iCloud, so you'll always have the full-resolution versions to use later.
Keeping you up to date with mobile news and analysis since 1989.
I would love to have two versions of the photo saved: Original and Edited. The reason being is sometimes you take a photo and then before you send it to Dropbox or whatever you start to edit it.
Thank you for signing up to iMore. You will receive a verification email shortly.
There was a problem. Please refresh the page and try again.