Pioneer adding Apple CarPlay to existing in-dash hardware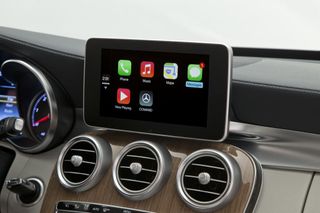 Pioneer has confirmed that they'll have a selection of CarPlay-friendly aftermarket dash systems available this summer thanks to an upcoming firmware update. The five receivers due to get that update are the AVIC-8000NEX (opens in new tab), AVIC-7000NEX (opens in new tab), AVIC-6000NEX (opens in new tab), AVIC-5000NEX (opens in new tab) and AVH-4000NEX (opens in new tab). The update will enable hands-free call handling, Siri commands, media playback, GPS directions, and all of the other good stuff CarPlay is built for.
Pioneer was already pretty open about working on CarPlay-compatible aftermarket dash systems, and it's great to see they followed through. Of course, Pioneer isn't alone; Ferrari, Mercedes-Benz and Volvo were some of the program's earlier partners, and without a doubt there are many more to come.
How many of you are going to get a CarPlay dash system? Will you wait until you get a new car, or try an aftermarket solution like Pioneer's?
Source: Pioneer
Editor-at-very-large at Mobile Nations, gamer, giant.
Well, for me a new car with CarPlay included from the factory is out of the question. And since my car has an integrated system, going aftermarket will be a major pain. It will, of course, depend on the total cost of an aftermarket unit, including the new dash facing it'll require, and the cost of a pro install. IOW, probably not any time soon.

The headline got me excited; I have a less than year-old top of the line Pioneer deck.. But not one of the supported. :( The big disappointment from Pioneer, however is that they aren't supporting much of their hardware, except the most expensive stuff. They have a deck called the "App Radio". It is designed just to connect to phones, not supported. Given the issues their OS has and the lack if consumer responsiveness I'll be looking at Alpine when they bring one out. Goodbye Pioneer. Sent from the iMore App

That's just another excuse to break in your car and steal it!, my iPhone connects to my car through the Bluetooth and that's good enough I take my phone or iPad with me so no one will steal it, could you imagine these aftermarket screens in everybody's cars?, the thieves are salivating over the chance to break in and take it, not a good idea. Sent from the iMore App

I'm certainly entertaining the idea of an aftermarket CarPlay unit. If they are released by the time I'm ready, they will get top consideration if:
a. They aren't too gaudy and
b. Aren't too overpriced for what you get Sent from the iMore App

I should have gone to law school! How lucrative it will be when all the 'distracted driver' suits pile up -- an easy slam-dunk with time stamped data use to verify accident fault!

I'm curious to know how using CarPlay affects data usage with the carrier. Has anyone discussed this yet? Thanks.

Well, I for one just had the AVH-4000NEX installed in my 2003 Hummer H2 2 weeks ago and love it! I just found out about the Apple Carplay availability coming in early Summer and couldn't be more thrilled. My awesome new AVH-4000NEX is about to get even more amazing...thumbs up Pioneer!

Just got the AVH-4000NEX. Disappointed that in order to use Pioneer's appradio with iPhone you need special cables other than the standard USB iphone cable, which was not indicated to me before installation. Does anyone know if CarPlay will also need special cables other than the apple lightning connector? Pioneer tech support said, "of course, you need to stream to the video to the head unit somehow!" But if Car Play is integrated into the headunit, presumably all you need to do is to send data right? Help! If I have to remove my head unit to plug in a cable, I will die.
Get the best of iMore in in your inbox, every day!
Thank you for signing up to iMore. You will receive a verification email shortly.
There was a problem. Please refresh the page and try again.