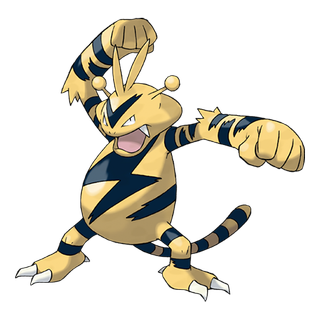 (Image credit: The Pokémon Company)
Name: Electabuzz (Japanese: エレブー Eleboo)
Classification: Electric Pokémon
Type: Electric
Generation: Gen I Kanto Region
Gender Ratio: 75% Male to 25% Female
Height: 3'7"
Weight: 66.1 lbs
Evolution:
Evolves from Elekid at level 30.
Evolves from Elekid with 25 Candies in Pokémon Go.
Evolves into Electivire when traded while holding an Electirizer.
Evolves into Electivire with 100 Candies and a Sinnoh Stone in Pokémon Go.
Alternate Formes: None
How to catch in Sword/Shield:
Trade
Giant's Bed
Old Cemetery
Giant's Foot
Frigid Sea
Three-Point Pass
Ballimere Lake
How to catch in Go:
Description: Vaguely humanoid in shape, Electabuzz is covered in bright yellow fur with black stripes and a black lightning bolt across its chest. It has a pair of antennae atop its head and a pair of sharp fangs. In the dark, its fur glows blue because of the constant flow of electricity over its body. Electabuzz are constantly losing more electricity than they are able to consume, leading to many fights during storms over the ideal spots. During storms, Electabuzz will seek out the perfect spot to get struck by lightning so it can recharge. Seeing the color red will send Electabuzz into a rage.
Core Games
Electabuzz in the core games
Sword Pokédex: Many power plants keep Ground-type Pokémon around as a defense against Electabuzz that come seeking electricity.
Shield Pokédex: With the coming of a storm, many of these Pokémon will gather under tall trees and sit there waiting for lightning to strike.
Base Stats
65 HP
83 Attack
57 Defense
95 Sp. Attack
85 Sp. Defense
105 Speed
490 Total
Moves by Level
Quick Attack (lv 1)
Leer (lv 1)
Thunder Shock (lv 1)
Charge (lv 1)
Swift (lv 12)
Shock Wave (lv 16)
Thunder Wave (lv 20)
Screech (lv 24)
Thunder Punch (lv 28)
Discharge (lv 34)
Low Kick (lv 40)
Thunderbolt (lv 46)
Light Screen (lv 52)
Thunder (lv 58)
Giga Impact (lv 64)
Moves by TM/TR
TM00 Mega Punch
TM01 Mega Kick
TM03 Fire Punch
TM04 Ice Punch
TM05 Thunder Punch
TM08 Hyper Beam
TM09 Giga Impact
TM14 Thunder Wave
TM16 Screech
TM17 Light Screen
TM21 Rest
TM23 Thief
TM24 Snore
TM25 Protect
TM31 Attract
TM33 Rain Dance
TM39 Facade
TM40 Swift
TM41 Helping Hand
TM43 Brick Break
TM59 Fling
TM75 Low Sweep
TM76 Round
TM80 Volt Switch
TM82 Electroweb
TR01 Body Slam
TR07 Low Kick
TR08 Thunderbolt
TR09 Thunder
TR11 Psychic
TR20 Substitute
TR26 Endure
TR27 Sleep Talk
TR31 Iron Tail
TR35 Uproar
TR64 Focus Blast
TR80 Electro Ball
TR86 Wild Charge
Moves by Breeding
Cross Chop
Dynamic Punch
Feint
Focus Punch
Hammer Arm
Moves by Tutoring
Damaged normally by
Normal 1×
Fighting 1×
Poison 1×
Rock 1×
Bug 1×
Ghost 1×
Fire 1×
Water 1×
Grass 1×
Psychic 1×
Ice 1×
Dragon 1×
Dark 1×
Fairy 1×
Weak to
Immune to
Resistant to
Flying ½×
Steel ½×
Electric ½×
Pokémon Go
Pokédex: When a storm arrives, gangs of this Pokémon compete with each other to scale heights that are likely to be stricken by lightning bolts. Some towns use Electabuzz in place of lightning rods.
Egg Distance: N/A
Buddy Distance: 5 KM
Base Stats
163 Stamina
198 Attack
158 Defense
Moves
Fast Attacks: Thunder Shock, Low Kick
Charged Attacks: Thunder Punch, Thunderbolt, Thunder, Frustration*, Return*
Shiny:
More information
Get the best of iMore in your inbox, every day!
Casian Holly has been writing about gaming at iMore since 2019, but their real passion is Pokémon. From the games to the anime, cards and toys, they eat, sleep, and breathe all things Pokémon. You can check out their many Pokémon Go and Pokémon Sword and Shield guides and coverage here on iMore.