Pokémon Go: How to get all the Platinum Medals fast
How to get medals in Pokémon Go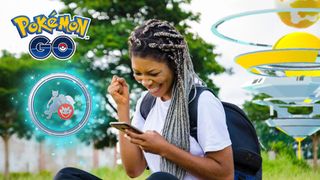 (Image credit: Niantic)
Like many games, Pokémon Go has a way of tracking your in-game achievements. This is done with Medals. Everything from catching specific types of Pokémon to defeating the Leaders of Team GO Rocket, if you can do it in Pokémon Go, you can probably earn a Medal for doing it well. What's more, you'll need to earn a certain number of Medals to go beyond level 40.
With so many Medals to keep track of and only some of them being particularly useful, we here at iMore have everything you need to know to earn each, as well as the bonuses those Medals grant you. Make sure to grab some of our best Pokémon Go accessories; using a Pokémon Go Plus or a Go-Tcha will make earning some of these Medals much easier!
How do you get Medals in Pokémon Go?
Pokémon Go Medals are fairly straight forward to get but not always easy. Each one is awarded for completing several specific tasks, but the number and tasks all vary greatly. To get an award, be it Bronze, Silver, Gold, or Platinum you simply have to reach the required number.
While some of the Achievement Medals only get you bragging rights, others will grant access to exclusive clothing for your trainer's avatar.
How do you get the Jogger Medal in Pokémon Go?
The Jogger Medal is straight forward. Earning this Medal . It's the same idea as walking buddies for candy or Pokémon Eggs to hatch. Stick to around 10 KM/H.
Bronze: Walk 10 KM
Silver: Walk 100 KM
Gold: Walk 1,000 KM
Platinum: Walk 10,000 KM
The Jogger Medals unlock the following pieces of male wardrobe:
Bronze: Sunglasses, Watch, Visor
Silver: Shorts, Shoes
Gold: Tank Top
How do you get the Collector Medal in Pokémon Go?
The Collector medal represents the raw number of Pokémon you've caught, regardless of their type. They can be super common all the way up to Mythical.
Bronze: Catch 30 Pokémon
Silver: Catch 500 Pokémon
Gold: Catch 2,000 Pokémon
Platinum: Catch 50,000 Pokémon
How do you get the Breeder Medal in Pokémon Go?
The Breeder Medal is earned by Hatching Pokémon eggs. It doesn't matter if they're 2 KM, 5 KM, 7 KM, 10 KM or even 12 KM eggs, you just have to hatch them.
Bronze: Hatch 10 Eggs
Silver: Hatch 100 Eggs
Gold: Hatch 500 Eggs
Platinum: Hatch 2,500 Eggs
You can cut back on the distance this takes by prioritizing your Eggs. Keep your Infinite Incubator and standard Incubators for the 2 KM or 5 KM Eggs while saving your Super Incubators for the 7 KM, 10 KM and 12 KM Eggs. You can also save your coins for special boxes with loads of Super Incubators. During Community Days and special events, these boxes can offer big savings on Incubators.
How do you get the Scientist Medal in Pokémon Go?
This one is also straightforward: You get the Scientist medal by evolving Pokémon. If you're already grinding Pidgey, Caterpie, and Weedle for XP and levels, you should make it in no time.
Bronze: Evolve 3 Pokémon
Silver: Evolve 20 Pokémon
Gold: Evolve 200 Pokémon
Platinum: Evolve 2,000 Pokémon
How do you get the Backpacker Medal in Pokémon Go?
To get the Backpacker Medal in Pokémon Go, all you have to do is visit PokéStops. They don't need to be unique PokéStops either.
Bronze: Visit 100 PokéStops
Silver: Visit 1,000 PokéStops
Gold: Visit 2,000 PokéStops
Platinum: Visit 50,000 PokéStops
How do you get the Battle Girl Medal in Pokémon Go?
The Battle Girl medal in Pokémon Go comes, not surprisingly, from battling in Gyms. Every time you battle in a Gym and beat a Pokémon from a rival team, you get credit for one battle.
Bronze: Win 10 Gym Battles
Silver: Win 100 Gym Battles
Gold: Win 1,000 Gym Battles
Platinum: Win 4,000 Gym Battles
The Battle Girl medals unlock the following pieces of female wardrobe:
Bronze: Gloves
Silver: Shorts, Shoes
Gold: Tank Top
Like the Jogger Medal, these items are gender-specific so, unless you change your avatar, only one set is available even if you unlock both Gold Medals.
How do you get the Berry Master Medal in Pokémon Go?
The Berry Master Medal is earned by feeding Berries to Pokémon in Gyms controlled by your team. You can feed up to ten standard Berries to up to ten Pokémon every half hour or an unlimited number of Golden Razz Berries.
Bronze: Feed 10 Berries
Silver: Feed 100 Berries
Gold: Feed 1,000 Berries
Platinum: Feed 15,000 Berries
The key is accumulating enough Berries — primarily Nanab Berries because there are very few Pokémon which they help catch — to feed the Gyms, and finding Pokémon low enough on motivation that you can feed ten to each one.
How do you get the Gym Leader Medal in Pokémon Go?
The Gym Leader Medal kind of replaces both the old Ace Trainer Medal. You get the gold by putting your Pokémon in the new Gyms and having them stay there.
Bronze: Defend Gyms for 10 hours
Silver: Defend Gyms for 100 hours
Gold: Defend Gyms for 1,000 hours
Platinum: Defend Gyms for 15,000 hours
The Gym Leader Medals unlock the following pieces of male and female wardrobe:
Bronze: Gloves
Silver: Shorts, Shoes (in Red, Blue, and Yellow)
Gold: Top (also in Red, Blue, and Yellow)
Master your iPhone in minutes
iMore offers spot-on advice and guidance from our team of experts, with decades of Apple device experience to lean on. Learn more with iMore!
Casian Holly has been writing about gaming at iMore since 2019, but their real passion is Pokémon. From the games to the anime, cards and toys, they eat, sleep, and breathe all things Pokémon. You can check out their many Pokémon Go and Pokémon Sword and Shield guides and coverage here on iMore.