Pokémon Go Tricky Pokémon April Fools event 2021: Ditto, Research, and more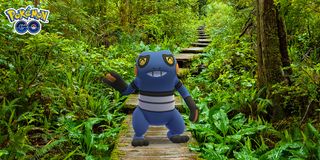 (Image credit: Niantic)
The Pokémon Go Weather Week event concluded on March 29, but a new one begins on April 1. The Tricky Pokémon event celebrating April Fools' Day will run all day and bring plenty of Pokémon mischief. Be sure to check out our best Pokémon Go accessories guide so you can be ready for anything.
Wild spawns during the Pokémon Go Tricky Pokémon event
The following Pokémon that are prone to mischief will be appearing more often in the wild.
Pokémon with the potential to be Shiny are indicated with an asterisk.
Team GO Rocket during the Tricky Pokémon event in Pokémon Go
Instead of their usual lineups, Team GO Rocket will be entirely fielding teams of Shadow Aipom during the event. Apparently, they tried catching the Johto Pokémon to stop its tricks and wound up being the butt of the joke. This Normal Pokémon uses Normal, Ghost, Fighting, and Flying attacks and is vulnerable to Fighting moves.
This is the first time Shadow Aipom has been available, so be sure to try to catch some. Team GO Rocket will appear more often at PokéStops and in balloons during the event, so you should have plenty of opportunities.
Timed Research during the Tricky Pokémon event in Pokémon Go
While most of the Tricky Pokémon event will end on April 1, the timed research will continue through April 8. These are the steps you need to complete from the today view:
Defeat six Team GO Rocket Grunts for 100 XP.
Defeat a Team GO Rocket Leader for 100 XP.
Catch 5 Shadow Pokémon for 100 XP.
Completion Rewards: A Super Rocket Radar, 100 XP, and 100 Stardust.
Ditto in the Tricky Pokémon event in Pokémon Go
The ultimate trickster Ditto will be appearing more frequently during the event, so you'll have the chance to catch it when you grab any of the Pokémon Ditto can transform into. The event also added Purrloin to the list of Ditto's possible forms.
Other bonuses during the Tricky Pokémon event in Pokémon Go
Be sure to take plenty of snapshots during the event for an increased chance of a photobombing surprise encounter from Aipom and Croagunk, who can appear up to five times. The switch timer for GO Battle League is also halved during the event. The shop is also selling a special GO Rocket Box for 100 PokéCoins that contains 50 Poké Ball, one Star Piece, and one Rocket Radar.
Questions about the Tricky Pokémon event in Pokémon Go
Do you have any questions about the Tricky Pokémon event in Pokémon Go? Let us know in the comments below and check back for updates when we have additional information on what the event will entail.
Master your iPhone in minutes
iMore offers spot-on advice and guidance from our team of experts, with decades of Apple device experience to lean on. Learn more with iMore!
Samantha Nelson writes about gaming and electronics for iMore, Windows Central and Android Central while also covering nerd culture for publications including IGN and Polygon. She loves superheroes, RPGs, cooking, and spending time outside with her dog. You can follow her on Twitter @samanthanelson1.