Raspberry Pi budget computer board now capable of handling Airplay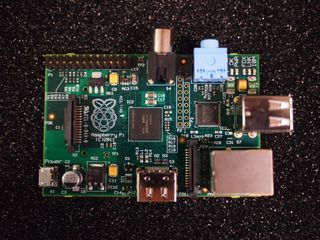 The Raspberry Pi budget computer main board can now handle AirPlay content from an iPhone, iPad or iPod touch. The Raspberry Pi, for those that do not know, is a tiny credit card sized computer that has an HDMI port to connect to your TV. It is a fully capable computer but also has the added bonus of being able to play back high definition video; thanks to its Videocore 4 GPU. The GPU is capable of BluRay quality playback, using H.264 at 40MBits/s.
The Raspberry Pi is currently in production and will soon be available internationally in two models, one with 10/100 Ethernet and one without. The most interesting part of the project is definitely the price. The basic model will cost just $25 with the model including Ethernet costing just $10 more.
The Raspberry Pi was originally aimed at computer hobbyists however now that AirPlay has been demonstrated as well as a port of XBMC, this little computer may have a big part to play in future home media center solutions too.
Source: Raspberry Pi via Electronista
[gallery link="file" order="DESC" columns="2" orderby="title"]
UK editor at iMore, mobile technology lover and air conditioning design engineer.
Wrong info, neither board has built in wifi, the model a has no Ethernet, the model b has Ethernet

Yes you are correct my mistake, I have updated the post!

Wonder how long it will be before Apple's lawyers shut them down.

At first glance, this would seem entirely legal under the interoperability clause of the DMCA, assuming of course it was a clean room reimplementation.

How does it receive the airplay signal without built in wifi? I don't get it.

The one in the video is the version with Ethernet; so it is on the same network as the iPad

I hope these can be used as a headless unit, without a display connected and just using the audio output. If so, I'll buy 4 of them and position them around my home. Nearly any place in my house that has a speaker system is also close to an ethernet hub, and they appear to be far cheaper than AirPort Express nodes (about 2-3 of these guys for the price of one Express). And with video playback, its an even bigger perk.

I'm interested in this, not because I don't want to spend $99 on an AppleTV, but because this thing might be a bit more flexible. First, it has an analog output, which would allow it to hook to older projectors. Second, it might be able to be programmed to become a wifi router to setup it's own network between an iPad and itself. WIth those additions, it would be very attractive to people giving presentations or teaching. That said, I'd rather Apple address these with a never version of AppleTV or with some unit aimed at that market.

order an chanel 2011 and get big save

Excellent beat ! I wish to apprentice while you amend your website, how can i subscribe for a blog web site? The account helped me a acceptable deal. I had been a little bit familiar of this your broadcast offered vibrant clear idea

Believe it or not, most banks enjoy several tiers of rates, so it's not just one rate. I just this minute applied for a Citibank credit card and on the website were more or less two dozen different Citibank cards, all near different rates and terms. Depending on exactly what type of Visa or Mastercard you want, what features, and depending on what your credit rack up is and what your credit report looks like, you could attain any number of different rates or offers. It's simply not only one standard rate any more.I've seen rates that run the gamut from 0% to almost 32% from duplicate lender.Now Bank of America is even offering a credit card to illegal immigrant, if you can believe that. You don't even need a social deposit number for that one. I'm going to run down to my nearby Bank of America branch and emergency one.

Great post. I used to be checking constantly this weblog and I'm impressed! Very useful information particularly the last section :) I take care of such information a lot. I was seeking this particular information for a long time. Thanks and best of luck.
Thank you for signing up to iMore. You will receive a verification email shortly.
There was a problem. Please refresh the page and try again.