redsn0w updated to 0.9.9b9d with various bug fixes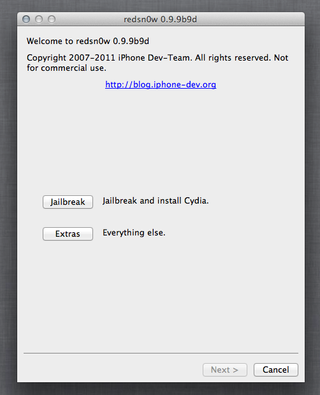 redsn0w has been updated to version 0.9.9b9d in order to fix a few bugs. This update comes right after an update to ultrasn0w and after adding support to redsn0w for iOS 5.0.1.
Keep in mind this jailbreak is still tethered unless you have an iPhone 3GS with the old bootrom. You can grab the updated version via the links below then check out our guide on how to jailbreak iOS 5.0.1 via redsn0w. If you have questions or run into issues, check out our jailbreak and unlock forums as well!
Download links: Mac, Windows Source: Dev-Team blog
iMore senior editor from 2011 to 2015.
Still my 3GS 5.0.1 crashes at the end of 1st stage. No improvement at my case.

What specifically were the bugs that are fixed by this update?
For those of us with the 3GS, old bootrom, 5.0.1 what problem is this addressing? (I see some problems with this jailbreak, but I don't see the "comments section below" that the press release above talks about.

Still my 3GS 5.0.1 crashes at the end of 1st stage. No improvement at my case.

If you are having trouble getting your phone up and running with 5.0.1, I found the best trick is to put into DFU mode before you attach it to the computer. For some reason when it was attached it would think it was in dfu before it actually was. Just make sure you hold the "home" button for a full 15 seconds when completely the final step in getting the phone into dfu. If redsn0w is crashing when you click just boot, disconnect the phone until it starts the instructions on how to put it into dfu then attach it and it should work just fine. Good luck!
Thank you for signing up to iMore. You will receive a verification email shortly.
There was a problem. Please refresh the page and try again.