Rogers confirms Wi-Fi calling coming to their iPhones in iOS 8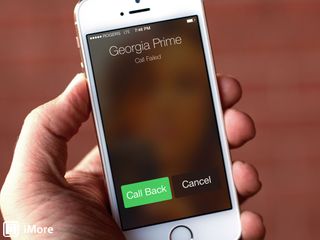 Rogers has confirmed that it will support Apple's plans to offer Wi-Fi phone calls via iOS 8 in Canada, following the announcement that T-Mobile will do the same in the U.S.
In an official statement, Rogers said:
Apple revealed the Wi-Fi calling feature for iOS 8 as part of its "one more thing" collection of features that the company didn't have time to talk about during Monday's 2014 WWDC keynote address. So far, no other wireless carriers in North America have announced they plan to join T-Mobile and Rogers in their support of this feature.
How do you do feel about this new feature being supported by T-Mobile in the U.S. and Rogers in Canada? Will such support help customers in getting better and more reliable calls compared to using cellular services?
Source: iPhone in Canada
I have been writing professionally about technology and gaming news for 14 years.
Now if they do roll out an iPhone with a screen that has a bit more real estate on it and means I don't have to squint then it will be enough alongside the other features to make me feel positive about returning to the iPhone. WiFi calling for me is essential because there is a line of ugly oversized buildings that black almost totally my access to the T-Mobile phone system (unless I get the ladder and climb onto the roof). So on the other side of the buildings they get 68 Mbps down and perfect signal while at my home on the other side of these buildings I'm lucky to get basic phone service with an occasional wisp of LTE flashing on the screen before it is gone again! The number of missed calls! But Sprint has zero service, AT&T only have basic 3G and Verizon is as bad as T-Mobile. So out of the choices T-Mobile is the best of the worst.

This should be a standard feature across the board. With many carriers going to unlimited minutes anyway there is no real harm to having this feature.

Money.. Both WIFi Calling and VoLTE are basically VoIP. Differences in the implementation.. but in reality your using VoIP over LTE or WiFi.. The issue is from ATT/Verizon's point of view, if you're not using their new VoLTE, you're not burning your data. they like overages. Thus they really don't want you on WiFi; just another example of money grab by the big 2 (ATT/Verizon). As for Sprint.. They are barley able to roll out LTE.. much less a feature like this.. I've no confidence in their management.

Me either! No confidence whatsoever.

But that`s been out for few month now, I been able to use it on my Note 3 on Sprint.

here's a stupid question... is WiFi calling = Facetime Audio? sorry guys :I

Nope. Totally different. Sent from the iMore App

There seems to be quite a bit of confusion and misinformation out there regarding Wi-Fi Calling. From what I can tell, Wi-Fi Calling DOES use your monthly pool minutes. See T-Mobile's FAQ here: http://t-mo.co/1tGbG7b which says, "Calls made from the US to US numbers use plan minutes" and Rogers' here: http://roge.rs/1iROGNa which states, "Any voice usage within Wi-Fi coverage is applied against voice minutes allocated in your existing wireless voice plan." It's great that it will improve call quality and reliability in areas with weak cell network signals. For some people, that will be huge. But If you have a limited amount of plan minutes per month, Wi-Fi Calling will not help you extend those minutes.

Wi-Fi calling will be a welcome feature in my household where cell network coverage is a challenge especially if I want to make a call from my basement. I have an amazing plan that currently discourages me from moving to another provider. Having Wi-Fi calling whether it uses my plan minutes or not is a very welcome feature and will enhance my experience without the frustration of less-than-reliable cell service in my home.

Where in the world did everyone seem to come to the conclusion that by carriers adding volte that you will now be using your data plan for calls? Yes the call will be patched over an lte system instead of falling back onto hspa or CDMA, but that's it and honestly little known secret it's actually cheaper if your carrier can do it. Don't expect them to tell you that though cause they won't do it till hell freezes over… Sent from the iMore App

If you are making calls over your wifi instead of their network, why do they deduct minutes? Not fare to the customer who have a limited bucket! Sent from the iMore App
Get the best of iMore in in your inbox, every day!
Thank you for signing up to iMore. You will receive a verification email shortly.
There was a problem. Please refresh the page and try again.