Samsung reportedly set to supply Apple with 100 million OLED displays a year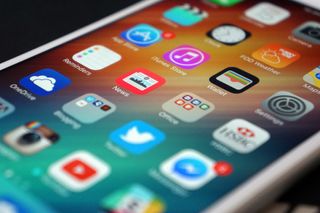 Samsung is reportedly planning to supply Apple with OLED displays for the iPhone with an estimated 100 million units each year. According to a local report, Samsung Display has signed a deal with Apple to supply millions of 5-inch sized OLED panels for the iPhone 7S. The deal is said to be worth $2.6 billion (10 trillion won) and would see Apple working closer with its competitor for more advanced components.
Interestingly, this would mean Apple would eventually be making the switch from LCD to OLED. The move would enable Apple to potentially reduce the size of bezels on future iPhones, as well as producing higher quality visual experiences on-screen. And since pixels only need to be backlit if they're currently in use and aren't "black", battery life could be improved further.
The report details Samsung requesting a guarantee of three years, to which Apple has refused. It was previously reported that Apple was looking at manufacturing partners for OLED panels. This latest report also matches the recent rumor of Apple ditching LCD in favor of OLED in 2017.
As always with unconfirmed reports and speculation, all this could well change or be inaccurate so do take with a grain of salt.
Screen burn city, although beautiful if a little saturated displays the screen burn from r me is a major turn off, believe me it happens seen many a galaxy with this I'll affect, let's hope this is not the case Sent from the iMore App

I've never seen a phone with screen burn and certainly none of my Galaxy phones. Even if you were right, we're not talking about OLED today, we're talking about OLED 18 months from now.

OLED is still organic today and will always be screen burn is a common issue that's has been discussed many times before, I get your point things will improve however it won't be OLED then it will be something else. I work in the industry and see it quite frequently not just Galaxy of course the technology is the issue not the brand Sent from the iMore App

Enjoy your iPhone with burn in then. I'm sure Apple hasn't thought this through and is going to make a huge mistake going to this technology. Unless...., burn in is no longer a problem, explaining why they're moving to it next gen. Also, is there burn-in on the apple watches? I've yet to hear anything wrong with them.

And I've been using a Note 4 heavily for over a year and have yet to see this. I'll have to Google how to look for it on my phone because it sure isn't something I notice. I do notice how nice the screen is though. (Nothing wrong with my wife's iPhone 6 either).

D Sent from the iMore App

Visit any wireless carrier store that has live working phones on display. Most of the phones with OLED will have burn in. Posted via the iMore App for Android

Those phones also run all day every day with screen at full brightness... Sent from the iMore App

Screen burn is not the issue it was years ago and you can clean out screen burn. Just another prime example of Apple jumping on a tech trend after everyone else, especially when ot is cheaper to do than another tech they are doing (AMOLED is finally cheaper to make than LCD)....surprise surprise...this is really about Apple cutting their costs and keeping those margins up. Same reason a 16 GB iPhone still exists. Baaaaaaa Posted from my Nexus 6P

I've seen Samsung Galaxy S6 and S6 Edge in a store with serious screen burn. Ironically, those were the only models subject to that. Sent from the iMore App

Again, that's because they run all day with screen on full brightness. I don't think anyone with a brain will leave their phones on full brightness and no time out.

Really? Almost everyone in my family who uses Android uses Samsung phones, and their AMOLED screens NEVER burn out. Our Samsung LED TVs also never have that problem. Samsung actually does make good quality screens. Sent from the iMore App

You do realise LED TV is completely different to OLED right? LED TV's are just LED backlit with a normal LCD panel. OLED are the mega expensive ones at the moment.

Wait, 5" iPhone? I would have to see (or hear it from apple directly) to believe it.

If the bezels can be smaller then hopefully a 5" OLED iPhone would be of a similar size to the current 4.7" LCD iPhone.

Yah man, the next iPhone will be exactly like galaxy s6. Kidding :P

Funny how Apple keeps suing Samsung and yet Samsung provides them parts for Apple devices. Talk about biting the hand that feeds them. Now, I'm no fan of Samsung here (I own an iPhone and I like it) but seriously, the constant lawsuits needs to stop already. The only people who win are the lawyers.

Samsung that supplies components does not have a ton to do with Samsung that makes phones. Samsung is a huge conglomerate of a ton of different businesses. Just clarifying that detail :)

Still, it's kinda funny that the iPhone 7 will be comprised of like 50%+ Samsung components. If they really do go oled, i'm gong to start calling iphones samsungs.

It's relatively stupid to compare the component division to the devices division.
Qualcomm supply the chips to majority of Android phones, are they all Samsung to? Are Samsung devices with Qualcomm SoC's Qualcomm devices?

He said something tounge in cheek and you call his comment stupid when yours more clearly is? When was the last time you saw a Qualcomm branded phone?

I'm curious as to what the motivations would be for going this route. OLED is great, but so are modern LCDs. Is it about power savings maybe? Given that Apple's interface has a mostly white background, I wouldn't think so.
Given the wide color gamut and the best in class color accuracy of the LCD screen used in the new 9.7" iPad Pro, I wouldn't think this is driven by a decision on quality. Displaymate has high praise for Apple's latest screens.
http://www.displaymate.com/iPad_Pro9_ShootOut_1.htm

DisplayMate also gives very high praise to the quality of Samsung's OLED screens: "the Galaxy S7 is tied with the Galaxy Note 5 for the most accurate display colors of any smartphone or tablet display that we have ever tested".

Not to take away from the Galaxy S7 display, but the later review for the iPad display goes on to say...
"The iPad Pro 9.7 breaks many new records in display performance for:
Highest Absolute Color Accuracy for any display for Both Color Gamuts (1.35 JNCD), Lowest Screen Reflectance for any mobile display (1.7 percent), Highest Peak Brightness in a full size Tablet for any Picture Level (511 nits), Highest Contrast Rating in High Ambient light (301), and Smallest Color variation with Viewing Angle (all under 2.0 JNCD)." They can't both be the most accurate display colors. It would seem the latest review gets to make the claim. In any case, my point is that the display quality of the best LCDs have increased significantly lately. While I'm sure each technology still holds minor pros and cons on one measure or another, the point is that quality is pretty much equivalent at this point. Which begs the question, what's the driver to go OLED? Cost? Device thickness? Power? I'm not convinced that it's quality at this point.

Once one gets a taste of oled, it's extremely hard to give up the infinite black levels. the contrast is just too good. if you don't believe it's quality, you should question apple's choice of oled on the apple watch. Obviously they believe in it moving forward. To push my point forward, i'm assuming you don't walk into a brick and mortar and say outloud that the lg oleds look terrible/unrealistic. staring at a 65 inch oled is drool worthy. this coming from a person who owns a Sammy js9500.

May be it is just a rumour as usual Sent from the iMore App
Thank you for signing up to iMore. You will receive a verification email shortly.
There was a problem. Please refresh the page and try again.