Samsung's new ad looks just like an Apple ad, uses one of the same actors too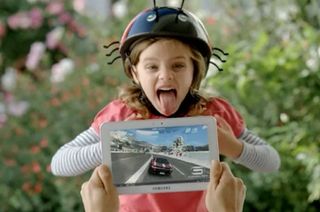 Samsung has seemingly stepped up its spat with Apple by releasing an ad that not only resembles an iPad ad but incredulously even uses one of the same girls that Apple has used in one of its ads.
The new Samsung ad is for its Galaxy Tab device, it shows a young girl using the device for various tasks like reading and gaming. Apple used the same girl originally in one of its iPhone 4S advertisements. The Samsung ad is definitely shot in a very similar way to an Apple ad too. This is either one amazing coincidence or more likely Samsung is going out of its way to provoke and copy Apple. The iPhone 4S ad is below so you can see the same actor in both ads.
Source: TNW
UK editor at iMore, mobile technology lover and air conditioning design engineer.
When has Samsung ever made anything unique?

Ummm... sorry, never heard of it.

They made the samsung Epic 4g oh wait no that was crap i forgot.

Galaxy Nexus. Galaxy S2. Galaxy S (sold more internationally than the iPhone in the same period of time).

That mean's they need 3 devices to outsell the iPhone? Amazing...

No you idiot! The GALAXY S alone sold more internationally than the iPhone in the same period of time.

Yep, what Howard said. The S2 outsold the 4s in the UK too.
Samsung is making great devices...just not one's iPhone zealots would switch to, it seems.

How about the GriDPad in 1989, the first commercially available computer tablet in the world. iPad even ripped of the name from GriDPad (notice the case of the letters).
Or how about the Uproar the world's first mp3 phone before the ipod even came out?
Or how about the fact they are always the first to come out with TV technologies such as LED, 3D, and now OLED.
Apple wants to be like Samsung, face it.

So, the girl can't own an iPad and a Galaxy tab? She's can be spoiled!

If you hadn't of said anything I would've thought it WAS apple!

How dare Samsung! They had actors using their products with background music just like apple! So?????

Too bad their devices do not give as good of an experience as Apple's. Then Apple will be pushed to become even better than it is now. Customers win. The commercial of course does not make their product better, but it is a sign that they are beginning to see their old way of this was flawed. Maybe they will begin to see their products need to undergo similar changes. Customers win. :)

Jealous much Samsung? There is only one tablet, every one knows its either the iPad or nothing...

That's so Q2 2011. You know...before Android tablets took over 20% marketshare and before the Fire and new Nook sold multiple millions.
Just saying.

All of those besides the iPad are crap... Kindle, Kindle Fire, Android tablets... all are crap... just sayin... You pay for what you get....

Personal preference. Neither of the 3 I've bought are crap.

Doesnt matter. People will just be reminded that they need to get that iPad they've been wanting.
Same thing when I see a Pepsi commercial. It looks so good that I run out to buy more Coke.
Thanks Samsung.
Love, Apple

This is stupid. All car commercials look the same but nobody accused any other car manufacturers copying their commercials. Competition makes perfection. Let's the marketplace decides. Protectionism never work.
By the way, Apple did not invented touch screen phones or tablets. ;)

Haha. I laugh at each and every car commercial around the holidays that includes some one walking outside to a brand new car tied up with a bow. Seriously, I don't know anyone who has ever given some one a gift wrapped car for Christmas. I also can't believe that after year, these companies all decide to go with the same old commercial. You would think at some point one of them would say "you know, let's try something other than a commercial with a gift wrapped car."

And don't people who buy cars as gifts celebrate Hanukkah instead of Christmas anyway?

well my cousin actually gave his wife a new car with a big red bow on top so yeah... it happens.

Uh, no, they did not. Who's the dummy?

"Apple did not invented.." epic grammar fail.

Like apple and Samsung actually make their ads. They are made by advertisement companies.

Why did she say How to live smart in English?

I can't believe these lawsuits havent worked yet...this is ridiculous and a complete shameless rip off

Keep trying Samsung. No matter what you do, you'll never get folks to 'love' your products. They might like them and find them useful, but there'll be no lasting brand loyalty, which is what you so desperately crave.

I was at Wal-Mart yesterday, and there was a line of non-Apple Tablets. A kid and parent come through and said "there's the iPad's".
Samsung copied the iPhone, iOS, The iPad, and now their advertisements. Some will say its just an ad, but when you compare the styles (VoiceOver, music ) its definitely copied. Samsung is apples new Microsoft. Copying every innovation and making it into a crap product that people only buy because it's cheap.

Who cares? Im an Apple owner too but not to the point that I have to bi&$@ and moan because another company copies their ads. You all act as if it's personal. Yes, Apple is the better company and makes the better product so leave it at that. What do you guys get from trying to bash Samsung as if they'll ever read or care about your comments?

They'll never listen. It is a common thread on this blog.
Personally I don't see the comparison. Apple doesn't own ad formats showing families using their product. I couldn't point out the "copied" commercial to save my life.
Using the same girl is meh. Anyone outside of us techies wouldn't notice or care, even some of us don't (raises hand).

And Apple copied the National Geographic format, they even use Peter Coyote.
As someone has already pointed out, Samsung dis not copy Apple, advertisement agencies created both ads, and those companies are always getting ideas from each other.

"Samsung did not copy Apple, advertisement agencies created both ads..."

You're not following, are you?

Other companies may look at Sunsung and think, this also does not works against the iPad.

thats pretty funny, i dont see why the actors are white americans and the voice over is in japanese (i think?) doesnt make much sense to me, but i think its pretty hilarious if they are just trying to piss apple off at this point.
i was in a bestbuy mobile yesterday and had the chance to compare a galaxy tab 8.9 with an ipad 2, and i must say i never realized how low res and outdated the ipad 2s screen looks in comparison. im not a big fan of android, but the galaxy tab not only looked nicer (imo), the screen was beautiful and super crisp, and while widgets arent so necessary on my mobile device, (i use an iphone 4s and a BB9930) i see myself enjoying them much more on an android device as the extra screen real estate lends itself to customization that feels more like a PC as opposed to the ipad which is essentially my iphone only bigger with a lower res screen.
ipad is great dont get me wrong, id love to have one, but the galaxy tab was much more interesting and felt better in the hand to me.

Who cares? Seriously if you care, you're a freak

Ummmm???? Those 2 ads arent even close to being the same.... the same actor yes, but thats it. Ads dont look like at all. Not even both selling phones.

A girl who was in an ad is also in another ad, what a surprise.

Well I've heard of the galaxy note and that would make me drop my iPhone in a heartbeat. Apple needs to make a phone/tablet hybrid for those that want to only carry one device.

Like I've said before. As Apple goes, the industry goes.

Who give a flying sh*t??? Hire me. I can blog better than this.

This is what Samsung wants: CHEAP ADVERTISING. The copycats copy something, popular blogs blog about it then they get PROFIT!1!

Other than using the same young actress, can one of you fanboi morons please explain to me what else is the same, or "copied," in the two ads?

After watching the Samsung video, I can understand how that commercial can be taken as an iPad commercial.
First of all, is has a similar format, calm background music, people using and enjoying the product, and a narrator say stuff in the background. It also gave off the similar feeling some people get after seeing an iPad commercial. To be honest, If I didn't see the Samsung name on the product, I would've though it was an iPad ad.
But in the end, it's just an ad. I guess this is Samsung's way to chip into the iPad market. Don't know and don't care. Apple will do what they do, and Samsung will do what they do.

Samsung phones was crap before iphone was introduced, they did not made tablet before ipad was introduced.. I dont care who copies who.. Only who influenced the market.. You all know apple made all this happen and samsung is always watching what apple is doing, trying to launch numerous higher specced but lower priced machine to kill apples market..problem is samsung only know how to inject higher specs but user experience is just plain ...ugh.. They cant even make the swiping smoother than ip4.. User experience... If you wanna copy then go all out, for me samsung did not copy apple.. They dont have the expertise to...

Absolutely! Sam ain't hung

"Video removed by user" WTF??

Very cool. Thank you very much.

I've learn several good stuff here. Certainly value bookmarking for revisiting. I surprise how a lot effort you set to create any such excellent informative website.

What i don't realize is actually how you are not really much more well-liked than you might be now. You're very intelligent. You realize thus considerably relating to this subject, made me personally consider it from numerous varied angles. Its like women and men aren't fascinated unless it is one thing to accomplish with Lady gaga! Your own stuffs nice. Always maintain it up!
Thank you for signing up to iMore. You will receive a verification email shortly.
There was a problem. Please refresh the page and try again.