Secret Banners at WWDC, One More Thing?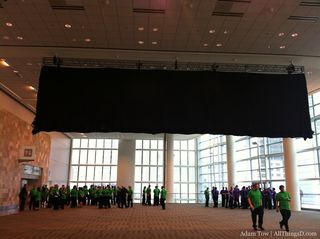 With just minutes to go before the keynote at WWDC, reports are showing that there are 2 massive banners covered with black cloths.
There are 3 confirmed banners on display at WWDC, displaying the much-anticipated iCloud logo, iOS5 and OSX Lion, but what are under these black cloths?
Could this be a 'one more thing' at the end of the presentation? iPhone 4S? iPhone 5? Something More?
Don't forget to join our live meta-blog, where we'll find out exactly what is under those sheets.
Writer for iMore, YouTube Vlogger, and Host for [TEChBrits]
did we find out what this banner meant?

So no ninja has knocked over the black cloth yet?
Thank you for signing up to iMore. You will receive a verification email shortly.
There was a problem. Please refresh the page and try again.