See Apple VP Schiller's interview with John Gruber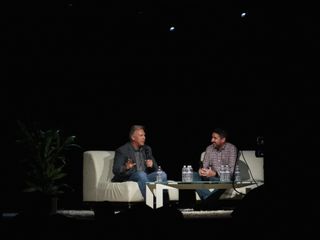 That guest was Apple's senior vice president of Worldwide Marketing, Phil Schiller. Schiller offered up his thoughts on iPhone storage, the decision to equip the MacBook with a single USB-C port, and more during a lengthy interview in front of the WWDC crowd. Now that video is online, and you can watch it yourself.
](/wwdc-2015)
If you've read our recap of Gruber's interview with Schiller and you'd like to watch it yourself to hear what the Apple exec told him directly, now you can.
Schiller spent his time talking about Apple's entry-level iPhones with 16 GB of storage, the new MacBook's focus on wireless communication and how that impacted Apple's decision to equip the device with only a single USB-C port that acts as both peripheral expansion and charging port, and much more.
Source: Daring Fireball
○ WWDC 2015 hub
○ iOS 9 hub
○ OS X 10.11 hub
○ Apple Watch hub
○ Swift hub
○ Discussion forums

Get the best of iMore in in your inbox, every day!
Nice interview.. no new info per-say but still cool to see him in a more open platform.

Why didn't Gruber ask him about  TV? Why Lovine and Drake? Why no new product announcements? When will the  Watch be available in store? Why didn't we see Angela Ahrendts during  Watch announcement? Is no Ivy, a good thing? Why space grey MacBook, not a "Gold Finger Edition" MacBook being a James Bond fan? Sent from the iMore App

He didn't ask about Apple TV because he's smart enough to know he wouldn't get an answer. Iovine and Drake work in the music industry, I suppose it seemed like a good idea. They don't normally do big hardware announcements at WWDC. It's a developers convention. The Watch will be available in store June 29th if I remember right. AA is in charge of retail. If there is a significant announcement relating to retail she'll probably be onstage. Presumably you mean Ive. He hates public speaking. Why force him to do it? He prefers Space Grey? Did I miss anything?

iOS 9, watchOS 2, and OS X 10.11 aren't new products? Why does everybody associate products with hardware?

Nice interview. Phil is an awful lot of fun to talk with. I've been a huge fan of his ever since that "Can't innovate anymore, my ass!" comment...

Is this the same John Gruber who thoughtlessly recommended people give money to a big-mouthed, nasty Canadian con artist? If so, I'm offended that you're writing about him. And I'm sure that the dozens (hundreds?) of other victims of that sociopathic Canadian's lying and thievery would also be offended. Or maybe I missed Gruber's public apology for helping him steal from hundreds of other well-meaning hard-working people?

Yeah, that's the guy. Although I've no idea about the other stuff you mentioned. What Canadian? Eh?

Don't know about a Canadian, seems you are referring to Andy Zaky (Bullish Cross), whose fund lost Apple investors (and himself) a few million bucks? Well, a) he is from California (aka Southern Canada) and b) a "con artist" would not lose his own money (and thus the "artist" qualifier). He had a good run predicting Apple results for a few years (often far more accurate than the big guys), and then made the grave mistake to overestimate himself and create an Apple-only hedge fund, which failed miserably when Apple's stock went down for a while. For those who lost money that was bad, sure. But they were following nothing else than their own greed, as their is no other explanation for giving six- or seven-digit figures to a single person LLC outfit. Gruber never recommended to give the guy money, he did (and I would admit that this wasn't something he should have done) publish one of his one-liners quoting Zaky's "buy" recommendation for Apple stock, seemingly underestimating the credibility his comment alone would give Zaky. Nevertheless, he only pointed out the buy recommendation for Apple's stock - and everybody following it would have quite a bit of return by today. A direct recommendation for buying into Zaky's fund... I have never seen from him.

Nope. I didn't know about this guy. But Peter knows the loud-mouthed Canadian con artist very well. Perhaps he can explain why Gruber promoted this guy's latest scam.

Would you mind telling us exactly who/what you're talking about pls? Oh, as a person I'm sure Schiller is a great guy but on stage, no. He does what virtually all other execs do and that's dishonestly dodge questions and over hype his own when it suits his agenda.

Or, yknow, act in the interests of his company as per his employee contract and in alignment with the wishes of the board and investors…

There is more than one way to achieve that. You can talk crap and be evasive or you can, (as they like to tell you ad nauseum), make great products and services and put us, the customer first. NOT. I for one would think a lot more of him if he was straight. You can promote your product with trash talk.

This is one of the best interviews/podcasts in the Apple news world I've watched on a long time! I'll bet the live event was amazing to experience. Mr. Gruber is one of the best out there doing what he does and Mr. Schiller was very forthcoming. Thanks to the iMore fanboys for posting!

There's simply no good interview to be had with any high-up Apple exec, because they aren't going to answer 90% of the questions people actually want to know about. Nor should they. No interviewer is going to get them to tell us what's next, what does it cost to make, etc. It's slightly comical to me to hear people criticize Gruber for this interview, claiming he was tossing softball questions at Schiller.

Does anyone know at what point he's talking about what they had to cut? Because I could've sworn they had brought up tv. Sent from the iMore App
Thank you for signing up to iMore. You will receive a verification email shortly.
There was a problem. Please refresh the page and try again.