Seth Rogen set to join Christian Bale in Jobs biopic as Steve Wozniak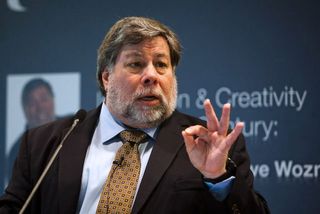 Seth Rogen is set to be Christian Bale's "Robin" in a new biopic about late Apple co-founder Steve Job's life that's based on Walter Isaacson's biography. According to a report on Variety, Rogen is set to star as Steve Wozniak alongside the Batman star in the movie that will be directed by Danny Boyle and written by Aaron Sorkin.
Sony, the studio producing the movie, had previously hired Wozniak to consult.
What do you think about Rogen and Bale as Wozniak and Jobs?
Update: According to The Wrap, Rogen hasn't been officially casted yet, with the publication reporting that he's being eyed for the role, citing multiple sources familiar with the project.
Source: Variety
Sounds like great casting, actually. Both with Christian Bale and Seth Rogen.

I don't believe that any of these films take Wozniak seriously. They use actors who normally take comedic roles and Wozniak comes across as a buffoon. Wozniak is surely a kinder, more lighthearted person than Jobs, but he was also the engineering genius behind the early days of Apple. I don't know if Seth Rogen can pull that off--no offense to Rogen.

Depends on what direction Rogen gets, but I think he will be relied on as a comedic foil.

this movie just lost my interest now that rogen signed on

I love that casting. Aside from his voice (which he can't get rid of) I can actually see the likeness in Seth. And his acting prowess has greatly improved. Golden awards my be issued out, people. Let's not count this film out just yet. Sent from the iMore App

The guy is a pretty good actor. Should be very interesting.

Can Seth Rogen finally play someone other than Seth Rogen?

He could but I doubt he'll be given the chance. Posted from my TARDIS!

Well so much for it being a good movie

This movie is going to suck. They chose Seth Rogen out of all the countless talented actors in the pool? Can't wait to watch this fail.
Get the best of iMore in in your inbox, every day!
Thank you for signing up to iMore. You will receive a verification email shortly.
There was a problem. Please refresh the page and try again.