Should you upgrade to the iPad (2018) or iPad mini 4?
Upgrade decision for older iPad models.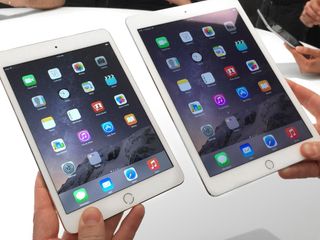 The 2018 iPad is more affordable, powerful, and capable than ever, thanks to Apple's most recent update to its 9.7-inch base-model: Bringing the A10 processor and the Apple Pencil to the main iPad is a huge win for customers everywhere.
But if you already have an older 9.7-inch iPad or iPad mini, are these latest models worth the upgrade? Let's take a peek.
Price
If you're considering buying a 2018 iPad or iPad mini 4 instead of an upgrade to the iPad Pro, chances are it's at least in part pricing-related: Apple's two base-model iPads are the cheapest tablets the company has ever sold, and they're inexpensive without a huge compromise on great features.
The iPads Pro begin at $649; in contrast, the 2018 iPad starts at $329, and the iPad mini 4 starts at $399. If you're on a budget, the 2018 iPad is hands down the best option when upgrading from a previous iPad or other tablet.
If you're still unsure about which model you want for your home, schoolwork, or office, check out our comparison piece before continuing.
Displays
The 2018 9.7-inch iPad sports a 2048x1536 display with a Retina density of 264 PPI (pixels per inch), while the iPad mini 4 has a 7.9-inch 2048x1536 display at 326 PPI — the best pixel density available on an iPad.
The mini also has a fully laminated display, which removes the gap between the screen's pixels and the top glass, along with an antireflective coating for direct viewing in the sun. In comparison, the iPads Pro and Apple's older iPad Air 2 both use a laminated display and anti-reflective coating like the iPad mini 4; the 2018 sixth-generation iPad is the only model on sale that still lacks lamination.
Do you need lamination? It depends. A laminated display will primarily help you when reading outdoors or working under bright lights; if you've never used a laminated display before, however, you shouldn't miss too much using the 2018 iPad.
Where the 2018 iPad really reigns in display quality is over its older 9.7-inch siblings, the second- and third-generation iPads and original iPad Air.
The iPad mini 4 has no real competitor in display at its size: It's better than all prior iPad mini models, and its density is only beat by the iPhone 7 Plus with its 401 PPI display.
If you care about display quality, the 2018 iPad isn't going to win any awards — but it's a solid Retina offering from the Cupertino company. If display is the only thing that matters to you and you don't mind the price premium, iPad Air 2 owners considering an upgrade might be better off with a 10.5-inch iPad Pro than the slight downgrade this screen provides.
If you're looking for an iPad mini upgrade, the iPad mini 4 has an excellent screen that rivals all but the high-end iPad Pro models; it excels for reading in direct sunlight, playing games, and browsing articles on the web.
Processors and graphics
The iPad has come a long way since its first-ever chipset, the 32-bit A4: The 2018 iPad ships with an A10 64-bit processor and M10 co-processor along with 2GB of RAM, while the mini 4 has the slightly older 64-bit A8 and M8 co-processor.
In this arena, the 2018 iPad and mini 4 beat all but their iPad Pro siblings: The iPad Air 2 has an A8X processor, while the iPad Air, iPad mini 2, and iPad mini 3 all have the 64-bit Cyclone-powered Apple A7 processors and M7 motion coprocessors — the same chips found in the iPhone 5s.
iMore's Geekbench scores peg the 2018 iPad at 3254 in single-core score and 5857 in multi-core operations; this handily beats the 2017 model, iPad Air 2, and even first-generation iPad Pro models:
"For single-core scores, that puts the 2018 6th-generation iPad squarely in the performance range of the iPhone 7 (which first shipped with the A10 Fusion chip); its average Geekbench score, in contrast, is 3295. The iPad Pro (10.5) easily tops it with a 3904 single-core score, as does the second-gen 12.9-inch iPad Pro, but it beats both the original 12.9-inch iPad Pro (3012) and 9.7-inch iPad Pro (2930).
"It also easily bests the 2017 iPad (2523), and iPad Air 2 (1785).On multi-core, again the 2018 iPad's closest to the iPhone 7 family, specifically the Plus (5411); it beats both the original 12.9-inch iPad Pro (4879) and the 9.7-inch iPad Pro (4750), as well as 2017's iPad (4377); same for the iPad Air 2 (3987). But the 10.5-inch iPad Pro and the 2017 iPhone family destroys it in multi-core performance: 9292 average for the 10.5-inch Pro, and 10108 for the iPhone X."
The iPad mini 4 has the slowest processor of the modern iPad line: Despite storage and pricing changes over the past few years, the mini 4 has remained with an A8 processor. But in comparison to the other (even slower) mini models, the mini 4 still retains an edge.
If you care about processor speed, the 2018 iPad is an incredible grade for just about every previous iPad owner. When running heavy-duty apps or multiple operations, it does lag a bit behind its iPad Pro siblings, but it should serve well enough for most users.
Storage
The 2018 iPad and iPad mini 4 trounce older storage options: The 9.7-inch iPad comes in 32 and 128GB models, while the mini 4 comes in a single 128GB model.
Not only is more storage a welcome move from Apple — it's at a huge discount for previous iPad owners looking to upgrade. 128GB rang up at a crazy $699 for the iPad Air 2 (that's $5.46/GB); in contrast, Apple charges just $429 for a 128GB 2018 iPad ($3.35/GB), and $399 for a 128GB mini 4 ($3.12/GB).
If you're looking to get some of the best bang for your storage buck, both of these models are excellent upgrade opportunities.
Apple Pencil support
For the first time, Apple Pencil support has come to the base-model iPad: The 2018 tablet has full support for the Apple Pencil at half the price point of the base-model iPad Pro, opening the digital drawing, sketching, writing, animating, and calligraphy flood gates to a much wider audience. It's also the only iPad to support the education-focused Logitech Crayon, which uses Apple Pencil technology to provide a more rugged, pressure-free stylus experience.
The iPad mini 4 unfortunately doesn't support Apple Pencil, though it can use third-party capacitative and Bluetooth styluses.
If you wanted an iPad with Apple Pencil support but the iPad Pro line was out of your budget, the 2018 iPad is the perfect upgrade opportunity.
Cameras and photography
Whether I love it or not, front- and rear-facing cameras have become a standard feature on the iPad line. Both the 2018 iPad and iPad mini 4 have an 8-megapixel rear camera sensor along with a f/2.4 aperture, five-element lens, and software features like Live Photos and 1080p video recording and image stabilization. The front-facing camera is a little less advanced, with a 1.2-megapixel sensor, f/2.2 aperture, 720p video, Retina Flash, and Live Photos.
This is the same camera architecture present in the iPad Air 2, but far superior to previous iPad models; the iPad Air has only a 5-megapixel rear camera sensor and lacks the improved ISP (image signal processor) of the 2018 iPad, 2017 iPad, Air 2, and mini 4.
In addition, the A10 processor improves ISP even further, providing better low-light imagery and videography.
If camera is the sole thing you care about, iPad Air 2 owners should be fine without an upgrade this cycle, but if camera technology matters in your iPad purchase, it's worth looking into either the 2018 iPad (or the far superior camera architecture in the iPad Pro) when considering an upgrade.
Networking
If you care about networking speeds and you're considering picking up a cellular iPad, the 2018 iPad and iPad mini 4 have some of the most advanced iPad antenna technology out there. Both support 802.11ac dual-band Wi-Fi, multi-in, multi-out (MIMO) connections, and LTE (21 and 20 bands, respectively). They also both ship with the Apple SIM included in their nano-SIM slot, which makes it easy to pick a carrier on the go both at home and abroad.
As might not be surprising if you've gotten this far in the article, the iPad Air 2 and 2017 iPad are almost identical to the 2018 model in this department; earlier 9.7-inch iPad and mini models, however, support fewer bands (or no LTE connections at all).
If you're planning on picking up a cellular-enabled iPad, the 2018 iPad and iPad mini 4 the cheapest options available and offer excellent connectivity (outside of the iPad Pro models, which offer more LTE bands and an additional built-in Apple SIM).
Touch ID and Apple Pay
Touch ID is practically a necessity on Apple's devices at this point: It provides an easy unlock process for opening your iPad, sure, but it also lets users pay for purchases online and via the App Store with their fingerprint, rather than typing in lengthy passwords or remembering credit card information. (You can also authenticate third-party apps, like password managers and banking clients.)
Both the 2018 iPad and iPad mini 4 offer Apple's first-generation Touch ID sensor. The 2017 model, iPad Air 2, and mini 3 also have this sensor, while older iPads don't have it at all.
As such, if you're rocking an older iPad and considering an upgrade to a Touch ID model, the 2018 iPad and mini 4 are the cheapest options for such a purchase; if you want the faster second-generation Touch ID sensor, consider the iPad Pro line instead.
iOS and multitasking support
iOS 11 offers comprehensive multitasking support for iPad users, including multi-window use, drag and drop, and more.
iPad Drag and Drop, Multitasking, and Split View in iOS 11: Everything you need to know!
Apple's 2017 iPad Pro models get access to all the new multitasking features, but the 2018 iPad and iPad mini 4 still receive a decent chunk. From our FAQ:
9.7-inch iPad Pro, iPad mini 4 (7.9-inch iPad), and all other 9.7-inch iPads
Slide Over: Supports Slide Over; only the Slide Over pane is useable when on the screen, with the background app or Split View apps greyed out.
Split View: Supports Compact (iPhone UI) size classes in Split view; it supports 50-50/25-75/75-25 views horizontally and 25-75/75-25 views vertically.
Picture-in-Picture: Supports PiP next to Slide Over and on top of Split View with only PiP and Slide Over in focus.
If you want to multitask like a champ in iOS, you'll need an iPad Pro, 2018 iPad, 2017 iPad, iPad Air 2, or mini 4 to do it. If you don't have any of these devices, it's worth considering an upgrade to the 2018 iPad or iPad Pro line.
Who should upgrade to the iPad mini 4?
Users who want a smaller tablet with the full weight of iOS behind it will love the $399 iPad mini 4. Even with a slower processor than its peers, the mini 4 still speeds along like a champ. It also has the best non-Pro display currently for sale for reading, and at some of Apple's best storage pricing.
Who should upgrade to the 2018 iPad?
If you want a larger tablet but don't have the budget or the need for all of the iPad Pro's features, check out the $329 2018 iPad for your next tablet purchase. It offers many of the same features as its 2017 model and the iPad Air 2, but also a few notable differences in Pencil support and huge processor gains.
Who should wait?
The 2018 iPad is a great machine for just about everyone, but if your current tablet is still suiting you fine you should be good to wait. The other reason to wait is if you're considering an iPad Pro, and want to see what 2018 brings for that line — if nothing else, this might bring discounts to current 2017 models.
Still undecided?
Still have questions about upgrading to a 2018 iPad or iPad mini 4? Hop into our iPad discussion forums for more help or drop a message below in the comments!
More iPad guides
○ Which iPad model should you get? ○ Should you upgrade to iPad Pro? ○ iPad Pro vs. MacBook: Which should you buy? ○ What storage size should you get? ○ What color iPad Pro (2018) should you get? ○ Which U.S. carrier and plan should you get? ○ Should you get AppleCare+ or insurance? ○ The best way to buy your iPad ○ How to sell your iPad ○ Buy iPad at Apple ○
Master your iPhone in minutes
iMore offers spot-on advice and guidance from our team of experts, with decades of Apple device experience to lean on. Learn more with iMore!
Serenity was formerly the Managing Editor at iMore, and now works for Apple. She's been talking, writing about, and tinkering with Apple products since she was old enough to double-click. In her spare time, she sketches, sings, and in her secret superhero life, plays roller derby. Follow her on Twitter @settern.