10 Snapchat Secrets, Tips, & Tricks for Making the Best Snaps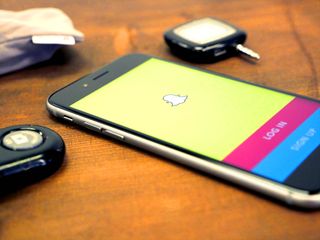 (Image credit: iMore)
Updated 1/27/17 with tips from Snapchat's newest update.
Whether you're already hooked on Snapchat or just getting started, you're going to want to be making the best snaps possible. That's the critical key alert to gaining fame or simply making your friends smile.
Related: Secret Snapchat filters: How to find the latest easter eggs!
Mastering Snapchat can be difficult, though, with all its bells and whistles – plus all the new bells and whistles the app keeps adding every few week. So, we've broken it down to the top ten tips and tricks you need to know!
Double & triple layer filters
While plenty of people may know that if you swipe left on Snapchat, you can layer tinted filters over your snaps, the time/date, geofilters, or even the speed you're travelling at (but seriously, don't snap and drive), not many know that you can actually layer a few of these things for a pretty unique Snapchat story.
After you've taken your snap, swipe to find the first filter you want. Picking a colored tint is normally the easiest, as they're the first three options when you first swipe left. When you find the first filter you want, tap and hold your screen and swipe to the left again. This will show you other filters like Snapchat normally would, except the first filter you picked is already stuck to your snap.
You can layer up to three filters, but you can't overlap 2 standard colored filters or 2 geofilters unfortunately. Check out how to make your own colored filter to attempt some non-traditional creative color combinations!
Three-way faceswap
When the two-person faceswap lens came out for Snapchat, everyone was trying it out with their pals, posters, dolls, animals – you name it! But did you know that you can actually try a three-way face swap instead of just two?!
While two person face swap is pretty straight forward (I mean, Snapchat kind of lays out directly on screen where your faces should go), three person face swap is a bit more difficult to perfect.
With three friends, do your best to all fully stand in frame. A selfie stick or shooting this type of snap horizontally will help a lot with getting all your faces clearly on camera. Once you're positioned, find the face swap app and let it work its magic!
If three way face swapping still doesn't work for you, try closing the app and reopening it or moving to different lighting so the camera can pick up your faces easier. Don't get frustrated if it doesn't work right away, though! You and your friends will soon be reenacting the movie Face/Off in no time. The only hard part will be deciding who plays who with three faces instead of two being switched...
External lenses
External lenses are great tools that can be used with Snapchat to make your videos and picture stand out from the rest of the people on your feed! Plus you don't need to spend an arm and a leg on them to get good quality lenses and there are a ton of options out there for you to pick from.
Most external iPhoneography lenses simply clamp on to your phone's camera with a small clip, although some are secured with a metal ring and a magnet while others need to be attached to specific cases in order for them to work properly.
External lenses are easy to store, small enough to carry around in your pocket or bag, and quick to install (especially if you have a keychain attachment on your clip!) so you never miss out on the perfect Snapchat snapshot.
If you want help picking out the perfect lenses for your lifestyle/shooting habits/budget, then check out a few of our iPhoneography articles!
Side note: All the photos taken to the right were shot with the SNAP ! PRO camera case from bitplay on three different lenses: macro, fisheye, and FX fisheye.
Write paragraphs/poetry with help from Notes
When Snapchat's text option first came out, users were only able to write about a line to add to their snaps. Now, users can write about 2, but Snapchat still cuts you off if you aim for a small paragraph.
If you're wanting to do a bit of extra writing on Snapchat, or if you want to break up the lines for a pleasant little haiku or poem, then try writing your text in the Notes app and then copying and pasting it directly to your snap?
This almost always works, but try not to go overkill with the paragraph. Same with spacing – if you add too many spaces between lines, it may not copy and paste into Snapchat at all, so try experimenting to figure out what works best.
Design your own geofilter
Have you ever been wandering around a neighborhood or city or have been at a club, and when you go on Snapchat there's suddenly a filter that has the name and place of the location you're at?
No, it's not the government tracking your every move (they've been doing that for a while already, btw), it's Snapchat's geofilters, and if you're obsessed with them as much as us, you can actually design your own!
Using the Snapchat geofilters site, users can go through the step-by-step process of creating and laying out their own geofilters to cover a specific area of land for a certain amount of time.
Whole cities may have numerous geofilters (as you can see in the examples above, while smaller neighborhoods in those cities can have their own too. Events and parties are able to have their own filters up for users as well, but for a certain cost and time period.
You can download the geofilter template in the upper right corner.
Doodle + stylus = your new BFF
I know what you're thinking: A stylus?! What is this, 2004? Do I need a Palm Pilot, too?
Well enough with the snarkiness and do yourself a favor and pick up a stylus or a stylus/pen to take your Snapchat artwork to masterpiece levels that'll rival Leonardo Da Vinci and Michelangelo.
While doodling with your finger is alright for simple drawings like stick figures and a couple of words, it's not much good for anything else. Sometimes it can be a great tool for little border accents on snaps, but because the lines are so thick and your fingers aren't as precise as you'd like them to be, intricate photos look more like rainbow blobs and smudges.
A stylus is a great tool if you want to get more precise with your snapsterpieces. Depending on the size of stylus and your skill, some Snapchatters have been able to recreate famous paintings and make their own phenomenal artwork with just the flick of their wrist.
Snapchat's secret colors
Snapchat for Android really lays out their color options nicely when you touch that little pencil in the right hand corner: you're able to see all the different gradient options, adjust transparency, and pick the perfect color without any tricks.
Unfortunately for iOS users, it ain't that simple.
For the longest time, people have believed that adjusting your doodle's gradient on a snap is impossible on an iPhone or an iPad, but it's actually very possible albeit a bit tricky to nail down.
In order to get some variety with your Snapchat colors, you have to tap the color you want from the drop down doodle bar and while holding your finger or stylus on your screen, drag slowly to the left side of your screen to lighten the color.
In order to get some black/grey/white color variation, you have to drag your finger to the bottom of your screen (which gives your the color black), then to the left and then up. Keep moving your finger on the screen and adjust until you have the perfect shade of gray, or drag your finger up to the left corner to turn the paintbrush white.
It can be a bit tricky to nail this down, so try it in a few different ways before you start doodlin'.
Stick emojis strategically
Picture this: You're a movie director, Snapchat is your camera/special effects guy/editor, and the world-wide, moviegoing audience are your Snapchat followers. You have to make your snap stories as interesting as possible without a big, multi-million dollar Hollywood budget. What's a director to do?
Simple.
Lights, camera, emojis!
By sticking emojis strategically to your Snapchat videos, you can turn your basic, boring video snaps into something straight out of a Hollywood blockbuster. All you have to do is think creatively and play around with your snaps and emojis!
If you're at the lake, try playing out the story of The Little Mermaid with fish and sea creature emojis, and if you're stuck in the back of a car on a family road trip, why not reenact a car chase with the police and car emojis?
Think outside the box even more by breaking free of traditional emojis and using some of Snapchat's stickers for other neat storytelling effects and options.
Edit creatively before you re-upload
Now that Snapchat has introduced its Memories feature that allows users to upload photos directly from the camera roll (along with a few other nifty options), people have been posting photos from their iPhone constantly as a #throwbackthursday kinda deal, or just to spice up their stories.
While this can be fun, there's really no differentiation between something like this and Instagram or Facebook besides the fact that the photo disappears after 10 seconds and you can't directly like or comment on it. So if it's just the other social media… How do you make it different?
Now's the time to download every weird and wild photo editing app you can think of and play around with them so you can upload some truly unique and creative #tbt's to your Snapchat story.
Our favorites right now are Prisma, LINE Camera, and RollWorld, but there are dozens of other options out there to download and play with!
Switch cameras mid-video
Sometimes the best thing to switch up a regular Snapchat video is to switch the perspective while you're filming. Aka, double tap to turn the camera around!
Playing around with different camera effects while you're filming can turn your Snapchat story into something creative and captivating to watch. The last thing you want is your followers tapping through your snaps at double time because they think you're boring and repetitive.
Instead, try playing around with switching cameras, different angles, zooming, and just all 'round exploration of the camera while you're filming. You'd be surprised what kind of stories you can tell!
What are your Snapchat tricks?
Is there a tool in Snapchat we didn't mention that you love using? Let us know what it is in the comments below!
○ Download Snapchat (opens in new tab)
○ How to use Snapchat for iPhone
○ How to delete your Snapchat account
○ Snapchat help
○ Shapchat news

Get the best of iMore in your inbox, every day!
Cella writes for iMore on social and photography. She's a true crime enthusiast, bestselling horror author, lipstick collector, buzzkill, and Sicilian. Follow her on Twitter and Instagram: @hellorousseau