Snapchat: Everything you need to know!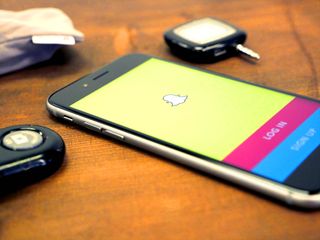 (Image credit: iMore)
If you've been on the internet in the last 5 years (if you haven't, welcome!) then you've probably seen photos of girls with dog faces, little white ghosts on yellow backgrounds, and brief, filtered photos and videos that last no longer than 10-seconds; basically, everything is related Snapchat now-a-days!
While the app's original premise was quite simple (basically it was designed to send nudes that would disappear after a certain amount of time and inform the sender if the person on the other end screen-shotted their photo), the app has evolved into a social media app, a communication tool, a news source, and so, so much more.
Here's absolutely everything you need to know about Snapchat!
April 26, 2018: Snapchat introduces Snappables, a new way to play AR selfie games on Snap
Snapchat has introduced something called Snappables, which are essentially games that let you play through different specific lenses.
These AR games let you use touch, motion, and even facial expressions so players can verse each other and compete for high scores.
These Snappable-stastic games will be rolling out globally later this week.
April 17, 2018: Make your own AR Face lenses with Snapchat Lens Studio
Love Snapchat's AR Face lenses but dream of creating your own? You're in luck: today, the company announced in a blog post that anyone can now make their very own AR lenses for the social networking app using Lens Studio, a service that Snap introduced last September.
With the new version of Lens Studio, artists can create both World and Face lenses and submit them to Snapchat for review (and ideally approval). If approved, the new lens will be made available to other Snapchat users so you can share them with your friends. It's kinda like drawing on their face, but way better. To create a Face lens, you can choose from one of seven AR templates and then build upon it in 3D to your heart's content. Here are the templates you can select, according to 9to5Mac:
In addition, Snapchat is adding Giphy integration to Lens Studio, which will allow you to use cool GIFs in your custom lenses. What's more, to further support and encourage lens creators, the company has introduced an Official Lens Creator program that will offer interested artists Lens Creator interviews and spotlights, additional technical and creative support, beta features and template access, opportunities to get paid for doing the neat work they do, and more. If you want to toss your hat in the Official Lens Creator ring, you can sign up by clicking the "I'm interested" button on the Snapchat Lens Studio Creator's page.
So what are you waiting for? Get to AR Face Lens makin' right away by downloading Lens Studio on the program's dedicated website. (If anyone asks, Tory would like an MF Doom mask one, please and thank you.)
April 9, 2018: Snapchat is resurrecting the chronological Stories feed for some users
Even if you're like me and don't use Snapchat, you probably heard its user-base crying out in disgust and anger earlier this year when the app was met with a major redesign. Snapchat made both user-facing and under-the-hood changes with this update, but it appears to be pulling back on at least one of these.
One of the most contested changes had to do with the way Snapchat presented Stories. Instead of showing you Stories in the order they were posted, Snapchat decided to implement an algorithm that determined which ones you'd like to see based on the users you interacted with the most. However, some users are now seeing their Stories in a more traditional reverse-chronological order.
Although this is coming from someone that can't stand Snapchat, this does seem like a move for the better. I personally despise Twitter's insistent need to show me Tweets from 12+ hours ago it thinks I'd like instead of what people are talking about and sharing right now, and for a lot of users, Snapchat is similar to Twitter in the sense that it's something you check multiple times throughout the day to see what your friends are up to right that very second — not to see what they were doing 5 hours ago.
The reverse-chronological order will make it more difficult to find Stories from friends that don't post as frequently as others, but based on the nonstop yelling from users over the past few months, I'm guessing this is something that a lot of you are happy to see.
April 6, 2018: Snapchat has started rolling out iPhone X-exclusive Lenses
Remember those AR Snapchat Lenses that Craig Federighi hilariously demonstrated at the Apple event last year to show off the company's new TrueDepth technology? Today, they're finally coming to an iPhone X near you. The lenses include a Day of the Dead skull topped with flowers, and an ornate jeweled masquerade mask, and a different multicolored "mask" that looks a bit like face paint.
The lenses make use of the iPhone X's front-facing TrueDepth camera that creates a three-dimensional map of your face, so they adhere more closely to its shape and movements. Snap also says that they distribute light in a way that's more true-to-life, reflecting any light source in your environment as real face adornments would. Finally, the company says that the filters blur the background of your video accurately so all the focus is on your face — sort of like in Portrait Mode — and that they will allow for other 3D elements to be more realistically added in the future.
iPhone X users will begin to see these exclusive filters appearing in the Carousel starting today.
April 3, 2018: Snapchat just launched group video chatting and mentions
Today, Snapchat announced that it is officially adding Group Video Chat to its chat platform in an attempt to make it feel less like a chat and more like a hangout.
Now, you can group video chat with up to 16 of your friends at once, and each of you can use all the fun, weird, face-tracking filters your little hearts desire. To start a group video chat, all you need to do is tap the camera icon in a pre-existing Group Chat. Once you've done that, every friend in the chat will receive a notification inviting them to join in (though if they're busy, they can choose to ignore the notification and other individuals in the group will still be able to video chat). If you're not feeling particularly photogenic but don't want to experience any FOMO, you can also join only with your voice by tapping the phone icon instead of the camera when you open the chat. Up to 32 individuals can join a voice-only chat, so if your friend group is way huge, no one will feel excluded.
In addition to Group Video Chat, Snapchat is switching up the endless pattern of feature-borrowing Instagram started by nabbing a feature from them instead of the other way around. Starting this week, Snapchat users will now be able to tag their friends in their Snap Stories, just like Instagram users can in Insta Stories. It functions pretty much exactly the same way, too — when you're adding text to a Snap, all you have to do is type the @ symbol and then the username of the individual you'd like to tag. Snapchat will suggest users as you type, allowing you to tap on the one you intended to mention.
Both Mentions and Group Video Chat will be rolling out to Snapchatters over the course of this week.
March 22, 2018: Snapchat's new Map Explore feature makes it creepily easy to find your friends
According to The Verge, Snapchat is introducing a new feature that will notify you when your friends are hanging out without you. (Okay, that's not all it does, but still.)
Called Map Explore, the feature will essentially update users about what sort of events are happening at any given time on their Snap Map. When you open your map, travel and location updates from your friends who have chosen to share their location will automatically appear. In addition to tracking your friends' activity, the feature show updates from the Explore section, including "breaking news and other events form around the world."
To use it, all you have to do is open Snapchat and pinch the screen to bring up Snap Map like you would normally. Once there, you can select "New Updates" at the bottom of the map, and swipe through them to see what's happening both around you and in areas of interest everywhere.
In a statement to The Verge, Snapchat noted that ultimately, this new feature was introduced in order to make Map updates outside of your immediate circle easier to find:
As Snapchat says, there are, of course, cool possible applications of this — i.e., seeing what exciting stuff is taking place across the world or checking out events in a new city you're visiting — but you can also use it to basically stalk your friends if they have their locations turned on, which is super uncool. If you want to opt out of location sharing, you can do so by turning on Ghost Mode in your Snapchat settings.
March 2, 2018: Snapchat is reportedly working on an updated version of Spectacles
According to a report by Cheddar, the newest iteration of Snapchat's markedly unsuccessful Spectacles glasses is set to come out sometime this year, followed by a third version outfitted with two cameras in 2019.
Though Snapchat hasn't confirmed anything officially, Cheddar's sources who are apparently "familiar with the matter" claim that the second version of Spectacles is being manufactured for release in fall, with a modest few new features:
The third version, however, will supposedly be much more feature-heavy and ambitious, incorporating dual cameras, an aluminum frame, and AR:
Much like the first release of Spectacles (which was lackluster at best), this next release already isn't running smoothly. According to Cheddar, the planned rollout has already missed internal deadlines, with hardware division Snap Lab enduring multiple setbacks — like layoffs and failed acquisitions — since the original fall 2016 launch of Spectacles version one. However, it doesn't seem the company has been deterred, as they still plan on meeting their fall 2018 manufacturing goal.
In addition to creating a new version of Spectacles from scratch, there's apparently been word that Snapchat is in talks with eyewear companies to put its cameras on name-brand frames, including Warby Parker and Luxottica. Again, though, neither eyewear company commented on the rumor.
For more information about the future of Spectacles, you can check out Cheddar's article here.
December 14, 2017: Snapchat + augmented reality developer platform = Lens Studio
So what does this mean? Well, if you're a brand or just a super cool person who wants to start playing with their own versions of AR, then you miiiiiight want to check this out.
Soon you'll be able to put together your own augmented realty masterpieces and have full creative control over what figures and designs you bring to life. Very similar to Snap opening up the ability to design certain geo-filters and lenses, Lens Studio allows users to stitch together their own AR universe.
November 27, 2017: Snapchat now suggests filters based on what you take a picture of
Filters are a big part of the Snapchat app. Customizing your photos with little graphics helps to give them that iconic Snapchat look, and over the years, these filters have become smarter and smarter. Snpachat filters can tell how fast you're currently traveling, what the temperature is around you, and even recommend certain ones based on where you're at.
Now, according to a Snapchat representative that spoke with Mashable, some filters will be available based on what you're actually taking a picture of.
This is a feature that Snapchat's reportedly been rolling out to its users since last week, and it's dead simple to use. After you've taken a photo of whatever it is you want to send to a friend or add to your Story, swiping through your filters like usual will now show you special ones if you've taken a picture of something that Snapchat can recognize. These filters currently pop up for pictures of concerts, pets, food, sports, and beaches, and we'd expect more to be added as time goes on.
You can try out the filters for yourself by taking photos of things like your food or the beach, or by simply searching Google Images for relevant images if you don't have the means or the patience to get out and take a photo.
October 10, 2017: Snapchat debuts context cards to let you hail rides, book tables by swiping up on some Snap!
Looking to add some contextual information to you geotagged photos, videos, and snap stories? Snapchat has you covered with it's newly added regional Our Story feature that will include context card automatically.
What does this mean? Well users can now swipe up on any and all snaps that display the word 'more'. An interactive card will then appear about the place in question, and people can go from there!
A few partners that are already supplying information for the brand new context cards include:
Foursquare
OpenTable -TripAdvisor
Lyft
With more to come in the next little while. Happy Snapping!
September 26, 2017: Snapchat introduces Sky Filters
Snapchat celebrating its sixth anniversary by adding a new feature that uses iOS 11's augmented reality capabilities to let you transform the sky in your photos.
Sky Filters work by recognizing where the sky is in the outdoor image you've just taken. The app will then prompt you to choose a new "forecast." All you have to do is swipe left (as you would usually do to choose a geofilter), and you'll be given options like rainbow, starry night, stormy clouds and more. The filters will also transform the actual lighting in your photo to make your chosen sky look as natural and in-place as possible. Awesome.
September 14, 2017: Snapchat is now animating your Bitmoji in 3D!
Move over, adorable dancing hot dog! If you have Bitmoji enabled in Snapchat, you can now project your animated (read: better) self into the real world by tapping the rear-facing camera screen in the app. You can then scale and move your Bitmoji by pinching, zooming and dragging. Your Bitmoji can get up to all kinds of things, from skateboarding to air guitar to yoga - scroll through your options in the carousel of Snapchat effects at the bottom of your display to try them all, and then inundate your friends with them. Snapchat will be continually updating and changing them, too, so you can check back on the regular to see new animations.
Currently the feature is only available for iOS, but according to Snapchat, Android isn't far behind.
August 14, 2017 - Snapchat and The Pokémon Company International launch a Pikachu Snapchat Lens.
Move aside dog ears! Go dance somewhere else, Snapchat Hotdog! There's a Pikachu lens on Snapchat and we're pumped about it! Using the lens places Pikachu's ears, nose, and cheeks on your face. Opening your mouth will trigger Pikachu's voice and an animation of the mouse appearing on screen and striking a pose.
The Pikachu lens is only around for a limited time, so get your selfies in now.
Snap Map is essentially a new way to see what your pals nearby (and around the world!) are up to!
When you're on the main Snap screen, simply pinch to zoom out and show the Snap Map. Your location doesn't automatically get shown to your other Snapchat friends: you can keep to yourself with Ghost Mode.
What is Snapchat?
Snapchat is an app that was originally founded by Evan Spiegel and Reggie Brown in 2011, two Stanford University students who eventually had a falling out over who came up with what (if you're getting Social Network déjà vu, I do not blame you…)
The app's premise was simple: You could send and receive photos (videos didn't exist in the beginning of Snapchat) that would disappear after a couple of seconds. If you dared to screenshot someone's photo, it would instantly inform the person on the other end that their photo had been screen-captured.
The app blew up quickly, with Facebook CEO Mark Zuckerberg even allegedly offering $3 billion in 2013 – as of January 2017, Snapchat is valued at $25 billion or higher.
While the original layout for the app was quite straight-forward, Snapchat has now evolved into a jack of all trades.
The app offers direct communication like texting, calling, video messaging, and more with friends and family in a one-on-one messenger style, lets people record and post their videos and photos to their Snapchat Story that last 24-hours while giving people the option to save their Snapchat Stories to their camera roll, and delivers current news and information from credible sources and entertainment sites like IGN, The Economist, Refinery29, Mashable, Harper's Bazaar, VICE, National Geographic, CNN, The New York Times, and so, so much more.
Evan Spiegel, Snapchat CEO:
How does it work?
Open up the Snapchat app, take a photo or a video of something up to 10-seconds long, add your desired filters, stickers, text, and doodles (you can even make your own custom stickers from selfies and photos you've taken), add a geofilter to mark your location, and then post to your Snapchat Story or a personal message to a friend.
The cool thing about Snapchat is you can use the app without ever sending a Snap – you can follow your favorite celebrities based on their usernames and watch their shenanigans on their Snapchat Story all day long, watch and follow your favorite brands for exclusive content and announcements, or just creep through the Discover page to get up-to-date on current news and events as it's updated daily.
What are Snapchat Stories?
Snapchat Stories exist when you decide to post a Snap of a photo or a video to your Stories section of your account.
The Stories section acts as a feed of sorts, and can be viewed by your friends – these are not private snaps, so don't upload anything scandalous that you wouldn't want to world to see.
Subsequently you can also see who's watching your Snapchat Stories and who's gone back to watch them more than once; Snapchat is all about spying on people who are spying on you!
What about the Discover page?
The Discover page is essentially a news source aimed at millennials or people who don't like to read through long-winded reporting. There's a ton of different content in fast, punchy segments that help you absorb the news and what you find interesting quickly and efficiently.
When Snapchat first launched this option, there were maybe four or five different news options. Now, there are over 30.
Are there just dog-faced filters, or… ?
One thing that's become synonymous with Snapchat are the live filters available for people to play and take selfies with. If you've seen a photo of a girl with a dog nose and dog ears sticking out a giant tongue on Tinder in the last little while, then you have Snapchat directly to blame.
While the dog filter has become the unofficially official look for Snapchat users, there are actually dozens of different filters that are available to play with. Some turn you into an old man, some make you look like a goat and pitch-shift your voice, others add funky effects and glasses, some slim out your face and turn you into a Coachella flower-crown princess, and others just add subtle effects.
There are even world lenses that add a filter on your surrounding environment for people who aren't super keep on snapping selfies, and now there are even lenses that let you play games within the app.
While these filters are super amazing, fun to play with, and have given different artists and designers ample opportunities to work with Snapchat, some people have accused the app of stealing their artwork without their permission. Snapchat also came under fire last year when users speculated that a filter that was Bob Marley-themed gave people blackface.
How much does it cost?
Snapchat is totally free, but we will never, ever forget the lens store.
Is there actually a solid way to screenshot someone's Snaps?
Well, yes and no. We're not judging you if you're looking for a secret way to screenshot Snapchat without being detected.
(Okay, I'm judging you a bit, but I'm also the one who wrote the article in the first place, so I really have no grounds to judge you…)
Where can I download the app?
You can download the app right here!
Questions?
Do you have any burning questions about Snapchat that you need answered ASAP?
Let us know what you'd love to learn about Snapchat in the comments below and we'll be sure to help you out!
Updated May 2018: This article has been updated with all of the latest Snapchat news, tips, and tricks.
Master your iPhone in minutes
iMore offers spot-on advice and guidance from our team of experts, with decades of Apple device experience to lean on. Learn more with iMore!
Cella writes for iMore on social and photography. She's a true crime enthusiast, bestselling horror author, lipstick collector, buzzkill, and Sicilian. Follow her on Twitter and Instagram: @hellorousseau