Splatoon 2: Tips, Tricks, and Cheats!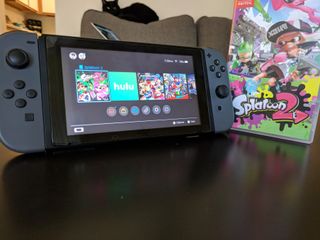 Splatoon 2 is one of those games where there's always someone better than you possibly right around the corner. Any competitive edge helps, whether you're a rookie with a starter kit or a veteran Squid Kid about to top your Salmon Run record.
We've got some guidance to get the most out of your game!
Motion Controls
When playing Splatoon in Handheld mode, motion controls might be a bit difficult to use. To turn them off, you can hit X to access the menu, use R to scroll to the far right, and go down to Handheld mode to turn it off. This will make it a bit easier to play, especially if you're in a moving vehicle.
You can also disable the motion controls for TV/ Tabletop mode as well. The motion controls are used in order to move the camera, so if you'd rather do that with an analog stick, I would disable them.
Get Familar
An easy way to get an understanding for the game is knowing which areas and items do certain things. I would start out by getting familiar with each area.
Lobby is where you would access the online multiplayer. This is the best way to level up and get new gear, and you might even make new friends here!
The Square is the area where you can see players who aren't playing or even get cool extras. You can access gear shops, amiibos, and special items from the Crust Bucket in the Square. It's a great place to explore and don't forget to get some top notch advice from our favorite cat!
Octo Canyon is the campaign location. This is a great place for new players who might need some target practice. The campaign is wonderful for those who might need to tighty up on the game mechanics.
The Shoal is where you would find your local games. It's a place where you and your online parties can have your own battles. You can also play Salmon Run through this area of the game.
Grizzco is where you can find the Salmon Run, another online game where players work together to take down the Salmonids. It's a good strategy to make money in the game, especially if you're over the original multiplayer. This is only available at certain times, unfortunately, so you'll have to keep your eyes open.
What to Get with Coins
If you're wondering what to spend your abundance of coins on, you should stop by and see Sheldon. Purchasing the best weapons will help you tackle any online matches. Of course, that brings you even more coins which you can use on head wear, tops, and shoes. If you're looking for something better to spend your coin on, stop and see Murch next to the lobby. He'll be able to take your abilities from items you're not using, so you can put them on the gear you love.
Spending Tickets
If you've spent a lot of your time doing the Salmon Run, then you probably are loaded with tickets. Make your way over to the Crust Bucket and buy yourself some of Crusty's abilities! You could get double the coins per match or even your experience! You can also purchase drinks which will up your chances of getting a certain ability when a gear ability slot is filled.
Finding the Splat that Works for You
There are many different ways you can play the online multiplayer in Splatoon. The most important aspect is finding a weapon that works the best for you in battles. It takes sometime, but after awhile, you'll figure it out. Talking to Sheldon, however, will be rather time consuming because he loves his weapons.
Play the Campaign
Playing the campaign will help you get all the moves you need to defeat other players in the online game. It will help you get used to the controls, and you'll figure out the best way to take down loads of players at once. Plus, it adds more depth to some of the important people in the game, which makes it a bit more fun.
Follow Splatoon2.ink on Twitter
There is a Twitter bot that will update about map rotations, Salmon Run openings, and more. It includes gear available for order, how long until it's available to you, and the amount of coin it will cost. It's a great way to keep up with all of the latest updates on the game, and to see what gear is available to you. All you have to do is follow it, and make sure you turn on the notifications for the tweets so you'll be up to date with the changes.
Master your iPhone in minutes
iMore offers spot-on advice and guidance from our team of experts, with decades of Apple device experience to lean on. Learn more with iMore!