Steve Jobs biography airs tonight on CNBC: Titans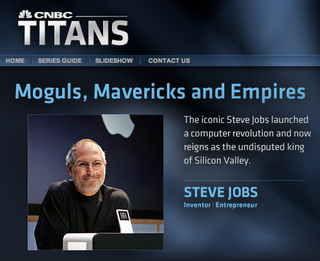 CNBC: Titans will be airing an unauthorized biography of "The undisputed king of Silicon Valley for the better part of three decades," Steve Jobs, tonight at 9PM PT/1AM ET.
We don't expect much if any new information, at least nothing that is not readily available via the internet, but a look back at life of the genius who brought us the Mac, iPhone, iPad, and iPod is sure not to disappoint.
At the very least, it should hold you over until his official biography , iSteve: The Book of Jobs is released.
If you watch the show, let us know what you think!
Get the best of iMore in in your inbox, every day!
Too bad they are gonna air this on a network that only 3 people watch. It's a shame they can't get this to a wider viewing audience.

There are still more than 3 people that actually watch cable anymore?

Until there is a good way to watch live sports without cable, yes, there will be way more than 3 people who watch cable tv

Your ISP doesn't provide you the ESPN3.com access?
Bad ISP, bad.

I thought that was fox news.

That's because you are stuck in your plastic bubble, unable to get a true respective on reality. Like them or not, Fox news eclipses the competition.
http://tvbythenumbers.zap2it.com/2011/06/22/cable-news-ratings-for-tuesd...

IN CASE Y'ALL MISSED IT! THEY WILL REAIR IT THIS SUNDAY AT 6PM!

Thanks. I was just looking for an answer to my question and I saw your comment.

I do not know Steve Jobs personally but given how secretive and protective he is of his well being and his family, I doubt much on what these weasel writers write that according to them: Steve has stated. . . this or that or this; such eyebrow raising comments would come from Steve Jobs?
Just base it on his now famous quotes and the simple lifestyle he chose;
I wouldn't be sold to these darn books written about him.
Thank you for signing up to iMore. You will receive a verification email shortly.
There was a problem. Please refresh the page and try again.