Steve Jobs takes medical leave of absence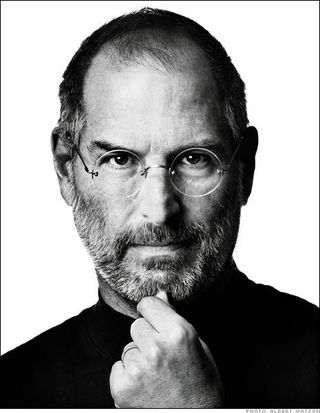 Almost exactly two years after he took his first medical leave of absence, Apple CEO Steve Jobs is taking another leave of absence to "focus on [his] health." Apple COO Tim Cook will take over day-to-day operations while Jobs will remain as CEO. Here's his email to all Apple employees:
On behalf of everyone here at TiPb and Smartphone Experts we wish Steve Jobs a full and fast recovery.
We wish him well. (Not that he'll see this.)

Get well soon Steve!! Your a legend!!!I'm praying you have a speedy recovery

Didn't see that coming. Sounds as if he'll be out all year. I'm curious about it. CNN just pinged about this story, Woot. And NYTimes. Go, TiPb for being on top of the game.

That sucks!! I hope he's back soon!

Awww, sorry to hear that. Take all the time you need buddy.

I wish you get better soon.

I wish him well. He is passionate about his work. Everything is in place probably for the next year. He deserves time. Life isn't just work.

I'm sure it's just coincidence they chose to release this on a day the markets are closed.

Not sure about you but I'm buying more stock as soon as they go down because of this...

Of course they did. This was timed not only to take place on a US holiday, but also to come immediately before Apple's earnings call, which will be outstanding and erase most, if not all, of the stock market damage done by this unfortunate medical issue.
But so what? Just because the CEO is gravely ill does not mean the company has to start acting irrationally.

that is a slightly weird then because apple stock normally drops right after earnings as people take profits, even with earnings beats.

I just hope it's nothing too serious!

Best wishes to Steve Jobs, his family and friends for a speedy and complete recovery.

Best wishes to you Steve.

All my best to Steve Wishing him a speedy recovery.

Bummer. Last time this happened, he had a liver transplant, so you know it's probably something serious. Hope he gets better soon.

Best wishes Steve, get well soon!

Get well soon Mr Jobs. Hoping to see you in June , when you get to announce iPhone4Gs :)

God bless him. Get well soon Steve.

I hope to be back as soon as possible? That doesn't sound encouraging. Either way, get well Steve.

I wish him well. May God's grace be with you.
Dr Krishna Raman

You had to make sure you threw in that "Dr" title in there didnt ya ? :twisted:
In that case, I want to re-enter my message:
Get well soon Mr Jobs. Best wishes, Art the Importer&Exporter ! :lol:

Shut Up you! I went to school for many many years to become a doctor , but what did YOU do to become an exporter or importer?
your daughter, Kicked My Dog!

your daughter kicked my dog?
goes to show doctors these days are retarded =)

lol, could be just a dentist or..... a podiatrist.

Are you a real doctor (with a PhD) or do you have one of those degrees where they decided to just give you the title (e.g. medicine) even though you did earn it through the required years of education.

I resent that challenge. Drink up.
And get well soon, Steve. Without you, the competition won't know what to aspire to.

Well, there goes my Apple stock. I do wish Steve well though. Get better soon Steve.

It's only an 8% drop so far overseas... ouch. Wish he waited till after earnings.

Hope he takes as much time as he needs and gets better soon.

Steve Jobs, as CEO of Apple, has essentially become the icon of Apple himself. No offense to cook, but the thought of someone else announcing the next iteration of the iPhone or iPad, is difficult to fathom

U obviously didnt see the 3gs keynote.

Best wishes Mr. Jobs! Your health is more important than Apple and its customers.

Best wishes to him and his family. Hope he has a full and restful recovery.

I wish Steve all the best, but am very happy that he has surrounded himself with a lot of very dedicated, talented and capable people to run the show in his absense. Plus - he's only a FaceTime call away should they need his input on something.

:lol:
My apologies Dr ! In case you didnt notice, it was (Seinfeld) sarcasm ;) Chill out Doc ! :roll:

Not that there's anything wrong with it.

C'mon. One could say that it's sad that things have gotten bad enough that he needs time off to see his health.
"Don't get sad 'til he gets dead!" Yowza.

so does this mean he wont be doing the up coming announcements? Thye wont be the same without jobsy!

Last time he was off we got 3GS which was just a copy of the last with an upgrade on the inside. I hope that is not the case this time. But if he needs time off for health then so be it. I wish him a speedy recovery

I'm sure the blueprint is already in place for the next year. I'm also pretty sure as long as he can he's going to have the final say on everything even though he's not running day to day operations.

Actually, I thought a lot of things snuck into IOS the last time he was off, like MMS, cut and paste, and a few other things he was blocking. Maybe I have my timing off.....?

I was sad to receive the news of more health problems for Steve Jobs. The most awesome gadget and the biggest bank account are meaningless when you don't have your health.
My most sincere and best wishes to Steve and his family for a speedy and full recovery. May they find the strength to fight off this latest ailment.

My prays are with you and your family during your difficult times.

It's *loser.
And if he's a loser, then what's a winner? I'm pretty sure the man makes more money in 1 minute then you do all year

(that was in reply to george, not jason)

Way to be human.. Steve is my Hero! He will live forever..

Prayers on a safe and speedy recovery.
And the "you kicked my dog was the funniest sh.. Ever! I remember that. Look it up it's a riot!

I wonder what this means for this year's ilaunches. Steve really makes the difference.

He deserves some much needed time off to enjoy life. I hope all is well with him, and his family. A big thanks for what you have done. Get well soon.

Rene:
What's up with the obituary picture.
It creeps me out. Seem to accentuate the gravity of the situation beyond the actual released information. Sorta making it look like he died.
Here's hoping its just minor issues.

Last time this happened it turned out to be more serious than most people imagined, a major transplant. Hope that's not the case again.
One of these days he really is going to be retired or gone, and that's going to be one big traumatic event for at least 3 industries, maybe even bigger than losing Walt Disney.
Get well, Steve. Doctors, don't make any mistakes.

Best wishes for Steve.. Apple will not be the same in the time he is gone.

Uh oh... methinks this might be the portent of sad tidings.

Get well soon Mr. Jobs. I will be praying for you! Be blessed my dear friend.

Best wishes for Steve and his family. He has had enough to deal with as far as his health goes. Hopefully he will be back next year feeling great and hopefully weighing about 20 pounds more than he does now!

Noooooooooooo!!!!! No! No! No! No! No!
I respect Mr. Jobs's need for privacy and wish him a speedy recovery...
And yes, my motives are somewhat selfish...
Last time Apple didn't do so well without their CEO...
Here's to hoping that Steve Jobs's confidence in his team translates into his team acting confidently!
Health and family definitely come first, and if Mr. Jobs does end up retiring soon rather than returning he is doing so at the top of his game. But I will sure miss him in the limelight saying "Boom!"
Alternative language dictionary for iBooks or no! ;) j/k. We all have our nitpicky gripes about the iPhone and iPad and iPod but we wouldn't speak up about them if we didn't care about the product and also if we didn't know we would get many of our wishes granted with the next update!!!!

Last couple times, Apple did fine (they had Tim Cook take over).

Get well steveo. Hope your back soon.

mike21 You're comparing Steve Jobs to Walt Disney. Okay fanboy, that's a little much.

http://store.micgadget.com/apple-toys-figures/272-phenomenal-pineapple-c...
Live strong Steve!

Best wishes to you and your family Steve.
Thank you for signing up to iMore. You will receive a verification email shortly.
There was a problem. Please refresh the page and try again.