Three years after his passing, memory of Steve Jobs is very much alive with Apple execs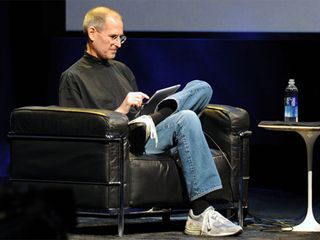 (Image credit: Apple)
Three years of since his passing, it appears that Steve Jobs' legacy and memory are very much a part of Apple and Apple's executives. Earlier in the week, Apple CEO Tim Cook had sent an email asking employees to remember Jobs' influence on the world, and now on the anniversary of his death Cook and Apple marketing head Phil Schiller are both turning to Twitter to express their remembrance of Apple's late co-founder.
On Saturday evening, Cook had posted two messages to Twitter while backpacking through the Grand Canyon:
Schiller posted a short message Sunday morning:
Do you have a personal memory of Steve Jobs you'd like to share? What do you think were some of his greatest contributions to the world?
Source: Tim Cook 1, 2; Phil Schiller
Wow,what a moving tweet by Phil ! Sent from the iMore App

I think public perception had more of a role in shaping how we see SJ than actual facts about him. Same goes for any popular person. Sent from the iMore App

SJ was a true visionary who was taken from the world way too soon. His legacy will not be forgotten. Posted via the iMore App for Android

Your so Right! Sent from the iMore App

Steve Jobs was way ahead of every one with his products which remains the most loved products in the world. He had a knack of predicting what was going to be the next big thing in technology. He said flash was on it's way out and HTML 5 was the future and now and he was proved right. Flash on mobile is dead now. He was a great showman who knew how to whom up excitement over new products whether it be a new iPhone or iPad. Each of his products were and still revolutionary. Sent from the iMore App

Yeah, memory of Steve Jobs is really alive at Apple. Mini tablets, and large phones made in remembrance of Steve.

Fair point. But both devices are truly excellent. Things progress over time and I think he'd be very impressed. Sent from the iMore App

Things have not progressed, in regards to Steve's reasoning. People's fingers haven't shrunk or been sanded down to pencil diameter (referring to mini tablets). People's hands have not grown to be enormous (referring to large phones).

The user interface elements are the same size on all the screens. Some people have bigger hands, some have bigger pockets, some use one device for everything now. Things have definitely progressed. Sent from the iMore App

Steve was a very complex man and could be hard to get along with at times from all accounts, but no one can deny he was a visionary and the driving force behind Apple's rise to it's current position. I didn't always agree with some of his ideas, but I always respected him. And his best contribution to the world? The Apple ][.
Thank you for signing up to iMore. You will receive a verification email shortly.
There was a problem. Please refresh the page and try again.